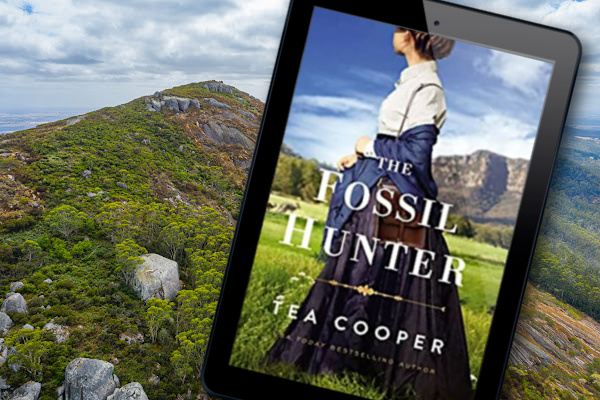 Sophia Rose is here today with the historical fiction, The Fossil Hunter by Tea Cooper. Come see why Sophia enjoyed this blend of historical fiction and mystery served with a dash of romance.
The Fossil Hunters
by Tea Cooper
Genres: Historical Fiction
Source: Publisher
Purchase*: Amazon | Audible *affiliate
Rating:
Buried secrets. An ancient fossil. And one woman's determination to unravel a nineteenth-century mystery.

Australia, 1847. The last thing Mellie Vale remembers before the fever takes her is sprinting through the bush with a monster at her heels—but no one believes her. In a bid to curb Mellie's overactive imagination, her benefactors send her to visit a family friend, Anthea Winstanley. Anthea is an amateur paleontologist convinced she will one day find proof that great sea dragons swam in the vast inland sea that covered her property millions of years ago. Mellie is instantly swept up in the dream.

1919. Penelope Jane Martindale arrives home from the battlefields of World War I intent on making peace with her father and commemorating the deaths of her two younger brothers in the trenches. Her reception is disappointing. Desperate for a distraction, she finds a connection between a fossil at London's Natural History Museum and her brothers' favorite camping spot—also the last place they were seen before falsifying their ages to join the army. But the gorge has a sinister reputation: seventy years ago, several girls disappeared from the area. So when P. J. uncovers some unexpected remains, the past seems to be reaching into the present. She's determined to find answers about what happened all those years ago . . . and perhaps some closure on the loss of her brothers.
Sophia Rose's Review
Dual Timelines of the past, country Australian setting, a mysterious disappearance, and the hunt for a 'sea dragon' make for a compelling historical adventure. New to me author in a favorite genre with the finding of dinosaur bones at the heart of the story had me enthusiastic to try The Fossil Hunter.
Like most dual time line stories, this book flips between the two periods in alternating sections. I enjoyed the fact that the most recent period was still a fascinating historical time. One time period is Victorian era Australia and the second is Post-WWI England and Australia.
The author infuses the past story with dramatic overtones as a young girl with chicken pox is taken in by the local doctor's wife when she is left alone. Mellie doesn't fit in with the genteel doctor's daughters or their friends, but she is sent along to Aunt Anthea Winstanley for a summer holiday where Anthea introduces the lonely, picked on Mellie to the world of fossils and the fossil hunting at the Bow Wow ridge. Undercurrents between the girls and later with a situation that arises from Anthea's past give it a mystery feel.
Meanwhile, in PJ's time, she has been an ambulance driver in the war, fallen in love with a charming American ambulance driver, but mourns the loss of her younger brothers who died in the war and the loss of her relationship with a father who inexplicably blames her for their deaths. She ends up catching her brothers' fossil hunting fever and follows the twisting trail in the past right back to Bow Wow ridge and its secrets.
A blend of historical fiction and mystery with a dash of romance, The Fossil Hunter was well-written, full of rich, colorful descriptions of the time and settings as well as the complex characters. I can't exactly put my finger on the tone of the writing- not exactly atmospheric and yet, there is something that makes the reader feel something darker is being hinted at under the surface and building in the background. This sensation is a favorite feeling I have when a story builds so I was excited to get through the pages even when I felt the book got a little slow in spots. The reader is let in on the secrets of Bow Wow Ridge and Miss Baldwin who is there when PJ comes looking for answers about her brothers' fossil find, but there was still a twist and reveal even while PJ finally gets things resolved with her family's past and the pain in the present.
All in all, I thought the Fossil Hunter was a fab period piece and I definitely want to read more of Tea Cooper's historical novels. I enjoyed getting an Aussie author presenting some Aussie history and can definitely recommend this 'dino'-mite book to other historical fiction fans.

Stay Caffeinated!
Never miss a post by adding Caffeinated to your Inbox
Related Posts