I was drawn to Sign Here and curious to see Claudia Lux's version of hell. The story that unfolds is dark, humorous, well-paced tale that pulls the reader in as Peyote Trip works on a deal that will get him out of hell.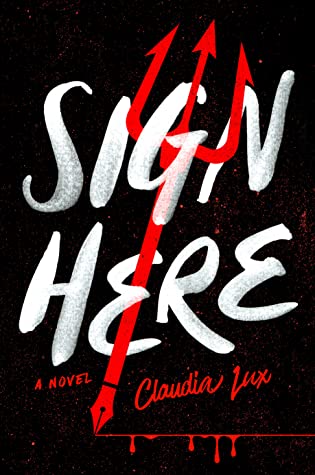 Sign Here
by Claudia Lux
Genres: Fantasy
Source: Publisher
Purchase*: Amazon | Audible *affiliate
Rating:
A darkly humorous, surprisingly poignant, and utterly gripping debut novel about a guy who works in Hell (literally) and is on the cusp of a big promotion if only he can get one more member of the wealthy Harrison family to sell their soul.

Peyote Trip has a pretty good gig in the deals department on the fifth floor of Hell. Sure, none of the pens work, the coffee machine has been out of order for a century, and the only drink on offer is Jägermeister, but Pey has a plan—and all he needs is one last member of the Harrison family to sell their soul.

When the Harrisons retreat to the family lake house for the summer, with their daughter Mickey's precocious new friend, Ruth, in tow, the opportunity Pey has waited a millennium for might finally be in his grasp. And with the help of his charismatic coworker Calamity, he sets a plan in motion.

But things aren't always as they seem, on Earth or in Hell. And as old secrets and new dangers scrape away at the Harrisons' shiny surface, revealing the darkness beneath, everyone must face the consequences of their choices.
Sign Here takes us to an office building in hell, the fifth floor to be exact, where Petoye gets folks on earth to sell their soul. It's a pretty good gig, all things considering. He needs one more Harrison to sell their soul, and he's free. We deal with office meetings, quotas, pens that don't work and his peers. After hours, he hits the bars which only serve Jägermeister before returning to his drab apartment.
We travel with him and some of his peers as they sign deals on earth, visit the sixth floor and backstab each other. It was fascinating and fresh.
Then on Earth, we meet the Harrisons' and spend the summer with them at their family lake house. While the place holds many memories, it is a tragedy one that stands out. They may look like the perfect family, but all is not as it seems and the lake holds secrets. It was dark, poignant, and held my attention. The daughter brings a friend who stirs up questions about the past. The wife is having an affair, and the husband has dark, disturbing thoughts. For me, it was the stronger thread despite starting out weaker.
Revelations, loop holes and twists kept me enthralled as Lux wove the two stories together. Filled with dark humor, it was a clever tale. Secondary characters had depth with interesting stories. As you read, you'll find you aren't sure of everyone's motives or pasts. All of which served to keep the reader engaged. At the ending….what!?!
Sign Here was an addictive read that I recommend to fans of suspenseful tales and supernatural elements.
Sign Here by Claudia Lux was a dark, addictive tale with a twist of humor and a side twist. #NewRelease #SuspenseThriller #bookreview
Click To Tweet

Stay Caffeinated!
Never miss a post by adding Caffeinated to your Inbox
Related Posts