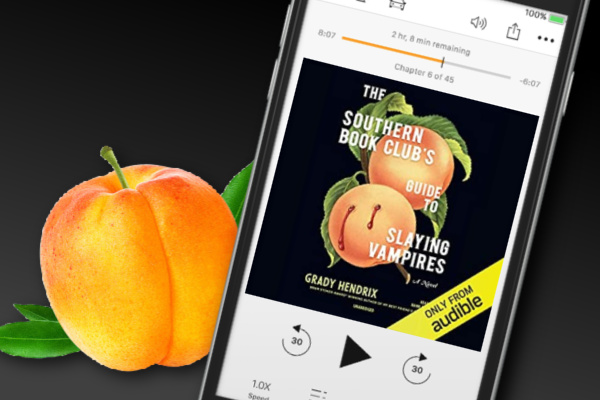 Set in the south, The Southern Book Club's Guide to Slaying Vampires by Grady Hendrix tells the story of a suburban housewives book club that must protect their community from a blood-sucker. Narrated by Bahni Turpin this southern horror story pulled me in.
The Southern Book Club's Guide to Slaying Vampires
by Grady Hendrix
Narrator: Bahni Turpin
Source: Library
Purchase*: Amazon | Audible *affiliate
Rating:

Narration: 5 cups Speed: 1.4x

Fried Green Tomatoes and Steel Magnolias meet Dracula in this Southern-flavored supernatural thriller set in the '90s about a women's book club that must protect its suburban community from a mysterious and handsome stranger who turns out to be a blood-sucking fiend.

Patricia Campbell had always planned for a big life, but after giving up her career as a nurse to marry an ambitious doctor and become a mother, Patricia's life has never felt smaller. The days are long, her kids are ungrateful, her husband is distant, and her to-do list is never really done. The one thing she has to look forward to is her book club, a group of Charleston mothers united only by their love for true-crime and suspenseful fiction. In these meetings, they're more likely to discuss the FBI's recent siege of Waco as much as the ups and downs of marriage and motherhood.

But when an artistic and sensitive stranger moves into the neighborhood, the book club's meetings turn into speculation about the newcomer. Patricia is initially attracted to him, but when some local children go missing, she starts to suspect the newcomer is involved. She begins her own investigation, assuming that he's a Jeffrey Dahmer or Ted Bundy. What she uncovers is far more terrifying, and soon she--and her book club--are the only people standing between the monster they've invited into their homes and their unsuspecting community.
We meet Patricia Campbell, a bored housewife and mother whose highlight of the month is her book club. Where she and other Charleston ladies discuss books on crime and serial killers, as well as their married lives and the community.
When a stranger moves into the community and local children go missing, Patricia begins to suspect the newcomer. Maybe he is a serial killer, but the truth is far worse.
Grady Hendrix does a spectacular job of pulling the reader in. The buildup and suspenseful plot are tightly drawn, leaving the listener on edge. As Patricia investigates, my heart began to papillate. Lord, she is determined to expose him. Fights begin in the book club and in their marriages and it was interesting how the different personalities dealt with things.
As a newly married 90s wife, I raised my eyebrows at this little southern community where the women stayed home and the men ruled. I was a stay at home mom, but this felt more like the 50s. I have expected Patricia to be committed for hysteria. The story certainly kept me on edge.
I highly recommend listening. Bahni Turpin is a fantastic narrator. Her tone, pacing and accents helped set the tone and build suspense. She is one reason I chose the audio version.
At its core this is pure horror, but it's wrapped in southern charm and certainly has a Fried Green Tomatoes and Steel Magnolias vibe. Just be careful, it bites.
The Southern Book Club's Guide to Slaying Vampires by Grady Hendrix offered a suspenseful tale. #audiobook #audiobookreview #BahniTurpin #JuneIsAudiobookMonth
Click To Tweet

Stay Caffeinated!
Never miss a post by adding Caffeinated to your Inbox
Reading this book contributed to these challenges:
Related Posts