Please welcome Sophia Rose with a review of contemporary romance The Best of Me by Sharon Sala, the final book in the Blessings, Georgia novels. Perfect for fans of small-town romances.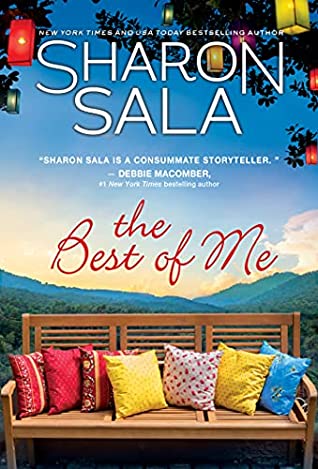 The Best of Me
by Sharon Sala
Series: Blessings Georgia #13
Genres: Contemporary Romance
Source: Publisher
Purchase*: Amazon | Audible *affiliate
Rating:

Heat Level:
Take a trip to Blessings, Georgia, where bestselling author Sharon Sala welcomes you with a touching small-town romance:
An orphaned little girl who desperately needs a new home
A couple ready to welcome her with open arms
Friendly neighbors who are always there for each other
A Southern small town where great things happen to good people

Ruby Butterman and her husband, Peanut, cannot have children, but they're given a second chance at a family when eight-year-old orphan Carlie is left in their care. It's a challenge for Carlie to adapt to a new town, a new school, and a new family, and when she gets bullied at school, Ruby and Peanut discover how to step up as parents, and how to make a forever family for their beloved little girl.
Sophia Rose's Review
As grand finales go, this last Blessings, Georgia book, left nothing to chance. A second chance romance, a man's redemption, a little girl experiences grief and loss, and the mainstays of the series get their heart's desire. Thirteen books in and I am mourning the end of a nostalgic, heartwarming small town series that stayed solid from beginning to end.
The Best of Me is the thirteenth in the Blessings, Georgia series and offers up a new pair second chance romance, but also culminates Ruby's story with finally getting a child of her own. In some ways, it can be standalone, but I recommend getting it in order to be properly connected in with the world and characters.
The story opens with a grab the tissue box moment and then gradually goes from sorrow to hope and happiness like one can count on with this series. Blessings, Georgia is a dream world of small-town southern charm that doesn't truly exist, but one wishes it did. People have their foibles, but overall, this town comes together when one of their own or a visitor is in need.
The main storyline is two-part. There is the arrival of little Carlie Durvoy whose mother passes away on arrival and leaves her precious girl in Ruby's capable hands. Ruby and Peanut have found love and happiness, but they are childless and they are more than ready to step up and be what Carlie needs. Carlie's child grief and fears are there and Ruby and Peanut try hard to help her work through it. Meanwhile, back in Little Rock, AR where Carlie is from a man who thought to get guardianship of Carlie and her life insurance payout, has his own storyline going on.
The secondary plot that shares the spotlight with Carlie, Ruby and Peanut's story is a second chance romance. Ladd and Deborah were teenage sweethearts until Ladd went to college and got the idea that the thing with Deborah was a merely a teen relationship and not meant to last. It's not until after she is long gone as a big animal vet and he's working his architectural career that he realizes he'd messed up something good. Fate brings them both back home to Blessings and their neighboring family farms and a dangerous event forces them together and dealing with the past.
Anyone who has followed the series knows that these books often have a few plots going on at the same time and little drop ins around Blessings with the regular cast of characters. I've gotten used to and enjoy this way of telling the story on people, relationships, and events that makes the small town element almost a character in its own right.
The characters have flaws and work through them, but the majority of the drama is external, so the angst remains relatively low. There's a little spice in the romances and mostly closed door sexual encounters. Sometimes there are big events that have the town members pulling together to help each other. In this case, the event is Carlie's mother's passing followed by some serious accidents befalling others like Ladd. There is always the certainty that all will come right in the end, which makes this and the others in the series great comfort reads.
All in all, I was emotionally invested, not just because it was the last book, but Carlie's grief, the Buttermans' working toward adoption, and the second chance romance. The gentle-paced nostalgic small town sweeter romances make this a book and series I do not hesitate to recommend.

Stay Caffeinated!
Never miss a post by adding Caffeinated to your Inbox
Related Posts