Narrated by Sarah Mollo-Christensen & John Hartley, A Treacherous Trade by Kerrigan Byrne is the second audio in the Fiona Mahoney Mysteries. This historical fiction mystery has Fiona once again chasing down evil. Grab your earbuds and see why I love this series.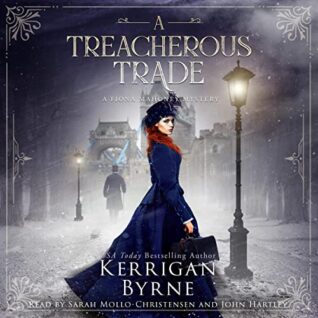 A Treacherous Trade
by Kerrigan Byrne
Series: The Fiona Mahoney Mysteries #2
Narrator: Sarah Mollo-Christensen, John Hartley
Length: 10 hours and 20 minutes
Source: Purchase
Purchase*: Amazon | Audible *affiliate
Rating:

Narration: 3 & 5 cups Speed: 1.35x

"Forgive me…for I have sinned."
And nothing interrupts a good confession like a murder.

Fiona Mahoney stands in the ashes of her hopes facing her tempting adversary, Inspector Grayson Croft. Her sins are about to spill from her lips, when he says the one thing that could dispel all thoughts of revelation or redemption.

Someone is leaving the corpses of prostitutes in the streets, and a name is being whispered in the fearful shadows. The name against which Fiona would sell her very soul for vengeance.

Jack the Ripper.

Old enemies and new friends join Fiona as she chases a relentless evil through the streets of Victorian London. She'll pull upon every contact in her arsenal including Oscar Wilde, Arthur Conan Doyle, Inspector Aberline, "The Hammer" a charismatic gangster, "The Blade" an enigmatic assassin, and, of course, Jack.
I love stories about Jack the Ripper and was drawn to the Fiona Mahony Mysteries. The first audio gave us one narrator, but this time around, we have two. While I loved John Hartley giving voice to the males, particularly the men vying for Fiona's attentions, I wasn't as taken with Sarah Mollo-Christensen and felt her accent was off, but I enjoyed the audiobook and will continue listening to the series.
Jack the Ripper wasn't at the forefront of this story, but was always present. The case was suspenseful and well crafted. Fiona cleans murder scenes and is asked to investigating the murders of prostitutes. She poses as one of them in a house of ill repute.
Fiona is surrounded by men of power, and they are all vying for her attentions. We have Scotland Yard Inspector Grayson Croft and the Hammer, a dangerous lord of London's underbelly. Then there is Aramis Night Horse, a trained assassin. Last but certainly not least, she has caught the attentions of Jack the Ripper. All four men play a part in the investigation. All of them are unique, fleshed out and intriguing in their own right.
The flow of A Treacherous Trade was stronger than the first book and wasn't as grisly. I loved the interactions between each of the men and Fiona. While this is not a romance, it has romantic elements.I have the feeling all would love to deflower our feisty heroine. Because this is the second novel, the case felt stronger as Bryne had already introduced us to the world and characters. The case felt more like a mystery-thriller and kept me engaged. Bryne is taking her time with the romantic interests and allowing the listener to better get to know the players and Fiona.
We see growth in Fiona as her world and experiences expand. She still seeks revenge, but also justice for the dead. I am looking forward to the next novel. Fans of historical murder-mysteries and thrillers will want to add this series to their TBR pile.
The story translated well on audio and despite some reservations about the female narrator; I enjoyed the changing voices, particularly for the men.
Fans of historical mysteries, Jack the Ripper and female sleuths will want to add the Fiona Mahony Mysteries to their TBR pile.
Narrated by Sarah Mollo-Christensen & John Hartley, A Treacherous Trade by Kerrigan Byrne brings us dynamic characters and a thriller case in Victorian London. #audiobook #audiobookreview #FionaMahonyMysteries
Click To Tweet

Stay Caffeinated!
Never miss a post by adding Caffeinated to your Inbox
Reading this book contributed to these challenges:
Related Posts