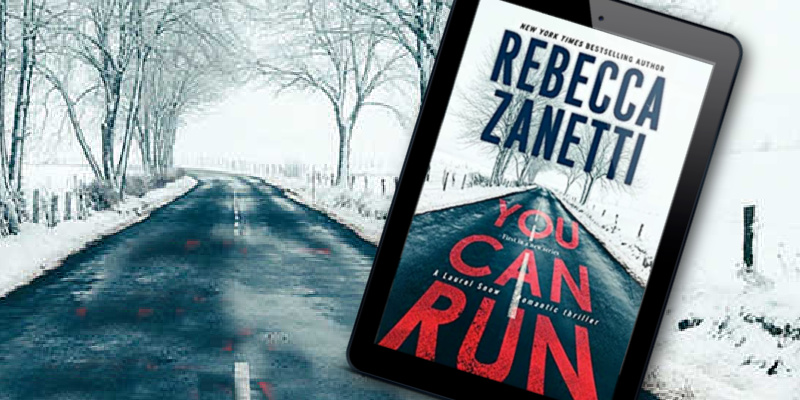 I love slipping into one of Zanetti's romantic suspense thrillers. You Can Run is the first in the Laurel Snow series and has us on the hunt for a serial killer. You'll want to grab a bottle of wine and curl up by the fire with this one. Zanetti delivers an intense case with plenty of twists and heat.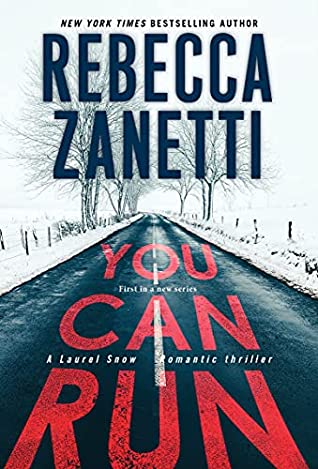 You Can Run
by Rebecca Zanetti
Series: Laurel Snow #1
Source: Publisher
Purchase*: Amazon | Audible *affiliate
Rating:

Heat Level:

Fans of Lauran Griffin and Lisa Jackson won't want to miss this brand new thriller series by New York Times bestselling author Rebecca Zanetti, as FBI Special Agent Laurel Snow, a rising star profiler, strives to stay one step ahead of the criminal mind—and discovers that her own demons may be the hardest to outrun…

Laurel Snow wouldn't call hunting a serial killer a vacation, but with a pile of dead bodies unearthed near her Genesis Valley, WA, hometown, she'll take what she can get. Yet something about this case stirs her in unexpected ways. Like the startling connection she feels to Dr. Abigail Caine, a fiercely intelligent witness with a disturbing knack for making Laurel feel like she has something on her. Then there's Laurel's attraction to Huck Rivers, the fish and wildlife officer guiding her to the crime scene—and into the wilderness…

A former soldier and a trained sniper, Huck's thirst for blood is rivaled only by his fierce pursuit of Laurel. He's been burned by love, wounded by the government, and betrayed before, and to say he has trust issues is the ultimate understatement. Plus, he might be closer to this killer than anybody knows…

Once in the heart of darkness with Huck, Laurel must negotiate her distracting desire for him, her complex rapport with Abigail—and her mission to find a serial killer among a growing list of suspects and a danger that's far too close to home. So close in fact, Laurel fears she will never find her way back to the woman she once was…
What a fantastic start to the Laurel Snow series. It begins when FBI Special Agent Laurel Snow is on her way back to Washington D. C. when her plans are diverted. She heads instead to her hometown of Genesis Valley, Washington. Remains have been found on Snowblood Peak and the local Sheriff is questioning her uncle.
Not dressed for the conditions but determined to view the scene, she shows up on the doorstep of Huck Rivers, a fish and wildlife officer who is skilled at navigating the surrounding wilderness. Their first encounter hooked me. He mistakes her for a city girl, and I love the grumpy hero trope. Huck is sexy, grumpy, skilled and a proud dog owner. Yep, I liked the surly officer.
Laurel Snow is quite the FBI profiler. We learn she isn't assigned to any one office; she hunts serial killers, and she has made a name for herself.
This is her hometown, which introduced her mom and uncles into the mix. Her mom is this free spirit, tea drinking entrepreneur who pulls you into her kitchen and makes you feel at home. But she keeps her secrets close. She has some baggage that Laurel we need to uncover as we dig into this case.
The case is creeptastic with multiple bodies as we unearth the serial killer's burial ground. Small-town dynamics make working the case difficult for Laurel, but she handles it well. She and Huck take point, and with each interview, we move closer to finding the killer. It was suspenseful with some unique characters, including a witness who shows a little too much interest in Laurel.
The romance was served on the side with sizzling chemistry and denial. The build up was well done and the characters' actions felt genuine, even if someone needed a kick in the pants. I loved seeing them interact. From their first kiss to their first sexual encounter; the heat was off the charts.
Danger increased the closer we got to the truth, and we had some pulse-pounding moments. The case wraps up successfully as Zanetti sets up the series. I cannot wait to return to Genesis Valley and work another case with Laurel Snow. The next novel, You Can't Hide, releases November 22, 2022.
Fans of romantic suspense, crime thrillers and strong detectives will want to start this series today. From her characters to her well-drawn tales, Zanetti is an auto-buy for me.
You Can Run by Rebecca Zanetti kicked off the #LaurelSnow series with a thrilling case, grumpy hero and clever profiler. #NewRelease #bookreview #mustread
Click To Tweet

Stay Caffeinated!
Never miss a post by adding Caffeinated to your Inbox
Related Posts