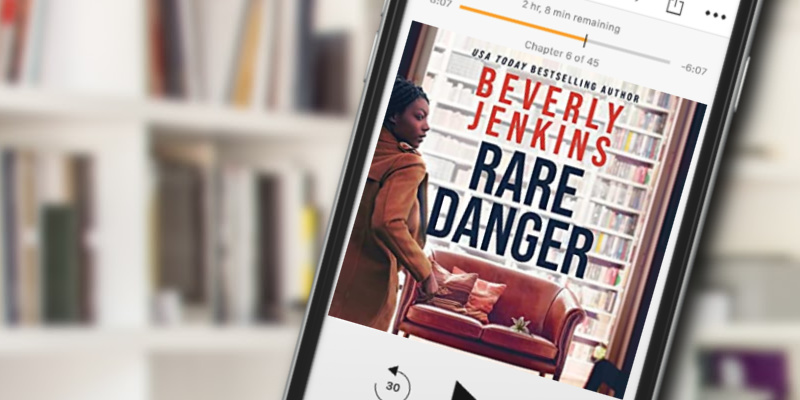 Please welcome Sophia Rose to the blog with an audiobook review of Rare Danger by Beverly Jenkins. You'll want to add this one to your listening library.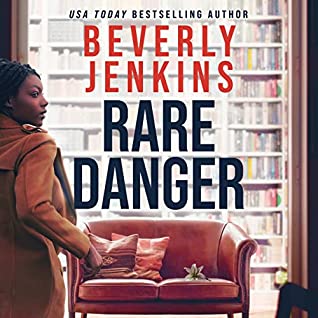 Rare Danger
by Beverly Jenkins
Narrator: Kim Staunton
Length: 3 hours and 21 minutes
Genres: Romantic Suspense
Source: Publisher
Purchase*: Amazon | Audible *affiliate
Rating:

Heat Level:

Narration: 4 cups Speed: 1.2x

BA librarian's quiet life becomes a page-turner of adventure, romance, and murder in a thrilling novella by USA Today bestselling author Beverly Jenkins.

For Jasmine Ware, curating books for an exclusive clientele is her passion. Until an old friend, a dealer of rare books, goes missing and his partner is murdered. Linked to an artifact smuggled out of the ancient library at Timbuktu, the mystery draws Jasmine deeper into a plot that could cost her her life.

Air force veteran and private security ace Torr Noble is accustomed to adrenaline-pumping stakes. He never expected a private librarian would be so intriguing, but Jasmine is full of surprises. As the connection between them burns hot, a powerful old enemy raises his head. Torr and Jasmine must work together to find the missing dealer.

Will the search be the start of a happily ever after or a disastrous THE END?
Sophia Rose's Review
Librarian, military veteran, rare book artifact search, and murder elements had me clambering for this latest novella by an author I already enjoy. Beverly Jenkins' historicals, have been pulling me in for years, but I was eager to try my first contemporary and a suspense at that by her especially told by a new to me narrator.
Jasmine's blind date was a disaster, but she did bump into one fine guy who left her smiling. It was an even better surprise to discover he is her next client and the brother of a good friend. She is less enamored when she discovers they also share a mutual problem caused by the disappearance of an old family friend, a missing book, and some dangerous men sent to retrieve the book. If they survive the chase, they have to decide if they want to act on those strong, smoldering vibes they share.
Meanwhile, the missing antique expert is running for his life with his ignorant wife in tow because he screwed up and took a dip into crime for some 'easy' money. After the death of his partner, he has no doubt that getting far away is the only safe bet, but his wife grows more and more suspicious of his actions.
Rare Danger was a fun surprise. It is set in my adopted city's stomping grounds. Jasmine was a fun, feisty, and whip-smart plus-size woman who is happy with who she is and her life. She wouldn't mind finding a good man and starting a family, but she's not giving up the single life for anything less than the best for her. And, the guy has to survive a meeting with her retired cop parents who will run any man through the wringer who shows an interest in their grown up baby girl.
Torr Noble ticks off all the right boxes and even some boxes she didn't know she had, but she wonders if he is too good to be true. Torr is her equal and has a different life experience, but similar interests, values, and tastes so Jasmine has him distracted and ready to do nearly anything to keep her safe from the types who are now on her tail thanks to a missing family friend who inadvertently got her involved.
Though this is shorter, it has a sparkle and sizzles. They come together quickly in time, but there is also the development of their relationship because they spend most of those days and some nights together on the case, but also on dates. I had no problem jumping on board with their attraction and growing feelings. The suspense aspect was also developed rapidly, but it was well developed. There isn't a mystery so much as a need to locate both missing antique seller and the artifact and beat the bad guys on the trail to the punch. The end was an exciting climax and I loved seeing both Jasmine and Torr in action since she was no helpless damsel type.
Kim Staunton had an easy voice to get me settled into the story and the characters. She had a versatile voice that was good for gender, age, and emotional tone. I would definitely pick up other books she narrated.
So, in summary, it was a quick and engaging, slightly spicy and very exciting romantic suspense that I can heartily recommend.
*ebook & audio available in Kindle Unlimited

Stay Caffeinated!
Never miss a post by adding Caffeinated to your Inbox
Related Posts