Today Sophia Rose is here with a non-fiction traveling guide to haunted spots across America. Come check out her thoughts on Passport to the Paranormal by Rich Newman and plan your next haunted road trip!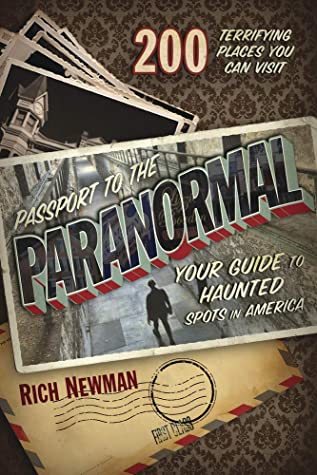 Passport to the Paranormal
by Rich Newman
Genres: Non-Fiction
Source: Publisher
Purchase*: Amazon *affiliate
Rating:
Every state has its spooky paranormal hotspots. This book lists 200 haunted hotels, restaurants, bars, museums, and other locations that you can visit for yourself in all fifty states. In Passport to the Paranormal, expert ghost-hunter Rich Newman explores the nature of each location's activity as well as providing historical details. You also will find dozens of photos that help bring the stories alive. These haunted locations are operating businesses so you too can experience the haunts and apparitions.

Gallivant with ghostly gunfighters at Big Nose Kate's Saloon in Tombstone, Arizona. Take a twirl with the Lady in Blue at the Moss Beach Distillery in California. Try not to get pranked by the Sheriff, the resident spirit at the Grand Old Lady Hotel in Balsam, North Carolina. Discover these and hundreds more stories of hauntings, specters, and things that go bump in the night in this treasure trove of real paranormal activity.
Sophia Rose's Review
I am always up for a good ghost story and learning the history behind the haunting of a place. I saw this title and was eager to explore some of the places in the US that are known for their ghosts.
Rich Newman started out as a hobby ghost hunter and then turned professional with shows and books to prove it. Passport to the Paranormal is being released as a 'Best of…' style of book on the anniversary of the release of his first book. So, it is not comprehensive of all his explorations nor of all the haunted locations in the US. That said, he included at least one location and often several for each state.
Passport to the Paranormal reads like a combination of travelogue, historical facts on locations and people, and fun ghostly venture options. Each entry is quick and engaging. Sprinkled throughout, Rich Newman shares his own supernatural encounters at a location named in the book. I'm not sure whether I envy him for having so many encounters or relieved that I'm not a ghost magnet like Rich. Or, perhaps, he has these encounters because he is out there actively trying to engage with the spirit world.
I appreciated that the author mostly included off the beaten path types of places that haven't made the big shows or news, but he does include a few of those. I was startled to discover that places I visited in Idaho, in California, and in Michigan were on his list. Let me add that I had no ghostly visitations or weird happenings. The author gave a brief history of the location and people, why it is considered haunted, where, and by who if they have that worked out, but then he goes on to include why it is also a great travel destination, too. So, whether one experiences a close encounter with a ghost or nor, the trip is still well worth the visit.
All in all, it was an entertaining and interesting selection of places that the reader can flip to the state or the location by using the index or simply read it cover to cover. There are maps and pictures liberally sprinkled throughout. Definitely recommend for a bit of something different in a travelogue or a ghost hunter hobby read.
Passport to the Paranormal: Your Guide to Haunted Spots in America by Rich Newman includes state by state guide, maps, tidbits and more for the ghost hunter. #NonFiction #TravelGuide #SophiaRose #bookreview
Click To Tweet

Stay Caffeinated!
Never miss a post by adding Caffeinated to your Inbox
Related Posts