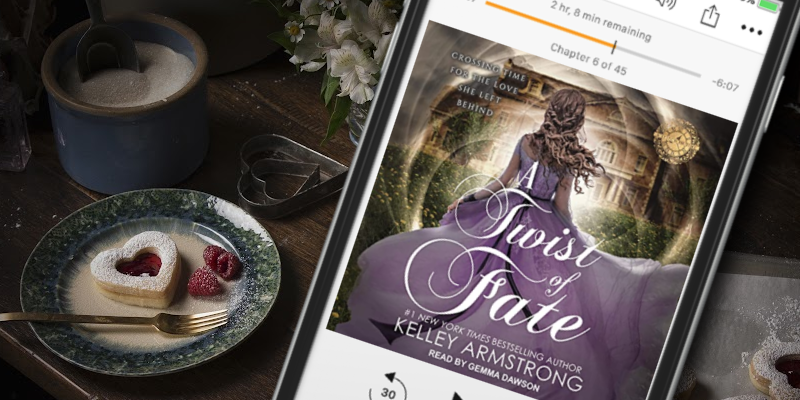 A time slip, a ghost, and a renewed romance between husband and wife will leave you swooning. Narrated by Gemma Dawson, Twist of Fate by Kelley Armstrong delivered an addictive read in the second standalone in the Thorne Manor/Stitch in Time series. Fans of historical romances with time slips and paranormal elements will want to grab their earbuds.
A Twist of Fate
by Kelley Armstrong
Series: Thorne Manor #2
Narrator: Gemma Dawson
Length: 8 hours and 30 minutes
Genres: Fantasy, Time Travel
Source: Publisher
Purchase*: Amazon | Audible *affiliate
Rating:

Heat Level:


Narration: 5 cups Speed: 1.3x

Four years ago, Rosalind Courtenay stumbled from the nineteenth century to the twenty-first, where she has been trapped ever since, leaving her husband and infant son behind. Now she's found her way back.

The problem, of course, is how to explain her absence to her husband. Does he think she abandoned him? Has he remarried? Is he happy in a new life? Rosalind decides to don a disguise in hopes of answering her questions before showing up on his doorstep. Instead, a twist of fate has her mistaken for her young son's new governess.

Rosalind has every intention of revealing herself as soon as August returns home from business. Until then, she'll get to know her son, a quiet child who has inexplicably been abandoned by an endless stream of governesses. That's when the hauntings begin. Rosalind has finally come home and something—or someone—doesn't just want her gone. They want her dead.
I absolutely loved A Stitch in Time and was delighted we would head back to Thorne Manor. In Twist of Fate, Rosalind Courtenay accidentally steps through a time slip at Thorne Manor, leaving behind her husband and infant son. She finds herself in the twenty-first century and unable to return. When she sees Bronwyn and William Thorne, she realizes they must have used the time slip. After four years, she can finally go home. Her son is a stranger and worse, she is believed to be dead. Posing as her son's new governess, she waits for her husband August to return… but foul play is afoot and her son is seeing ghosts.
Imagine finding yourself in another time! Rosalind did well for herself, but longed to return home. I liked her confidence and felt for her as she becomes a servant in her own home. I would have liked for her to present herself as herself, but understood why she waited for her husband to return. The two had some rough patches before her disappearance, and it seems August believes she abandoned them.
The ghost of the moor, the domineering housekeeper and the mystery, all added to the sweet family romance. I easily devoured this in a few sittings. The flow, characters and storyline kept me engaged. I loved seeing Bronwyn and William.
The mystery built to a rushed frenzy before giving us a satisfying conclusion. I am looking forward to more of this series. I read book one and later grabbed the audiobook. The stories are perfect for audio and with the paranormal elements and mysteries. This is the perfect listen for fall.
Gemma Dawson delivered a wonderful narration. She captured the characters, the atmospheric vibe and enhanced the overall story.

Stay Caffeinated!
Never miss a post by adding Caffeinated to your Inbox
Reading this book contributed to these challenges:
Related Posts