The synopsis drew me to The Sound of Violet with its unique characters and situation. Second chances, forgiveness and relevant topics of autism and human trafficking you'll want to grab a box of chocolates and enjoy this heartwarming romance.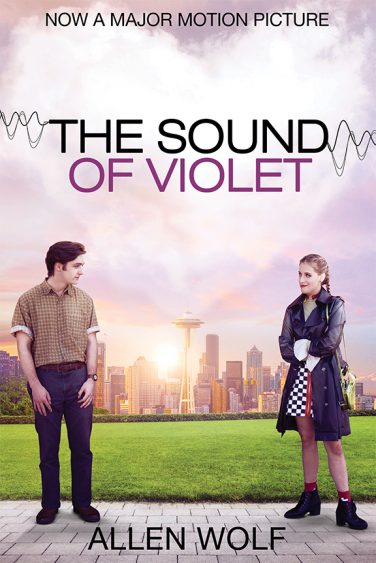 The Sound of Violet
by Allen Wolf
Genres: Contemporary Romance
Source: Publisher
Purchase*: Amazon | Audible *affiliate
Rating:

Heat Level:
Desperate to find his soulmate, Shawn goes on one awkward date after another until he encounters the alluring Violet. He starts dating her, but his autism keeps him from realizing that she's actually a prostitute.

Shawn thinks he's found a possible wife while Violet thinks she's discovered her ticket to a brand new life. This hilarious and dramatic award-winning story takes all kinds of twists and turns and has been adapted into a major motion picture.
Shawn has autism and works for a dating app. He lives with his aging grandma, who encourages him to date after his grandfather dies. While Shawn can take care of himself, he still needs help from his wardrobe to keeping a budget, etc. He isn't very good at social cues and typically says what he thinks, which isn't always helpful on blind dates.
When a fellow employee wagers Shawn can't get a date at an office mixer, he asks a woman he sees at the bar out and arranges for them to have dinner at his apartment. Violet is a prostitute hired for the party and thinks he is propositioning her….
The story that unfolds offered a mix of humor, awkward and sweet moments while giving readers a glimpse at autism and prostitution. From family to fellow girls on the street, this story had it all.
Shawn hears colors, is envious of his co-worker and doesn't understand why women don't call him back when they say they will. I adored him and how the author shared the different dimension of autism which can be unique do each individual. Shawn attends church with his grandmother and it's his faith that guides him in his relationship with Violet.
It was easy to see how Shawn missed the social cues about their relationship. Violet hasn't been wooed before, so the attention Shawn offers is sweet and truth be told, she is desperate to change her circumstances. When grandma and Shawn's brother, along with Violet's pimp, realize what is going on, they interfere, but Shawn is determined.
The drama is kept low and replaced with suspense as Shawn tries to save Violet. I adored the simplicity of his thinking and how he loved. Faith, redemption, change and a sweet young man made this story heartfelt. Triggers include sexual assault, human trafficking and physical abuse.
The Sound of Violet is sweet and informative story. This tug at your heart romance and their circumstances will pull you in emotionally. The movie releases in 2022 and I saw a sneak peek of the trailer. Grab the book now because you will want to watch the movie. ?
The Sound of Violet by Allen Wolf delivered a sweet, funny, heart-warming story. #Romance #Autism #SecondChance #SoonToBeAMoive #NewRelease
Click To Tweet

Stay Caffeinated!
Never miss a post by adding Caffeinated to your Inbox
Related Posts