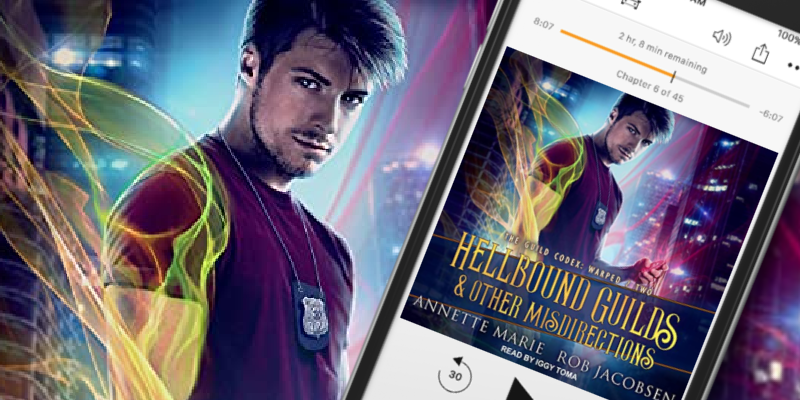 Annette Marie and her Guild Codex World have become one of my favorite urban fantasy universes with overlapping timelines. Hellbound Guilds & Other Misdirections is the second audiobook in The Guild Codex: Warped series co-written with Rob Jacobsen. Step into MagiPol and meet the enforcers of the Codex world. Strap in for a fast-paced, action-packed tale with rich characters.
Hellbound Guilds & Other Misdirections
by Annette Marie, Rob Jacobsen
Series: The Guild Codex: Warped #2
Narrator: Iggy Toma
Purchase*: Amazon | Audible *affiliate
Rating:

Narration: 5 cups Speed: 1.3x

Agent Kit Morris. Has a nice ring, doesn't it?

It's a big step up from "wanted criminal" or "that weird con-artist guy with weirder psychic powers"—both of which recently applied to me. But my promotion to MagiPol agent comes with a few drawbacks.

First, supremely talented and effortlessly gorgeous Agent Lienna Shen won't agree to a dinner date with me. Second, my new assignment has pitted me against a guild with very bad taste in pets. Third, those pets are demons, and those demons want to kill me.

My psychic magic is great for conning people. It doesn't do jack shit against hellish orcs. If I screw this up, my dinner date will be with a demon—and I'll be the dinner. Even better, I kind of suspect this supposedly straightforward assignment is actually the tip of an unholy iceberg of power-hungry malefactors bent on destroying all law and order in the city.

I should probably mention that part to my boss.
Theoretically, each series in the Guild Codex could be read on their own. Marie does an excellent job of providing backstory as needed when characters and events are mentioned. As a die-hard fan of the series, I am first going to recommend you listen to them in the order of their release. Some timelines and events crossover, as do characters.
The Guild Codex Universe
You can see the order Annette recommends here: Guild Codex Universe
You cannot help but smile when you get your hands on one of Marie's audiobooks and I was so excited to learn more about Kit, MagiPol and the Warped series. It seems like we had to wait forever, but in truth it's been less than a year!
Kit Morris is a thief turned agent after he made a deal. He is getting used to life as one of the good guys. Kit has unique magic, and I was curious to see him in action.
MagiPol or the MDP assigns Kit to partner with Lienna and I loved this pairing. The combination of Kit's magic and Lienna's bag of magical artifacts and unique personalities really shone as what appeared to be a straightforward case took them down a rabbit hole filled with danger.
I liked Kit from the start, but felt like we really got to know him in this second audiobook. Kit is smart, and clever at assessing people. His personality and blend of humor which makes him shine. His ability to create illusions in the mind of others it unique and I love watching it in action.
Lienna and Kit have quite the case on their hands and the deeper they dig, the more trouble they unearth. We spend a little time in the Crow and Hammer, get to see some favorite characters and even have one as a suspect.
We've got a slow burn romance, but I loved the inner dialogue and look forward to seeing how things develop. Kit isn't as confident as he appears to others and Lienna has some issues of her own. They play off each other's strengths and boost each other's confidence, making them the perfect duo.
As always, the case is solid with plenty of suspense, dead ends, shocking discoveries and seat of your pants action that keeps you listening into the wee hours. You won't want to miss Kit & Lienna as they investigate guilds full of Demons and their contractors!
Iggy Toma is the narrator of the Warped series and has done a splendid job of bringing these characters to life and grasping the tone of this world and author's writing. He truly has become the voice of Kit.
If you haven't dived into the Warped world yet, I recommend you walk, not run your fingers to the audio store and grab them. For users of Kindle Unlimited, the series are in KU and the audios are available at a reduced price when you borrow or buy the ebook.
Hellbound Guilds & Other Misdirections by Annette Marie & Rob Jacobson is the second #audiobook in the The Guild Codex: Warped series and it's not to be missed! Action-packed with fantastic characters and suspenseful case.…
Click To Tweet

Stay Caffeinated!
Never miss a post by adding Caffeinated to your Inbox
Related Posts