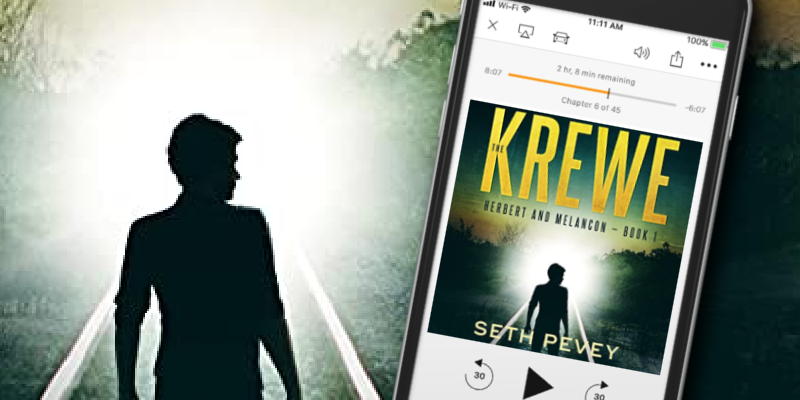 Narrated by Gary Bennett, The Krewe by Seth Pevey is the first audio in the Herbert and Melancon series. Travel to New Orleans as the black sheep of the family investigates his brother's death. Fans of crime thrillers will want to grab their earbuds and listen…
The Krewe
by Seth Pevey
Series: n
Narrator: Gary Bennett
Length: 5 hours and 35 minutes
Genres: Mystery
Source: Narrator
Purchase*: Amazon | Audible *affiliate
Rating:

Narration: 5 cups Speed: 1.3x

His brother has thrown himself under the eight o'clock freight train, or so he's been told.

Felix is heartbroken, mystified, and above all else: deeply suspicious. His gut screams foul play.

The black sheep of a wealthy, respected family in New Orleans, Felix knows his gut is untested, naïve, addled by drugs and self-doubt. Who will believe him? Should he even trust himself?

As the Mardi Gras season descends on the city, Felix will have to find a way. His purpose is, for once, very clear: to find out who, or what, caused his big brother to die in such heinous circumstances, no matter what it takes.

But there are shadowy forces at work. As he gets in over his head, he'll need the help of a garrulous police detective, the family's ancient butler, and a massive pork fortune, all in order to fight his way to the bottom of things.

Will he live up to the family name and avenge his brother? Find out in part one of a hard-boiled detective series set in the Big Easy.
Caffeinated Reasons to Listen to The Krewe…
Noir & Southern Fiction – Felix Herbert is the black-sheep of a well off family, an underachiever and stoner. But when Robert, his successful brother, commits suicide, Felix must step up and prove it was murder. To solve the case, he will have to convince Detective Melancon, a seasoned officer, that his brother didn't off himself and that something else was at play. He'll also need the help of Thomas De Valencia, the family butler from his connections to advice. The story had all the classic elements I love in a solid Noir crime thriller with southern flair.
Clever Mystery – Pevey did a great job of casting doubt, delivering clues and building up the suspense from dead ends to strange cars following Felix. The story was tightly woven and engaging with an air of believability. From evil villains to solving Robert's murder, I found myself invested.
NOLA Setting. Are you drawn to stories set in New Orleans? Do you like slipping into the circle of families from old wealth? The story takes place during Mardi Gras with masks, costumes and distractions. I confess I often grab book and audios because of the setting and NOLA is a one-clicker.
Characters – Felix, Tomas and Melancon are quite the odd team, but together they tackle the case and go head to head with the villain. The characters are fleshed out, and each had their strengths. I loved the way they interacted and Felix grew on me as a character. I am looking forward to more stories with the Krewe.
Narration – Gary Bennett narrates and delivered a stellar performance. He gave each character a unique voice and mannerism that suited their personas. His pacing built up the suspense, helped to cast doubt and got my heart racing as the tension increased.
Fans of Noir Fiction, Crime Thrillers, Murder-Mysteries and crime solving teams will want to grab The Krewe. There are currently five books in the series.
*Books are available through Kindle Unlimited and you can add audio at a reduced cost.
Narrated by Gary Bennett, The Krewe by Seth Pevey delivered a suspenseful, engaging Noir Mystery. #Audiobook #NewRelease #HerbertAndMelancon #CrimeFiction #NOLA
Click To Tweet

Stay Caffeinated!
Never miss a post by adding Caffeinated to your Inbox
Reading this book contributed to these challenges:
Related Posts