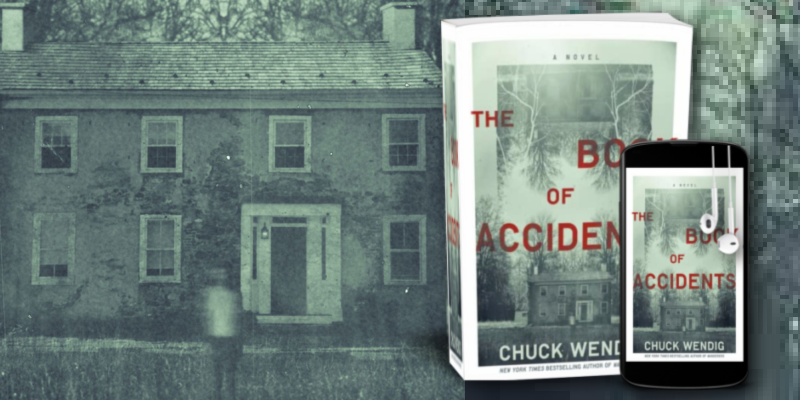 I love a good horror story in summer. I listened to The Book of Accidents by Chuck Wendig as I listened along to the narration performed by Xe Sands & George Newbern. Come to rural Pennsylvania where things have gone terribly wrong as Nate and Maddie Graves, along with their son Oliver facedown, an unspeakable evil.
The Book of Accidents
by Chuck Wendig
Narrator: Xe Sands, George Newbern
Length: 16 hours and 49 minutes
Genres: Horror
Purchase*: Amazon | Audible *affiliate
Rating:

Narration: 5 cups Speed: 1.4x

A family returns to their hometown—and to the dark past that haunts them still—in this masterpiece of literary horror by the New York Times bestselling author of Wanderers

Long ago, Nathan lived in a house in the country with his abusive father—and has never told his family what happened there.

Long ago, Maddie was a little girl making dolls in her bedroom when she saw something she shouldn't have—and is trying to remember that lost trauma by making haunting sculptures.

Long ago, something sinister, something hungry, walked in the tunnels and the mountains and the coal mines of their hometown in rural Pennsylvania.

Now, Nate and Maddie Graves are married, and they have moved back to their hometown with their son, Oliver.

And now what happened long ago is happening again . . . and it is happening to Oliver. He meets a strange boy who becomes his best friend, a boy with secrets of his own and a taste for dark magic.

This dark magic puts them at the heart of a battle of good versus evil and a fight for the soul of the family—and perhaps for all of the world. But the Graves family has a secret weapon in this battle: their love for one another.
Whether you read The Book of Accidents or listen, one thing is clear: Chuck Wendig has a twisted mind and the evil haunting the Graves will have your turning on the lights.
The story is told from the perspective of Nate, Maddie and others. I loved the mix narrative as we learned different things that were occurring both individually and throughout the community. Each has strange episodes, but none of them are forthcoming with the others.
Wendig tells a twisted tale and just when you think you know where things are headed, he changes perspectives and terrorizes you all over again. What starts off as a family with baggage looking for a fresh start quickly morphs into your worst nightmares when something that was dormant awakens.
Fans of King will appreciate the character Ollie. There are moments where he steals the show, but Maddie and Nate each have their moments. I loved discovering the history of both Nate and Maddie's childhood, and loved where Wendig took the story, particularly with the tunnel and manifestations.
Parts gore and parts thump in the night, I quickly slipped in to this story and found myself held captive. It feels like a mix of genres, with some magic and science-fiction elements woven into the story. It all enhanced the story, giving me the suspenseful thrills and chills of genuine horror.
I read along as I listened to George Newbern and Xe Sands narrated. I often do this and loved how the narration amped up the tension, horror, and suspense. The audio is slightly different, but I am assuming it had the final edit. While the story is fantastic, the narration rocked. I recommend listening…turn out the lights and grab a flashlight!

Stay Caffeinated!
Never miss a post by adding Caffeinated to your Inbox
Reading this book contributed to these challenges:
Related Posts