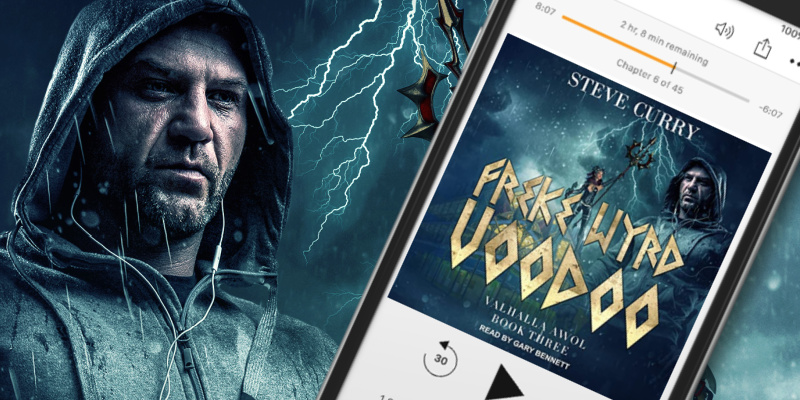 It was fantastic to return to the Valhalla AWOL urban fantasy series with Freke Wyrd Voodoo, the third audio in the series narrated by Gary Bennett. Mouse finds himself in Louisiana after being picked up by the feds in Mexico. Laced with Norse mythology, Curry kept us busy as Magnus deals with different problems.
Freke Wyrd Voodoo
by Steve Curry
Series: Valhalla AWOL #3
Narrator: Gary Bennett
Length: 10 hours and 4 minutes
Genres: Urban Fantasy
Source: Author
Purchase*: Amazon | Audible *affiliate
Rating:

Narration: 5 cups Speed: 1.3x

Can Magnus rescue all of his loved ones before supernatural or mundane hunters either one find him?

One set wants the "Chosen Warrior" on a dissecting table; others want to silence him to keep their own secrets. And his divinely tempestuous and vengeful ex-lover, the Valkyrie Kara has her own sadistic amusements in mind. Maybe his newest allies can make the difference. Maybe he can be tough enough, fast enough, and lucky enough to pull it all off. And maybe somewhere in his confused memories are the keys to getting out of this mess. Or maybe he's just nuttier than Aunt Sally's pecan pie. Good thing he's tougher than her roast beef.
This series has been fun on audio. Bennett's narration allows me to keep track of the unique characters, creatures and events. The feds and the Valkyrie Kara both want a piece of or perhaps pieces of Magnus, and in this installment he is on the run from both while looking for his girlfriend. Is she his girlfriend?
We find ourselves in New Orleans and dealing with a voodoo curse and making deals with trolls. We learn more about Magnus's past, his Raven and more. The tale is fast-paced with danger from all sides as we make new allies and run into trouble.
Throughout the tale the author weaves Norse and other mythologies into the mix along with some magic, humor, and pop references. Fans of Kevin Hearne will find Curry's style to be similar. He doesn't quite have the smoothness or flow for his tales yet, but the series and characters are engaging and have depth. His humor and protagonist make listening fun.
Gary Bennett does a stellar job with all the characters from male, female and creatures. He has captured Magnus as our protagonist and truly enhances the story. Listening to him is always an enjoyable experience.
Freke Wyrd Voodoo by Steve Curry is the third audio narrated by Gary Bennett in the Valhalla AWOL #urbanfantasy series and takes us to New Orleans. #Audio #MustListen
Click To Tweet

Stay Caffeinated!
Never miss a post by adding Caffeinated to your Inbox
Reading this book contributed to these challenges:
Related Posts