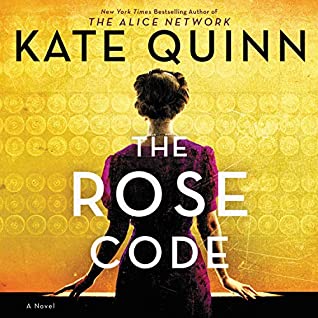 The Rose Code
by Kate Quinn
Narrator: Saskia Maarleveld
Length: 15 hours and 40 minutes
Genres: Historical Fiction
Source: Publisher
Purchase*: Amazon | Audible *affiliate
Rating:

Narration: 5 cups Speed: 1.3x

The 'New York Times' and 'USA Today' bestselling author of 'The Huntress' and 'The Alice Network' returns with another heart-stopping World War II story of three female code breakers at Bletchley Park and the spy they must root out after the war is over.

1940. As England prepares to fight the Nazis, three very different women answer the call to mysterious country estate Bletchley Park, where the best minds in Britain train to break German military codes. Vivacious debutante Osla is the girl who has everything - beauty, wealth, and the dashing Prince Philip of Greece sending her roses - but she burns to prove herself as more than a society girl, and puts her fluent German to use as a translator of decoded enemy secrets. Imperious self-made Mab, product of east-end London poverty, works the legendary codebreaking machines as she conceals old wounds and looks for a socially advantageous husband. Both Osla and Mab are quick to see the potential in local village spinster Beth, whose shyness conceals a brilliant facility with puzzles, and soon Beth spreads her wings as one of the Park's few female cryptanalysts. But war, loss, and the impossible pressure of secrecy will tear the three apart.

1947. As the royal wedding of Princess Elizabeth and Prince Philip whips post-war Britain into a fever, three friends-turned-enemies are reunited by a mysterious encrypted letter - the key to which lies buried in the long-ago betrayal that destroyed their friendship and left one of them confined to an asylum. A mysterious traitor has emerged from the shadows of their Bletchley Park past, and now Osla, Mab, and Beth must resurrect their old alliance and crack one last code together. But each petal they remove from the rose code brings danger - and their true enemy - closer. .
I love a good historical fiction, especially when it's based on actual events, people and places. The Rose Code by Kate Quinn takes us to Bletchley Park and shares the fascinating story of a group of decoders during WWII.
The story shares two timelines. The first takes us to 1940 as England prepares to fight the Nazis. Here we meet three young women who sign the secrecy act and take jobs at Bletchley Park. The second is 1947, as England prepares for the marriage of Princess Elizabeth and Prince Philip.
Bletchley Park employees the best minds in Britain and enlists them to break German military codes. It is here we meet Olsa, Beth and Mabs.
Olsa is a society girl who posses beauty, wealth and is being courted by Prince Philip of Greece, but she wants more and signs up to aid the war putting her fluent German skills to good use.
Beth is a local spinster who adheres to her mother's strict rules and can solve a crossword puzzle in record time.
Mabs has lifted herself up from her East London beginnings and works on the legendary code-breaking machines. She carries a secret and is courting a wealthy husband.
Olsa and Mabs rent a room from Beth's parents and invite her out to the Alice in Wonderland book club, eventually introducing her to their employers where Beth will break codes.
I loved the workings of Bletchley field and the way each group receives a small piece of the puzzle they are working to solve. It was fascinating. We also saw the Nazis draw closer as they began bombing London.
Along the way, we witness their friendships grow and see relationships develop as we get to know each girl. All of them are flawed, but you cannot help but root for them, especially with the work they are doing.
The author shares suspenseful chapters from one of them around 1947. A decoded message reveals treason. When they share it with the wrong person, they find themselves locked away in an asylum. They reach out to the others in hopes they will come to their aid and unlock the clues to reveal the traitor in their midst.
I found myself drawn into their lives as the two timelines merged and pulled us toward the nail-biting conclusion. I loved the book club and the way all of them came together.
Kate Quinn not only brought the history of this period to life, she created complex characters who, while vastly different, wanted to do their part. One cannot help but admire those who worked at Bletchley Park.
Narrated by Saskia Maarleveld, I laughed, cried, shook my fists and cheered as the audio pulled me in. Saskia Maarleveld was brilliant. I have long enjoyed her narrations and felt she beautifully captured each of the women.
Reading this book contributed to these challenges:
Related Posts