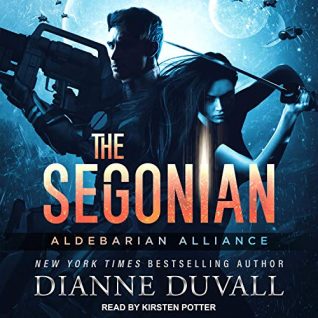 The Segonian
by Dianne Duvall
Series: Aldebarian Alliance #2
Narrator: Kirsten Potter
Length: 13 hours
Genres: Science Fiction, Romance
Source: Publisher
Purchase*: Amazon | Audible *affiliate
Rating:

Heat Level:

Narration: 5 cups Speed: 1.3x

New York Times bestselling author Dianne Duvall brings readers the second stand-alone novel in a thrilling new sci-fi romance series full of action, humor, and happily-ever-afters.

Eliana's life has never been what one might term ordinary. At least, it hasn't been for a very long time. As a powerful Immortal Guardian, she spends her nights hunting and slaying psychotic vampires that most of humanity doesn't even realize exist. Then an opportunity arises that instantly makes her extraordinary existence seem downright boring. The leader of the Immortal Guardians asks her to guard a group of mortals who are embarking upon a voyage across the galaxy to the planet Lasara. How could she possibly say no?

In no time at all, Eliana is hurtling through space on board a Lasaran battleship and getting to know not one but two alien races. It's the most exciting adventure of her long life... until the ship is unexpectedly attacked. Amid the chaos and destruction that follow, she valiantly helps everyone she can before an explosion renders her unconscious. When Eliana awakens, she finds herself alone, floating in space, clad only in a spacesuit, with no ship in sight. Alone--that is--except for the warm, deep voice that carries over the comm in her helmet.

Commander Dagon and the crew of the Segonian battleship Ranasura respond to a distress call from their Lasaran allies and join a massive Alliance-wide search-and-rescue mission. He quickly achieves communication with a lone Earthling female and races toward her. Every time they speak, his fascination with her grows and he becomes more desperate to reach her before her oxygen supply runs out. Her strength, bravery, and humor entice him, even more so when she defies all odds and they meet in person.

As he and Eliana embark upon a quest to find her missing friends, a bond swiftly grows between them that deepens with every laugh and smile and tender touch they share. But they are not the only ones searching for Earthling survivors. When Eliana herself becomes the hunted and their enemies begin to close in, can the two of them fight their way to victory, or will their enemies take everything?
The Segonian by Dianne Duvall was one of my most anticipated audiobooks of 2021, and it delivered! Prepare for wicked banter, geeky discoveries, danger, and a sizzling romance as only Duvall can deliver.
This is the second audiobook in the Aldebarian Alliance and it picks up exactly where The Lasaran ended. While this is a spinoff of the Guardian Immortals series, this series holds its own and takes us into deep space where we meet new worlds, new races, and danger.
I love this series from the ships and technology to the characters, camaraderie, humor and passionate romance.
Eliana is this wonderful combination of heart, warrior and honesty. Not spiteful, she just blurts out her thoughts. From her appetite to her skill set she made me laugh, cheer and hope for her happily ever after. I adored Commander Dagon from his romantic side to the respect he gives Eliana. His crew respect him, but I also loved how Eliana softened him. Secondary characters from invaders to crew members added humor, tension, and a second romantic thread.
Duvall transported me and listening added a whole new level of enjoyment. Kirsten Potter did a stellar job of capturing Eliana's vivacious personality. I loved the voice she gave to Dagon, the crew and others. Her pacing, tone and vocal abilities made an already amazing story amazing. Duvall's writing style transfers to audio well from dialogue to imagery.
While this is Eliana's story, there is an overall ARC involving a threat to all worlds, including Earth. You'll want to grab your earbuds and download this one!
Grab your earbuds and escape off-planet with The Segonian by Dianne Duvall #Fantasy #Romance #audiobook #KirstenPotter #NewRelease
Click To Tweet
Reading this book contributed to these challenges:
Related Posts