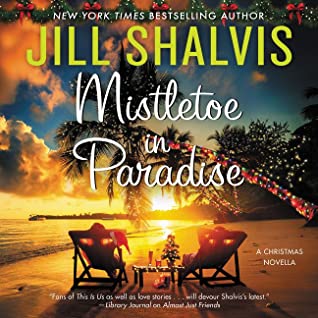 Mistletoe in Paradise
by Jill Shalvis
Series: Wildstone #5.5
Narrator: Erin Mallon
Length: 2 hours and 28 minutes
Genres: Contemporary Romance
Source: Publisher
Purchase*: Amazon | Audible *affiliate
Rating:

Narration: 5 cups Speed: 1.3x

Problem Number One – Getting There

Old childhood friends each fly separately to join their families on what's been an annual holiday themed yacht adventure. Secret ex-lovers, Hannah and James are determined to make the best of things…

Problem Number Two – Getting Stuck.

When everyone but Hannah and James gets held up in an airport snarl, it leaves them stuck together for four days, making Hannah's already problematic trip a whole lot harder to face. Especially because she comes bearing more than just gifts…

Problem Number Three -- Falling In Love (again)

As the former lovers try to make the best of the Christmas snafu, they soon realize that the best things in life can't be planned and sometimes love is sweeter the second time around.
Mistletoe in Paradise by Jill Shalvis offers a second chance romance for childhood sweethearts while learning that we do not plan the best things in life. Narrated by Erin Mallon.
This is a novella in the Wildstone series but can easily be read as a standalone. At just under three hours, it's the perfect download for Christmas Eve. Grab your headphones and listen while you bake.
From humor to heartache, we get to learn about Hannah and James as they find themselves stuck on a boat at Christmas. The two are childhood friends and have a romantic fling, but grew up and drifted apart. Hannah is a workaholic and James is reevaluating priorities.
Shalvis' characters are rich, flawed, honest, realistic and this was touching as they opened up, bared their souls and eventually communicated their feelings.
Erin Mallon narrates and is always a favorite here at Caffeinated. Her range of voices and ability to share their emotions added depth to this tale.
Despite the short-length the story offered a complete story that didn't feel rushed and allowed me to connect. Whether you are new to Shalvis or a fan of the Wildstone series, Mistletoe in Paradise is perfect for the season.
Grab your headphones and listen to Mistletoe in Paradise by Jill Shalvis while you bake holiday cookies #Romance #Wildstone #ErinMallon
Click To Tweet
Reading this book contributed to these challenges:
Related Posts