Nonna's Corner is a special feature where I share books I've reviewed with my grandchildren, affectionately referred to as the "Royals" here at Caffeinated. We hope you enjoy them and find books to share with your little ones.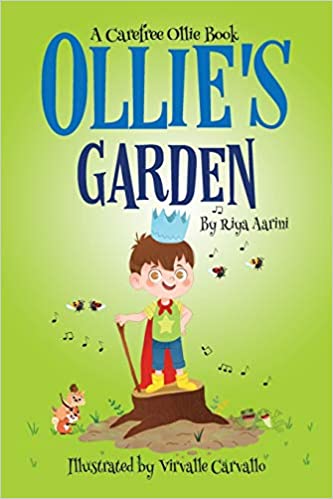 Ollie's Garden
by Riya Aarini
Illustrator: Virvalle Carvallo
Series: Carefree Ollie #3
Genres: Childrens
Source: Author
Purchase*: Amazon *affiliate
Rating:
Ollie is king of his garden. Animals and insects of all colors, shapes, and sizes live among its grasses, flowers, and trees. When the garden creatures fight, Ollie is left to sort out the mess and return peace to his garden kingdom. Will Ollie's garden become a place of acceptance and tolerance? Find out when you pick up this lively garden tale!
The Royals and I love the adventures of Carefree Ollie and were delighted to gather around the newest novel, Ollie's Garden, by Riya Aarini. Ollie is king of the garden and loves all the flowers and plants, that is until the demands of the kingdom interrupt his napping.
Wearing a crown and carrying a stick scepter, Ollie sits upon his tree stump throne admiring the flowers, vegetables and fruits growing in his garden. The sun is shining and soon Ollie drifts off to sleep..but the ladybugs are fighting and soon the toads and frogs, not to mention the squirrels and chipmunks.
Soon the Royals were defending bugs and creatures alike as King Ollie tried to make peace. The story goes through each battle and each time Ollie tells them the same thing. Sophia and Clayton began shouting it along with him, much to my delight.
By the second read through, Sophia using picture clues and sight words could tell me the story. We all talked about the differences and likenesses of the different squabblers and all agreed they should share.
The Carefree Ollie series offers humor, lessons, and engages young readers. There was more text in this story than previous books, but the number of sight words Sophia could identify delighted me.
The illustrations by Virvalle Carvallo were colorful. They held the children's attention and allowed Clayton (3) to become involved.
Reading level : 5 – 7 years
Related Posts