Watch Her Vanish
by Ellery A. Kane
Series: Rockwell and Decker #1
Genres: Thriller
Source: Publisher
Purchase*: Amazon *affiliate
Rating:
Fear hits her like a wave crashing against the sheer cliffs nearby. She sees the woman's feet first, then the legs bent like broken driftwood. Then, the blouse strewn open; the marks on her beautiful neck. Her knees buckle as a hand grabs her elbow to break her fall.

Forced home to Fog Harbor, California, to look after her little sister, Criminal Psychologist Olivia Rockwell is struggling to adjust to life in a town so small she can hardly breathe. Until, at church one morning, the sound of a scream leads her to the body of a missing local teacher in the shallows nearby. All the evidence points to Olivia's most threatening patient, Drake, who is safely locked up behind bars…

Convinced of Drake's innocence—and desperate to believe in the system that's keeping her own murderer father behind bars—Olivia gets to work on her own suspect list. All her life she's run towards trouble, but this time she's treading on the toes of brooding and handsome Detective Will Decker.

Then a second woman's body is discovered, strangled while out on an evening jog. The strip of blue material used to choke her implicates Drake once again, forcing Olivia and Will to admit they are out of their depth and must work together to crack the case.

The deeper they dig, the deadlier the trail becomes. It's clear more innocent women will die if they don't get one step ahead. But then a note written on a scrap of paper found in the last victim's car leads them to a terrifying realization: the killer has his sights on Olivia's little sister as the next victim…

An addictive and unputdownable crime thriller that will keep you up all night. Perfect for fans of Melinda Leigh, Kendra Elliot and Mary Burton.
Watch Her Vanish by Ellery A. Kane is the first novel in the Rockwell and Decker series. This murder-mystery thriller set in a small town offers suspense, intrigue, and a side dish of romance.
Welcome to Fog Harbor, California, where the primary employer is Rockwell Prison, a maximum security penitentiary.
Criminal Psychologist Olivia Rockwell lives with her sister in their family home and both work at the prison. The two have baggage and secrets, but I liked Olivia and found her to be a strong character.
When a missing woman turns up dead, it shakes the small town. Detective Will Decker and his partner are assigned to work the case. When another body turns up, it looks like they may have a serial killer on their hands.
From the initial back-and-forth banter between Olivia and Will, we witness a spark. The two traded barbs and Will eventually seeks her out for assistance on the case, allowing them to interact more.
This was an interesting case, and the author did a wonderful job of making connections and casting doubt. She wove the characters past and present into the cases while weaving in the prison and its inmates. It was intriguing and kept me guessing.
The tale isn't overly gruesome or heavy on police procedures, but we gain enough insight to paint a gruesome picture. The profiling was fascinating and showcased the author's background.
Secondary characters from partners to family members were developed and added to the story. They brought humor, worry, and more. I loved Will's partner. The man made me laugh and offered light against the dark investigation.
We see a relationship develop between Olivia and Will, one I think will grow over the course of the series. It was a nice side dish to the murder mystery.
Fans of Kendra Elliot and Melinda Leigh will want to add Watch Her Vanish to their reading list this fall.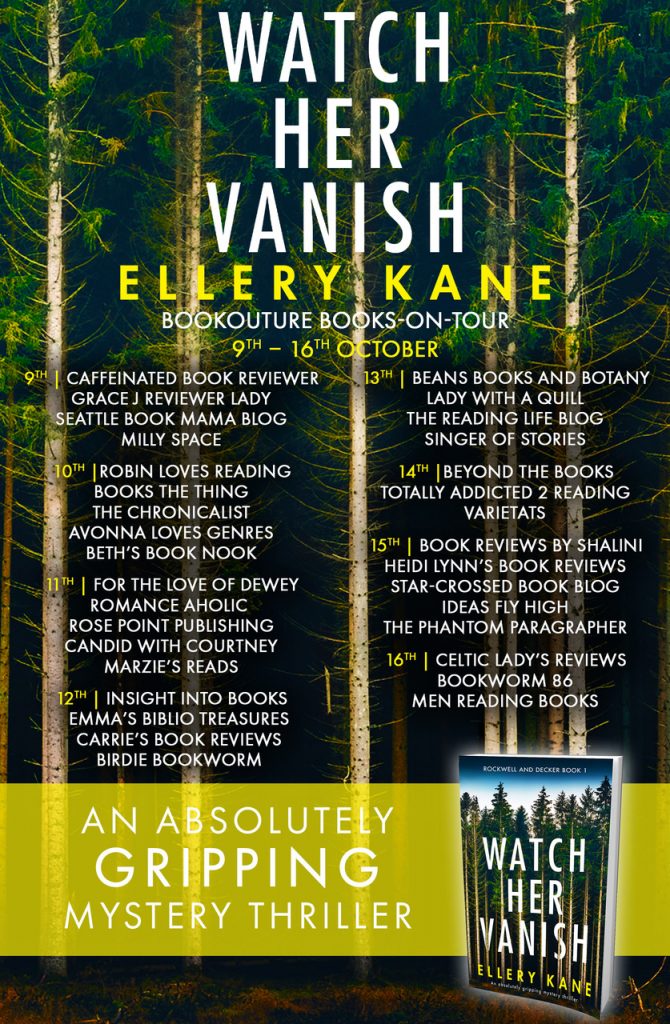 Fans of Kendra Elliot and Melinda Leigh will want to add Watch Her Vanish by Ellery A. Kane to their reading list this fall. #thriller #NewRelease
Click To Tweet
Related Posts