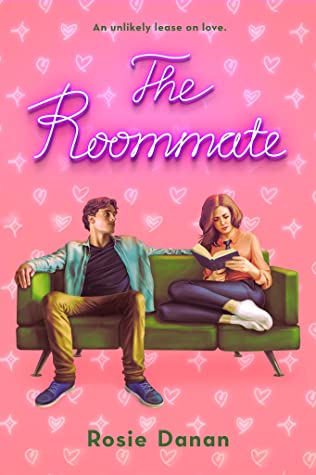 The Roommate
by Rosie Danan
Series: The Roommate #1
Genres: Contemporary Romance
Source: Publisher
Purchase*: Amazon | Audible *affiliate
Rating:

Heat Level:
House Rules:
Do your own dishes
Knock before entering the bathroom
Never look up your roommate online

The Wheatons are infamous among the east coast elite for their lack of impulse control, except for their daughter Clara. She's the consummate socialite: over-achieving, well-mannered, predictable. But every Wheaton has their weakness. When Clara's childhood crush invites her to move cross-country, the offer is too much to resist. Unfortunately, it's also too good to be true.

After a bait-and-switch, Clara finds herself sharing a lease with a charming stranger. Josh might be a bit too perceptive—not to mention handsome—for comfort, but there's a good chance he and Clara could have survived sharing a summer sublet if she hadn't looked him up on the Internet...

Once she learns how Josh has made a name for himself, Clara realizes living with him might make her the Wheaton's most scandalous story yet. His professional prowess inspires her to take tackling the stigma against female desire into her own hands. They may not agree on much, but Josh and Clara both believe women deserve better sex. What they decide to do about it will change both of their lives, and if they're lucky, they'll help everyone else get lucky too.
I haven't read a contemporary romance in over six months, side dishes in other genres and a historical here or there sure, but I haven't been in the mood for a straight up romance. I accepted The Roommate by Rosie Danan because the publisher was over the moon excited by it, and I honestly got swept up in her enthusiasm. I am so happy I listened to her!
When it came down to read it, I admit I began reluctantly. But, let me tell you by the end of the first chapter I was completely hooked. The Roommate is a refreshing, original, and sexy tale with lovable, flawed characters that I rooted for.
I went into this cold, so I learned about Josh right along with Clara. Eep! First, Clara Wheaton is adorable, flawed and smarter than she gives herself credit for. She also doesn't like to take chances. She is very relatable.
Despite excelling in a few departments and being able to eat donuts and still rock the jeans, Josh has his own insecurities and hangups. He's a good guy who just needs to believe in himself.
The whole setup was cute. The romantic build-up with its sexy moments melted my kindle. I was afraid it might get awkward and this could have totally been weird, but it was perfect. I have zero complaints. Zero.
I laughed, cheered for our couple and held my breath when things got rough. The drama was low key thanks to outside forces and a little growth from our heroine.
If you are looking for the perfect, feel good romance to curl up with The Roommate is it.
Related Posts