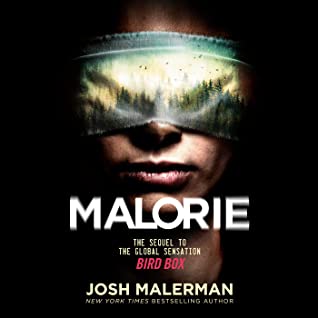 Malorie
by Josh Malerman
Series: Bird Box #2
Narrator: Cassandra Campbell
Length: 8 hours and 44 minutes
Genres: Horror
Source: Publisher
Purchase*: Amazon | Audible *affiliate
Rating:

Narration: 5 cups Speed: 1.3x

In the thrilling sequel to Bird Box, the inspiration for the record-breaking Netflix film that starred Sandra Bullock and "absolutely riveted" Stephen King, New York Times best-selling author Josh Malerman brings unseen horrors to life.

Twelve years after Malorie and her children rowed up the river to safety, a blindfold is still the only thing that stands between sanity and madness. One glimpse of the creatures that stalk the world will drive a person to unspeakable violence.

There remains no explanation. No solution.

All Malorie can do is survive - and impart her fierce will to do so on her children. Don't get lazy, she tells them. Don't take off your blindfold. AND DON'T LOOK.

But then comes what feels like impossible news. And with it, the first time Malorie has allowed herself to hope.

Someone very dear to her, someone she believed dead, may be alive.

Malorie has already lost so much: her sister, a house full of people who meant everything, and any chance at an ordinary life. But getting her life back means returning to a world full of unknowable horrors - and risking the lives of her children again.

Because the creatures are not the only thing Malorie fears: There are the people who claim to have caught and experimented on the creatures. Murmurings of monstrous inventions and dangerous new ideas. And rumors that the creatures themselves have changed into something even more frightening.

Malorie has a harrowing choice to make: to live by the rules of survival that have served her so well, or to venture into the darkness and reach for hope once more.
Malorie by Josh Malerman is the follow up sequel to his blockbuster hit Bird Box. Narrated by Cassandra Campbell, Malerman delivered a story I didn't even know I wanted. Brilliant, thought-provoking and addictive.
caffeinated confession…
I have a little confession to make. I didn't read or listen to Bird Box even though I own both the eBook and Audible versions. I did however watch the movie with Sandra Bullock. After listening, I have a feeling I cheated myself horribly! There I feel better for having bared my soul.
caffeinated thoughts….
This tale opens twelve years after they arrived at the school for the blind. Thomas and Olivia are teens (sixteen) when their sanctuary is evaded by the others. The three set out and find a home at an abandoned campground. They are living by the fold when a stranger appears. He is taking a census and has news. The tale was frightening and suspenseful. It highlights the struggle of youth to experience the world on their own terms, addresses our fear of change and awakens hope.
As the story unfolds, we meet fear head-on, and learn of secrets as Malorie and the teens are tested. Phew, this got intense. From not being able to see to the risks and danger they faced. The danger came not only from the creatures but also from fellow humans.
Before listening to this I would have said I was happy with how Bird Box ended, now I am grateful that the author gave us more. It was intense, creepy, and thought provoking. I loved that it tested beliefs and challenged each of us to think. Do we stay safe and live by the fold, or do we test the limits of our restraints? Is safe always better?
Cassandra Campbell was brilliant with the narration. She captured the tone, fear and atmospheric story,. Her voice allowed the listener to experience Malorie's uncertainty, terror and desperation. I felt she enhanced an already well-written tale and elevated my enjoyment.
I will watch for the movie on Netflix, but not before I listen to Bird Box.
Narrator Cassandra Campbell delivers a suspenseful narration of Malorie by Josh Malerman #BirdBox #SuspenseThriller #Horror #audiobook
Click To Tweet
Reading this book contributed to these challenges:
Related Posts