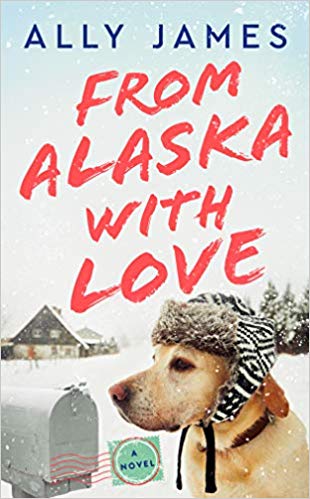 From Alaska with Love
by Ally James
Genres: Contemporary Romance
Source: Publisher
Purchase*: Amazon *affiliate
Rating:

Heat Level:
A soldier has six weeks to convince the only woman he has ever longed for to take a chance on life with him in Alaska....

Sara's letters were the only bright spot during Gabe's devastating tour in Iraq. With each new correspondence he fell harder, needed her more, wanted to be with her. Now, after initially rejecting his offer to meet, she's shown up at the door of his isolated cabin in Alaska looking for...what? Gabe's not sure what made Sara change her mind, but he knows he never wants to let her go.

Major Gabe Randall is everything Sara Ryan wants but nothing she feels she deserves. A modern-day spinster, Sara hides behind family obligations and the safe, quiet life she's resigned herself to living. But secretly, even though she may have stretched the truth about who she is in her letters to him, she wants Gabe. Will he still want her when he discovers the real woman behind the pen?

Once they meet, Gabe asks her for six weeks in Alaska. Six weeks to spend getting to know each other, and then she'll have to decide whether they are better together or apart.
From Alaska with Love by Ally James delivered a heart-felt across the miles relationships with character development, an adorable dog and an awkward romance that will make you laugh and swoon.
I am a sucker for military romances, romances with pets and Alaskan settings and From Alaska with Love delivered all of those elements and more. An awkward hero, an insecure heroine, an overbearing family and a dog that will melt your heart.
Sara took over watching her niece when her company downsized and slipped into handling her mother's finances when her father passed. You might say she is the glue that hold everyone together. She is sweet, lonely, unsure of what the future holds and genuinely a good person. Which is why she sends an Easter card to a soldier stationed overseas.
Major Gabe Randall is a lifer. He has never had a serious relationship but hopes to eventually settle with his dog, Trouble in Alaska. He never takes part or takes letters sent to the troops; preferring to give them to his men. A hold up with mail created an excess he receives Sara's letter.
Sara thinking to never meet the soldier offers him a glimpse of her life in a humorous way. Gabe responds via email. They soon begin exchanging emails. I loved these awkward exchanges and getting inside their heads. Before you know it, they move to text, and finally video chats. Gabe makes arrangements for Sara to fly out to Alaska for the holidays with him….only Sara doesn't know how to tell her family. The tale that unfolds made me laugh even as I wanted to slap sense into a few characters.
The romance was a slow-build and low on heat. In fact, I almost wondered if that first kiss would ever happen. The story slowed and struggled before kicking into high gear and I admit to wanting to Gibbs slap (NCIS) both of them. It felt right though and fit the characters and their personalities. The drama was kept low and focused on the character growth.
A sweet romance for fans of You've Got Mail, From Alaska with Love is the perfect romance for a Sunday afternoon by the fire.
From Alaska with Love by Ally James delivered humor, romance and a You've Got Mail type feel. #Romance
Click To Tweet
Related Posts