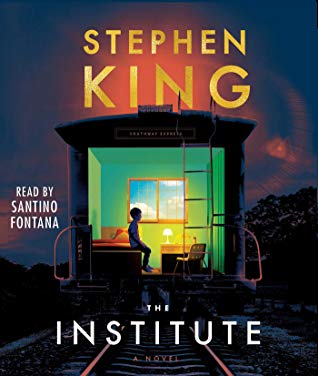 The Institute
by Stephen King
Narrator: Santino Fontana
Length: 18 hours and 59 minutes
Genres: Horror
Source: Publisher
Purchase*: Amazon | Audible *affiliate
Rating:

Narration: 5 cups Speed: 1.3x

In the middle of the night, in a house on a quiet street in suburban Minneapolis, intruders silently murder Luke Ellis's parents and load him into a black SUV. The operation takes less than two minutes. Luke will wake up at The Institute, in a room that looks just like his own, except there's no window. And outside his door are other doors, behind which are other kids with special talents—telekinesis and telepathy—who got to this place the same way Luke did: Kalisha, Nick, George, Iris, and ten-year-old Avery Dixon. They are all in Front Half. Others, Luke learns, graduated to Back Half, "like the roach motel," Kalisha says. "You check in, but you don't check out."

In this most sinister of institutions, the director, Mrs. Sigsby, and her staff are ruthlessly dedicated to extracting from these children the force of their extranormal gifts. There are no scruples here. If you go along, you get tokens for the vending machines. If you don't, punishment is brutal. As each new victim disappears to Back Half, Luke becomes more and more desperate to get out and get help. But no one has ever escaped from the Institute.

As psychically terrifying as Firestarter, and with the spectacular kid power of It, The Institute is Stephen King's gut-wrenchingly dramatic story of good vs. evil in a world where the good guys don't always win.
The Institute by Stephen King was one of my most anticipated audiobooks this fall. Narrated by Santino Fontana, this addictive and twisted tale pulled me in as only King can.
As is typical of King he takes his time setting up the world, fleshing out his characters and giving us a sense of things before plunging us into the twisted darkness that awaits us there. He makes you think as he unravels a tale that seems both horrific and yet strangely plausible. For me, this felt like old school King and I slipped in letting the outside world float away.
Like most of King's books I went into this story completely blind with nothing more than the cover to guide me. We meet and travel with, Tim Jamieson, a former police officer with several commendations. He is traveling to New York to begin a new career and through a series of events ends up in Dupray, South Carolina.
We then meet young Luke Ellis, a twelve-year-old genius living in the suburbs of Minneapolis. Aside from Luke's intelligence he appears to move things unintentionally when he is excited or stressed. In the middle of the night an SUV enters his quiet neighborhood and three strangers dressed in black quietly invade his home. He awakens to a noise to see a strange woman in his room then everything goes dark. When he awakens, he is is in his room… only it's not his room. He is thousands of miles away in rural Maine at a place known as the Institute. And so it begins.
Holy Mindbenders. Secret government compounds, experiments, creepy doctors, front rooms, back rooms, tests, changes and more await you. I will not say more. I don't think this was scary horror, but it did cause the hair on the back of my neck to stand on end a few times particularly in the back half. We meet a group of kids varying in age from ten to I think sixteen and what they are put through is horrifying.
*whispers* Fans of Stranger Things think Eleven.
The two threads merge and it's one heck of a ride. The audio is nineteen hours long and I finished in two days. It left me bleary eyed with a book hangover. All I am saying is this… It was worth it!
Santino Fontana delivered with the narration giving voice to a wide range of characters and age groups. All of them felt authentic, and his female voices were spot on. I think he enhanced the villians and strengthened Lucas's journey.
2 days. 19 hours. I helluva hangover. So worth it. The Institute by Stephen King #audio Narrated by Santino Fontana #MustListen
Click To Tweet
Reading this book contributed to these challenges:
Related Posts