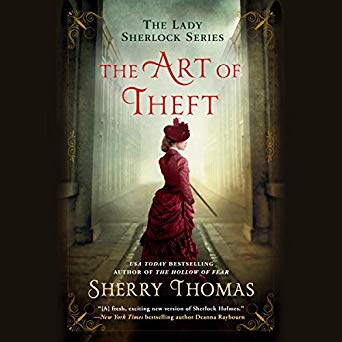 The Art of Theft
by Sherry Thomas
Series: Lady Sherlock #4
Narrator: Kate Reading
Length: 10 hours and 17 minutes
Genres: Historical, Mystery
Source: Publisher
Purchase*: Amazon | Audible *affiliate
Rating:

Narration: 5 cups Speed: 1.3x

As "Sherlock Holmes, consulting detective," Charlotte Holmes has solved murders and found missing individuals. But she has never stolen a priceless artwork—or rather, made away with the secrets hidden behind a much-coveted canvas.

But Mrs. Watson is desperate to help her old friend recover those secrets and Charlotte finds herself involved in a fever-paced scheme to infiltrate a glamorous Yuletide ball where the painting is one handshake away from being sold and the secrets a bare breath from exposure.

Her dear friend Lord Ingram, her sister Livia, Livia's admirer Stephen Marbleton—everyone pitches in to help and everyone has a grand time. But nothing about this adventure is what it seems and disaster is biding time on the grounds of a glittering French chateau, waiting only for Charlotte to make a single mistake...
The Art of Theft by Sherry Thomas is the fourth book in the Lady Sherlock series and once again I listened to the delightful narration by Kate Reading. Thomas took us on quite the adventure as Charlotte Holmes and her motley crew of friends attempt to pull off a heist!
Last year I devoured the first three audiobooks and was delighted to listen to The Art of Theft. This delivered a different flair, although it still had some mystery and required cunning skills, disguises and observation.
Mrs. Watson accepts an case from a old lover whom she feels some guilt over leaving. This particular case involves recovering or should I say stealing a priceless artifact for the Dowager Maharani of Ajmer.
Ash, Livie, and Mr. Marbleton accompany them to France. What an adventure! They needed access to an impenetrable chateau, from invitations to jobs. Carefully laid out plans must be made. It was clever, with plenty of twists and anxious moments. Of course, Sherlock had questions that needed to be answered. All of this kept me listening.
Now as for the romance… between one Lord Ingram and our Lady Charlotte..Eep! So many developments from maids to moments that made my heart flutter or had me stopping my foot. It was all rather delightful, but I still suggest locking them in a closet for a spell.
Kate Reading is such a delight as the narrator for this series. She brings these characters and their personalities to life. I giggled aloud and becoming quite caught up in the thick of it all. She even enhanced  secondary characters through tones and mannerisms.
The Art of Theft delivered and now I am left waiting for the next audiobook in this delightful series. Fans of Sherlock Holmes and historical mysteries will find these stories and characters entertaining.
The Art of Theft by Sherry Thomas in which Lady Sherlock and her merry band of misfits attempt to pull off a heist #audiobook #historical #mystery #KateReading
Click To Tweet
Reading this book contributed to these challenges:
Related Posts