Today I am sharing two audiobooks produced by Lübbe Audio; Jack the Ripper by Frank Gustavus and Murder on Thames by Matthew Costello and Neil Richards. Grab a cuppa and enjoy….
Jack The Ripper
by Frank Gustavus
Narrator: Neil Dudgeon, David Rintoul, Carl Prekopp
Length: 1 hour and 10 minutes
Genres: Horror
Source: Publisher
Purchase*: Amazon | Audible *affiliate
Rating:

Narration: 5 cups Speed: 1.1x

His true identity has never been revealed. His victims faced the abyss of human insanity. His name is Jack the Ripper. London, 1888. In the poor district of Whitechapel, women are found dead, their bodies brutally disfigured. The victims' ripped throats are proof of a bestiality and cruelty, which has never been seen before. The investigation of the police leads to no satisfying results. Soon, the public calls the culprit "Jack the Ripper" - a serial killer who stalks the streets of Whitechapel at night and viciously kills ... In this Audio Movie, Jack the Ripper and his story come alive. Discover the dark world of London in the year 1888 and be part of the breathtaking and heart-pounding manhunt for one of the most notorious and feared criminals in British history. Enthralling cinema for your ears with none other than the famous actor Neil Dudgeon (Midsomer Murders, Life of Riley) as Jack the Ripper!
Jack the Ripper- The Story Of A Murder by Frank Gustavus was narrated by Neil Dudgeon, David Rintoul and Carl Prekopp.
In Gustavus's telling he brings us the perspective of Jack himself. A married man, who has become addicted to arsenic and imagines (rightly so) that his wife is having an affair. This is a dark tale. Jack is quite tormented and far into the stages of addiction. He is desperate for his next fix and hallucinating when he begins killing these women.
We also get the perspective of his wife, as Jack lays bedridden in the final stages of his addiction. His doctor was something else. It was all quite horrid and twisted.
The audio in addition to the vocals, has sound effects including music, gurgling sounds, footsteps and all the noises one would expect if they were watching. It was well done and I enjoyed them.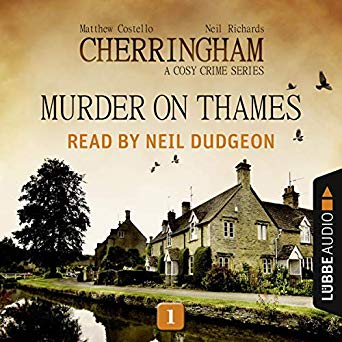 Murder on Thames
by Matthew Costello
Narrator: Neil Dudgeon
Length: 2 hours and 47 minutes
Genres: Cozy Mystery
Source: Publisher
Purchase*: Amazon | Audible *affiliate
Rating:

Narration: 4.5 cups Speed: 1.2x

Cherringham-a quiet town in the Cotswolds. Nothing ever happens there, or so it seems-until one morning a woman's body is found in the river. A terrible accident, according to the police. But is this true? Sarah believes there must be more to it. In Jack, a former NYPD homicide detective, she finds a partner who is willing to start investigating with her. They soon find out that things are not as clear as the police want them to be ... This first of many cases brings Sarah and Jack together in an unlikely partnership.

Set in the sleepy English village of Cherringham, this cozy detective series brings together an unlikely sleuthing duo: English web designer Sarah and American ex-cop Jack. Thrilling and deadly-but with a spot of tea-it's like Rosamunde Pilcher meets Inspector Barnaby. Each of the self-contained episodes is a quick listen for the morning commute, while waiting for the doctor, or when curling up with a hot cuppa.
Murder on Thames: Cherringham, Episode 1 – Is the first episode of the cosy crimes series, Cherringham. Cherringham is a quiet town in the Cotswolds and begins a series that will feature Jack Brennan, a former NYPD homicide detective and Sarah Edwards, a single mother of two who works with technology.
Sarah has just returned to her hometown of Cherringham, and Jack has retired there enjoying time on his boat with his dog and a good drink. When Sarah's friend is found dead and everyone assumes it was an accident, Sarah begins asking questions. While walking the river's edge she meets Jack and questions him. He of course wants nothing to do with it, but after she leaves he begins thinking about what she said the police reported and that was highly unlikely. Thus, the two begin investigating.
As far as cases go, this had a Jessica Fletcher vibe, but was all rather easy to solve. Since it's a novella and the start of a rather long serial I am ok with that. It had a nice set up, I liked the characters and the building relationships.
Neil Dudgeon narrated and did a fine job with the different characters from key players to suspects. While, I don't think Jack's NY accent was completely spot on, I am sure many a Brit have felt the same regarding American narrators. It was close enough and didn't make me wince. Mostly my issue was with a few key words. Having said that I would happily listen to more of his audiobooks.
The Cherringham Serial has over 34 episodes and it looks like the Audiobooks are bundled into 3 to 4 episodes giving the listener 6-8 hours of enjoyment. (although some can be purchased individual)
Check out Caffeinated's reviews of 2 audiobooks produced by Lübbe Audio; Jack the Ripper by Frank Gustavus and Murder on Thames by Matthew Costello and Neil Richards. #loveaudiobooks
Click To Tweet
Reading this book contributed to these challenges:
Related Posts