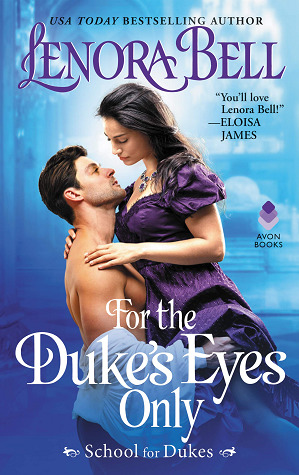 For the Duke's Eyes Only
by Lenora Bell
Series: School for Dukes #2
Genres: Historical Romance
Source: Purchase
Purchase*: Amazon | Audible *affiliate
Rating:

Heat Level:
If adventure has a name...it must be Lady India Rochester. The intrepid archaeologist possesses a sharp blade and an even sharper knack for uncovering history's forgotten women. Unfortunately, she has one annoying weakness: the dangerously handsome Duke of Ravenwood. Former best friend. Current enemy. And the man who dared to break her heart.

Daniel Bonds, the Duke of Ravenwood, is a thrill-seeking antiquities hunter who only plays by one rule: Never fall in love. He's in it for the fortune and glory. At least that's what he wants the world to think. He's sworn to hide his tangled web of secrets, especially from the one woman he cares about and will protect at any cost.

But when a priceless relic is stolen from the British Museum, the rivals must align forces. Racing to recover the stolen antiquity and avert an international disaster? All in a day's work. Avoiding their buried feelings? More and more impossible. For love is about to become the greatest treasure of all.

The grand adventure begins...now!
For the Duke's Eyes Only by Lenora Bell is the second novel in the School for Dukes and features Lady India Rochester a forward thinking archaeologist and Daniel Bonds, the Duke of Ravenwood, a thrill-seeking antiquities hunter. Bell took me on quite the ride as she shared their past and revealed their secrets. From Paris to London the wicked banter and off the chart heat had me devouring their story.
Coffee Dates with For the Duke's Eyes Only
First Date: Since meeting Raven and India in the first School of Dukes novel, What A Difference A Duke Makes, I've been dying to know what all the snark, chemistry and banter between these two was about. I loved their back story even if I wanted to both hug and throttle Raven. India is absolutely delightful  from sneaking into men's only clubs to the tongue lashings she relishes giving Raven I both admired her and feared her..lol When the Rosetta Stone is discovered missing India decides to pursue the matter. She needs that stone to find her next archaeologist discovery. Raven is more than the fortune hunter and rogue he appears to be. In fact it's all a disguise for his real role. He is determined to find the stone first and keep India safe. Attempts to persuade lead to some hilarious developments involving swans and pink shirts…but I will leave you to discover that for yourselves.
Second Date: They travel to Paris and try to act civilized.  India discovered her friend can longer house her and that she will be staying under the same roof as Raven. The two must put their differences and attraction aside to find the stone.  Theft, robbery, and stolen moments had me reading into the wee hours. I love that Bell allowed the outside world to slip away as I laughed, worried for their safety and watched these two give into their passion.
Third Date: While the road to romance was paved with their own stubbornness, it certainly was an entertaining one. India is headstrong and brings poor Raven to his knees. As they search for suspects and the missing stone, it was delightful seeing each admire and fall for the other. Drama was kept to a minimum due to the suspense angle. The mystery was well-developed with a clever twist. Fans of enemies to lovers and second chance romances will love this unique couple. The tale wrapped up with a wonderful epilogue that left me grinning from ear to ear.
Fans of romantic suspense with a side of mystery will want to grab For the Duke's Eyes Only. The book can be read as standalone, but you won't want to miss the first book. The next book, One Fine Duke sound like another fun read.
[bctt tweet="For the Duke's Eyes Only by Lenora Bell offers a haters to lovers romance filled with suspense, snark and passion. #historical #romance " username="kimbacaffeinate"]
Reading this book contributed to these challenges:
Related Posts