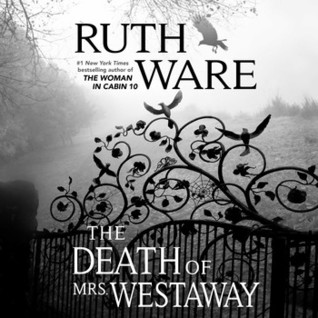 The Death of Mrs. Westaway
by Ruth Ware
Narrator: Imogen Church
Length: 14 hours and 14 minutes
Genres: Mystery
Source: Publisher
Purchase*: Amazon | Audible *affiliate
Rating:

Narration: 5 cups
From the #1 New York Times bestselling author of In a Dark, Dark Wood, The Woman in Cabin 10, and The Lying Game comes Ruth Ware's highly anticipated fourth novel.

On a day that begins like any other, Hal receives a mysterious letter bequeathing her a substantial inheritance. She realizes very quickly that the letter was sent to the wrong person—but also that the cold-reading skills she's honed as a tarot card reader might help her claim the money.

Soon, Hal finds herself at the funeral of the deceased…where it dawns on her that there is something very, very wrong about this strange situation and the inheritance at the center of it.

Full of spellbinding menace and told in Ruth Ware's signature suspenseful style, this is an unputdownable thriller from the Agatha Christie of our time
Ruth Ware has become a must listen author here at Caffeinated. Imogen Church has narrated all her novels. Her accent and tone blend perfectly with Ware's mystery thrillers. The Death of Mrs. Westaway was a twisted, gothic tale where the characters and subtle tones slowly reveal what we the reader had feared. An atmospheric and addictive whodunit!
Caffeinated reasons to grab you earbuds and listen to The Death of Mrs. Westaway
Ware offers a classic whodunit with interesting suspects, red herrings, and subtle clues. I found myself compelled to listen to just one more chapter.
I would not classify this as a thriller although moments are suspenseful. I would instead say this is a mystery that slowly unfolds revealing dark secrets.
Harriet Westaway, a young single woman who goes prefers to be called Hal,  is at the end of her rope financially when she receives a letter bequeathing her a substantial inheritance. She quickly realizes there has been an error, but she poses as the intended recipient and uses the last of her fund to take the train to Mrs. Westaway's Manor where she meets the rest of the family and benefactors. Ware shrouds the tale that unfolds in memories, secrets and twists.
We soon share moments from the past as Hal looks to find the truth.
Don't expect to love these characters, but, I can assure you they will intrigue you. Dare I say some might even frighten you. Our protagonist Hal is someone I rooted for. She is clever, quiet, and. plagued with guilt. Despite her deception she has a conscience and one cannot help but become caught up in her story. I felt for her and feared for her. There were moments where I wanted her to run.. shut up…run..stop asking questions and run!
Fans of Agatha Christie will feel right at home as they sort out the clues, piece together bits of conversation and watch as Hal uncovers truths.
With nods to Rebecca by Daphne du Maurier this gothic tale with its twists, creepy setting and disturbing characters will completely draw you in.
The setting gave me chills.  It's atmospheric presence from the creepy manor with and its foreboding gate and darken corridors, to the cries of the magpies.
Imogen Church is a brilliant narrator who knows how to capture the uncertainty, suspense and tone of Ware's book., She creates unique character voices that will sometimes send chills down your spine. I love when a narrator can enhance a story adding a whole new level of enjoyment.
The Death of Mrs. Westaway was an atmospheric mystery that kept me listening into the wee hours delivering shivers, twists, and an unexpected mystery.
[bctt tweet=" An atmospheric and addictive whodunit! The Death of Mrs. Westaway by Ruth Ware, brilliantly narrated by Imogen Church #loveaudiobooks #mystery" username="kimbacaffeinate"]
Reading this book contributed to these challenges:
Related Posts