Thanks to sponsor Plum Deluxe, today I am sharing my thoughts on their monthly tea subscription and recommending the perfect fall reads to pair with them. Based out of Portland, Oregon the Plum Deluxe company offers a monthly subscription for fresh, delicious loose tea and has an à la carte selection to delight you all year-long.
Grab a cup of your favorite caffeinated beverage as I share some of these teas with you, and be sure to check out the exclusive limited time offer for Caffeinated friends!
I had the delightful pleasure of chatting with Andy Hayes the founder and creator of Plum Deluxe. The first thing I asked Andy was,  "Are your teas caffeinated?" Because you all know I love my caffeine, but the truth of the matter is I also enjoy calming teas. Plum Deluxe offers a range of caffeinated, lightly caffeinated, and caffeine free teas.
Now back to Andy and Plum Deluxe. Guys, I am loving this company and its tea! Andy believes in Making Moments Matter and his vision is evident from his online community, blog posts, and deliciously blended teas to his passionate vision.
The site is more than just a storefront and high quality teas. Inspiration, recipes and more can be found. It also offers blog posts, podcasts, a cute store full of gifts for him, her, and you! There is also an online community for monthly subscribers. I had the chance to pop on and loved the environment. They even have a weekly newsletter and Goodreads book club.
I encourage you to check out the Plum Deluxe website, the online community, and wonderful collections of teas. Be sure to check out the About page and read Andy's vision and life story. I think you will be inspired.
Plum Deluxe offers a monthly tea subscription service that pairs fresh, seasonal loose leaf teas with a vibrant online tea community for only $10/month.
RECEIVE 1-2 OZ OF SEASONAL, LIMITED-EDITION ARTISAN TEA
ENJOY A "SURPRISE SCOOP" SAMPLE OF AN ADDITIONAL TEA
BE A PART OF A ROBUST AND SUPPORTIVE PRIVATE TEA LOVER'S COMMUNITY
ACCESS DISCOUNTS ON EXTRA TEAS AND SUPPLIES
GET SURPRISE GIFTS AND TREATS
Learn more about how their subscription works and RSVP today!
Andy sent me a  "monthly tea subscription" and my daughter and I settled in to taste these heavenly scented teas and talk Fall books.
Review and Recommendations
The tea of the month was Pomme Blossom – a spiced white tea with a fruity, floral bouquet perfect for late summer celebrations.  This is an exclusive blend just for subscribers. To prepare our tea I used a "tea nest" style infuser which is placed directly over the tea-cup. I scooped one teaspoon of the tea mixture into it and allowed it to steep for 3-5 minutes in a 180F water. I then reused the same tea to make a cup for my daughter repeating the method.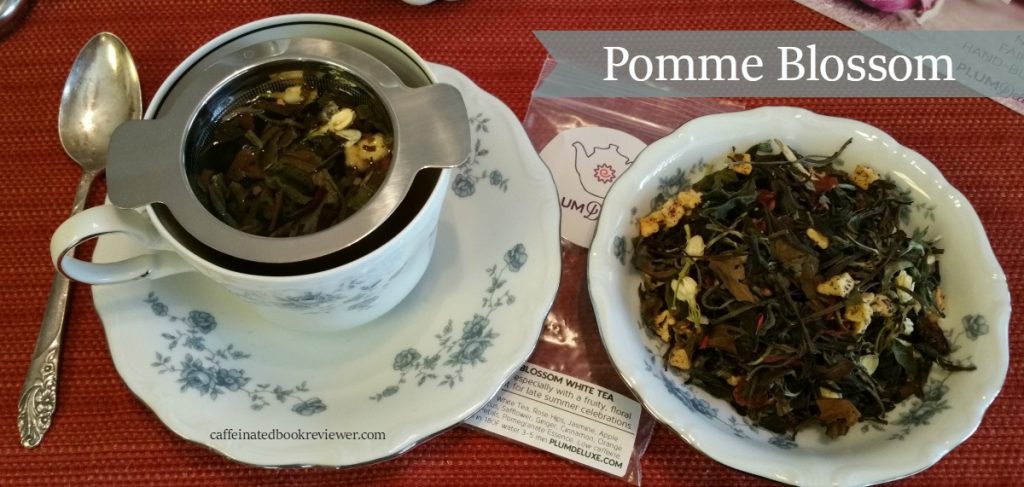 Ingredients: White tea, rose hips, jasmine, apple pieces, hibiscus, safflower, ginger, cinnamon, orange peel, rose petal and pomegranate essences.
Instructions: Steep 1 tsp. in 180F water for 3-5 minutes. This particular tea is low in caffeine, perfect for evenings.
Our thoughts:  A bold, spicy tea with hints of pomegranate and jasmine. My daughter prefered hers with a touch of sugar, but I enjoyed mine as is. The card that accompanies the tea states, "This tea teaches us that we can be calm and mindful while still taking bold action and being productive."
As we savored the flavor my daughter and I began to discuss romances. We both love a romance filled with a little snark, humor and witty banter followed by passionate kisses and warm fuzzy feelings. We both agree that the Hating Game by Sally Thorne is the perfect Fall romance.  Paired with a cup of Plum Deluxe tea readers are sure to find bliss on a cold crisp day.
The Hating Game
by Sally Thorne
Genres: Contemporary Romance
Source: Publisher
Purchase*: Amazon | Audible *affiliate
Rating:

Heat Level:

Debut author Sally Thorne bursts on the scene with a hilarious and sexy workplace comedy all about that thin, fine line between hate and love.

Nemesis (n.) 1) An opponent or rival whom a person cannot best or overcome.
2) A person's undoing
3) Joshua Templeman

Lucy Hutton has always been certain that the nice girl can get the corner office. She's charming and accommodating and prides herself on being loved by everyone at Bexley & Gamin. Everyone except for coldly efficient, impeccably attired, physically intimidating Joshua Templeman. And the feeling is mutual.

Trapped in a shared office together 40 (OK, 50 or 60) hours a week, they've become entrenched in an addictive, ridiculous never-ending game of one-upmanship. There's the Staring Game. The Mirror Game. The HR Game. Lucy can't let Joshua beat her at anything—especially when a huge new promotion goes up for the taking.

If Lucy wins this game, she'll be Joshua's boss. If she loses, she'll resign. So why is she suddenly having steamy dreams about Joshua, and dressing for work like she's got a hot date? After a perfectly innocent elevator ride ends with an earth shattering kiss, Lucy starts to wonder whether she's got Joshua Templeman all wrong.

Maybe Lucy Hutton doesn't hate Joshua Templeman. And maybe, he doesn't hate her either. Or maybe this is just another game.
Each month in addition to the tea of the month, you are given a sample of one of their blends. In my package I received a sample of Deluxe Pumpkin Spice Tea a low caffeine blend that goes perfect with comfy sweaters and a book. This limited edition tea is available à la carte.
Ingredients: Honeybush Tea, Black Tea, Cinnamon Bark, Cardamom, Ginger Root, Cloves, Calendula, Safflower, Natural Pumpkin Essence, Love, Gratitude. Low Caffeine Preparation Instructions: Use 1 1/2 tsp per 16 oz cup. Steep with boiling water for 3-5 minutes. Because they use the freshest ingredients, you can steep your tea twice for a second cup. Suggested Uses: Wonderful with honey, sugar, or as a tea latte.
We chose a rainy day to brew the Deluxe Pumpkin Spice tea and it was perfect. The rain was hitting the windows, and the air-filled with the fragrant scent of cinnamon, ginger and clover. I added a touch of honey to my cup and found the flavor to be rich and satisfying. While drinking this tea, we thought about mysteries and pie. This tea would go perfectly with pie! (yum)
But back to our books discussion. For a fantastic mystery thriller that took us by surprise I would recommend Into the Light by Aleatha Romig. Whether you listen as I did or snuggle up with the book it's the perfect companion to enjoy with a cup of Deluxe Plum tea this fall.
Into the Light
by Aleatha Romig
Series: The Light #1
Narrator: Kevin T. Collins, Erin deWard, Noah Michael Levine
Length: 13 hours and 17 minutes
Genres: Suspense Thriller
Source: Publisher
Purchase*: Amazon | Audible *affiliate
Rating:

Heat Level:

Narration: 4 cups
Sara Adams awakes blind, unable to remember the most basic details of her life, but her darkness seems a blessing when she discovers the terrors of The Light.

Stella Montgomery investigates the news from the mean streets of Detroit, where she's noticed a disturbing trend: Young women are vanishing. When her best friend disappears, Stella digs for answers - despite warnings from her police detective boyfriend - following a twisted trail that leads her through the city's most dangerous and forsaken precincts. There she uncovers something more sinister than she could have imagined: a shadowy organization known as The Light, led by the enigmatic Father Gabriel.

As Sara struggles to understand her place in the strange world she's awakened to - an oppressive cult demanding unquestioning obedience - and her feelings for Jacob, the husband she can't recall and whose harsh and tender attentions confuse and beguile her, Stella risks all to discover the truth. But enlightenment always comes with a price....
Overall I found the Plum Deluxe Monthly tea subscription to be an excellent value. If you buy loose tea like me, you know an ounce of quality tea is priced at ten dollars or more. With the subscription you receive 1 oz of tea delivered right to your mailbox, enough for about 20 cups. Brewing instructions are included and as an added bonus you'll also receive a free sample of one additional tea PLUS access to the member's only website and private Facebook group filled with fellow tea lovers. You will also receive member-only specials and discounts.  All for only $10.00 a month.
Are you a tea-addict? Want more tea? Be sure to check out their larger subscription.
Caffeinated Limited Time Offer
"When you join the
Plum Deluxe
community put "
Caffeinated Tea Lover
" in the "
How Did You Hear About Us
" box when signing up for a recurring plan, and
your account will be credited for 1 month free
."  
HURRY Special offer expires October
 6th 2016!
Monthly Tea Subscription
Caffeine not your thing? Plum Deluxe also offers caffeine free subscriptions. Learn More
While Andy and I were chatting he shared that one of his most popular black teas is for book lovers. Reading Nook Blend.
Of course I had to have some!  He was kind enough to send me an ounce and the bag declares it's a blend of joy.  The site says, "One needs a touch of caffeine to keep the conversation flowing, the pages turning, or the pen on the move, so we start this blend with a wonderful cream black tea. We then added rosebuds for creativity and sustenance, lavender for flavor and aroma, and top it off with a bit of chamomile which adds a calming balance to it all."
I loved the taste of this tea, and the burst of caffeine it provided. To create this tea they combined Rosebuds, Cream Black Tea, Passionflowers, Lavender, and Chamomile. My daughter and I talked about the blend of ingredients and we thought hmm, it's caffeinated and contains chamomile? But it is brilliant and provides a crisp, smooth buzz. I allowed  1 1/2 teaspoons of this blend to steep for 4 minutes before adding sugar to taste. Both my daughter and I loved this blend. Reading Nook Blend  is available à la carte and is one I intend to keep on hand. The website even indicates this will make a great iced brew. I am looking forward to trying it.
This is the perfect tea for sparking creativity, reading a good book, enjoying a conversation, writing a blog post or perhaps your next novel!
I sampled this tea while reading Stalking Jack the Ripper a clever historical mystery that takes place in Whitechapel in the late 19th century as a young woman, along with her Uncle and his apprentice work to catch Jack the Ripper. Be sure to enjoy a hot cup of Reading Nook Blend tea while you help catch Jack the Ripper.
Stalking Jack the Ripper
by Kerri Maniscalco
Series: Untitled Trilogy #1
Genres: Historical Fiction, Mystery
Source: BEA
Purchase*: Amazon | Audible *affiliate
Rating:
Seventeen-year-old Audrey Rose Wadsworth was born a lord's daughter, with a life of wealth and privilege stretched out before her. But between the social teas and silk dress fittings, she leads a forbidden secret life.

Against her stern father's wishes and society's expectations, Audrey often slips away to her uncle's laboratory to study the gruesome practice of forensic medicine. When her work on a string of savagely killed corpses drags Audrey into the investigation of a serial murderer, her search for answers brings her close to her own sheltered world.
Gift Ideas
Plum Deluxe offers gifts ideas that are perfect from a simple pick me up to that hard to shop for gift for your Aunt Rose. Here are some examples, but be sure to check out their site.
Remember…
"When you join the
Plum Deluxe
community put "
Caffeinated Tea Lover
" in the "
How Did You Hear About Us
" box when signing up for a recurring plan, and
your account will be credited for 1 month free
."  
HURRY Special offer expires October
 6th 2016!
Monthly Tea Subscription
I hope you enjoyed this post, I had fun sampling the teas and sharing fall book ideas. In case you are wondering, I did sign up for the monthly tea and of course added an order of Reading Nook tea to ship with it. Yes…you can do that 🙂
Plum Deluxe Tea monthly subscription review and fall book recs #sponsored
Click To Tweet
Exclusive Plum Deluxe tea offer for Caffeinated Tea Lovers #sponsored
Click To Tweet
*Today's post was sponsored by Plum Deluxe and I was compensated for my efforts. I received a monthly tea subscription sampler as well as an additional tea. All thoughts and opinions of these products are my own and I was not obligated to give a favoring opinion. Drink on!