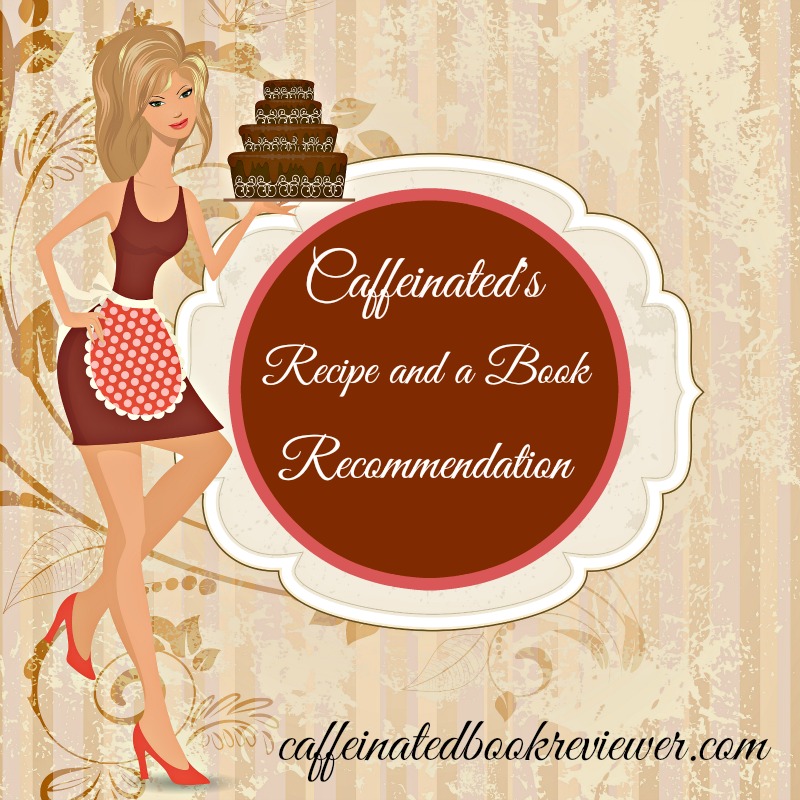 Have I got a lovely recipe and book recommendation for you today! The Coincidence of Coconut Cake by debut author Amy E. Reichert is a wonderful, captivating foodie romance that will delight its readers. In the back there is a recipe for Coconut Cake made from scratch and I decided to bake and share this wonderful recipe with all of you. Grab a cup of coffee and enjoy today's Recipe and Book Recommendation!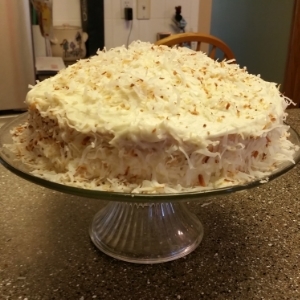 Grandma Luella's Coconut Cake
Recipe
Cake:
5 large egg whites
3/4 cup Cream of Coconut (check liquor area of grocery store)
1/4 cup coconut milk (mix well before measuring)
1 large egg
1 tsp coconut extract
2 tsp vanilla extract (real not imitation)
2 1/4 cups of Cake flour
1 cup of sugar
1 Tbsp Baking Powder
3/4 tsp table salt
12 tbsp unsalted, soften butter cut into 12 pieces
Icing:
2 tbsp coconut milk
1 tsp coconut extract
1 tsp vanilla extract
pinch of table salt
16 tbsp unsalted butter, softened
1/4  cup cream of coconut
3 cups of powdered sugar
2 cups toasted coconut
Baking Directions:
Coconut Cake-
Preheat Oven to 325. Brush or rub butter onto two 9-inch cake pans. Line bottom of pans with parchment paper.
In  medium bowl whisk the egg whites, cream of coconut, coconut milk, whole egg, and extracts together until combined. Set Aside.
In  large mixing bowl, whisk together the flour, sugar, baking powder and salt. With mixer on low speed, beat in the butter, one piece at a time, until mix resembles coarse crumbs. About 2-5 minutes.
Increase the speed to medium-high and add 1 cup of the egg mixture. Beat until light and fluffy, about 45 seconds. Add remaining egg mixture in a steady stream and continue to beat until batter is combined. Scrape down sides of bowl as needed.
Divide the batter evenly between 2 cake pans and smooth tops with a spatula. Bake until wooden skewer inserted into center comes out with a few cake crumbs. About 30-35 minutes. (rotate the cake pans 1/2 way through baking)
Allow cake to cool for 10 minutes on wire rack. Run a knife along edges then flip out onto the racks. Remove parchment paper, flip the cakes upright, and let them cool completely before frosting.
Coconut Frosting-
Stir coconut milk, extracts and salt together until the salt dissolves. Set aside.
Beat butter and cream of coconut in a large mixing bowl at medium-high speed until smooth, about 20 seconds. Reduce speed to medium-low and slowly add powdered sugar. Beat until smooth, about 2-5 mins. Beat in extract mixture. Increase speed to medium-high and beat until the mixture is fluffy, about 4 to 8 minutes.
Once cake is cooled, place first layer upside down on cake plate. Take one cup frosting spread over bottom layer, sprinkle with toasted coconut. Set second layer on top of first. Scoop out remaining icing and cover top and sides. Press toasted coconut to sides of cake and sprinkle remaining on top.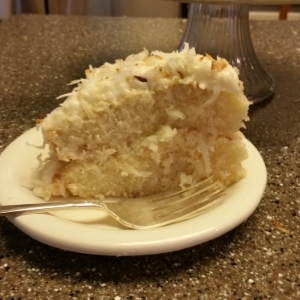 This cake was positively decedent.  The author warns to hide a slice for yourself, but my son-in-law and I are the only ones who like coconut. Fearful of one-more-slice syndrome I send 3/4th of the cake with him  when they went to his parents for dinner. Needless to say..no one turned down a slice.
*recipe from the Coincidence of Coconut Cake by Amy E. Reichert and shared with permission from Simon & Schuster.
Book Recommendation
The Coincidence of Coconut Cake
by Amy E. Reichert
Genres: Contemporary Romance, Women's Fiction
Source: Publisher
Purchase*: Amazon *affiliate
Rating:

Heat Level:
YOU'VE GOT MAIL meets HOW TO EAT A CUPCAKE in this delightful novel about a talented chef and the food critic who brings down her restaurant—whose chance meeting turns into a delectable romance of mistaken identities. In downtown Milwaukee, Wisconsin, Lou works tirelessly to build her beloved yet struggling French restaurant, Luella's, into a success. She cheerfully balances her demanding business and even more demanding fiancé…until the morning she discovers him in the buff—with an intern. Witty yet gruff British transplant Al is keeping himself employed and entertained by writing scathing reviews of local restaurants in the Milwaukee newspaper under a pseudonym. When an anonymous tip sends him to Luella's, little does he know he's arrived on the worst day of the chef's life. The review practically writes itself: underdone fish, scorched sauce, distracted service—he unleashes his worst. The day that Al's mean-spirited review of Luella's runs, the two cross paths in a pub: Lou drowning her sorrows, and Al celebrating his latest publication. As they chat, Al playfully challenges Lou to show him the best of Milwaukee and she's game—but only if they never discuss work, which Al readily agrees to. As they explore the city's local delicacies and their mutual attraction, Lou's restaurant faces closure, while Al's column gains popularity. It's only a matter of time before the two fall in love…but when the truth comes out, can Lou overlook the past to chase her future? Set in the lovely, quirky heart of Wisconsin, THE COINCIDENCE OF COCONUT CAKE is a charming love story of misunderstandings, mistaken identity, and the power of food to bring two people together.

Do you ever start a novel and immediately slip into the tale? Within the first chapter you slip completely away from reality? That is exactly what happened to me as I began The Coincidence of Coconut Cake. Reichert delivered a romance set in downtown Milwaukee, Wisconsin with memorable characters that you will fall for. For Foodie book lovers, prepare to drool and oh lord she made cooking sexy.
"Ingredients in baking were mixed in a specific way to create a specific result; a lot like relationships. If people didn't blend well together, you'd never get the outcome you wanted."
I love foodie books, and the cover and synopsis are not just a pretty promise. Lou owns Luella's French restaurant and the dishes and desserts mentioned in this book will have you drooling.
Al Waters writes under a pseudonym for the local paper. He is a restaurant critic whose column has the town all-abuzz. They love his scathing, witty reviews. He considers himself a food snob, and this Brit sees Milwaukee as a stepping stone to more important venues.
Lou is about to have the worst day of her life when she shares a brief conversation with Al at the local farmers market. After receiving an anonymous tip Al dines at Lucella's on that very same evening.  He writes one of the most scathing reviews of his career. When the review publishes, Al again stumbles into Lou at a pub. She is drowning her sorrows and he is celebrating his latest success. Chance has them agreeing not to discuss work and a friendship begins..a beautiful friendship that slowly transforms both characters as it moves slowly toward romance. Reichert brought these characters to life, flaws and all. Their romance while low on heat still managed to sizzle as my heart did flip-fops. Theirs is the types of romances we dream about as little girls. It was awkward, adorable and genuine. She made rain beautiful, magnets enchanting and cooking so incredibly sexy-it should be illegal.
"He obliterates every restaurant he reviews. But he does it in the most entertaining way."
Secondary characters gave this story an unexpected depth. I found myself caring for them and wanting to know more. John the awkward, delightful co-worker at the paper had me smiling and Lou's second chef and pastry chef need their own story. This is a standalone, but Reichert has characters here worth writing about and I want to go back to Milwaukee. She made the town chic and a place I now want to visit. An older German couple who frequented the restaurant stole my heart and even made me weep. The author gave the story a small-town feel and I loved that none of her characters were cardboard.
While one could argue it was predictable, the romance and characters were not.  I closed the novel with a smile.  I totally recommend you pick up, The Coincidence of Coconut Cake. This is Reichert's debut novel and her writing is magic from the flow to the characters I could find no fault.
Related Posts