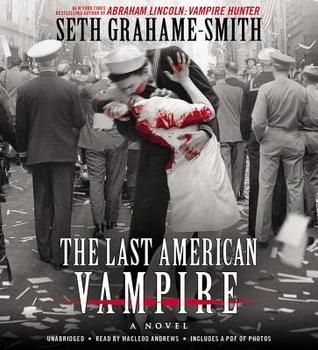 The Last American Vampire
by Seth Grahame-Smith
Series: Abraham Lincoln: Vampire Hunter #2
Narrator: MacLeod Andrews
Length: 14 hrs and 17 mins
Genres: Historical Fiction, Paranormal
Source: Publisher
Purchase*: Amazon | Audible *affiliate
Rating:

Narration: 5
New York Times bestselling author Seth Grahame-Smith returns with the follow-up to Abraham Lincoln: Vampire Hunter -a sweeping, alternate history of 20th Century America as seen through the eyes of vampire Henry Sturges.THE LAST AMERICAN VAMPIRE. In Reconstruction-era America, vampire Henry Sturges is searching for renewed purpose in the wake of his friend Abraham Lincoln's shocking death. It will be an expansive journey that will first send him to England for an unexpected encounter with Jack the Ripper, then to New York City for the birth of a new American century, the dawn of the electric era of Tesla and Edison, and the blazing disaster of the 1937 Hindenburg crash. Along the way, Henry goes on the road in a Kerouac-influenced trip as Seth Grahame-Smith ingeniously weaves vampire history through Russia's October Revolution, the First and Second World Wars, and the JFK assassination. Expansive in scope and serious in execution, THE LAST AMERICAN VAMPIRE is sure to appeal to the passionate readers who made Abraham Lincoln: Vampire Hunter a runaway success.
The Last American Vampire by Seth Grahame-Smith is a follow up to his wildly successful Abraham Lincoln: Vampire Hunter novel. I chose to listen as soon as I saw MacLeod Andrews was narrating. This was a riveting alternate travel through history  and my travels with Henry Sturges were absolutely delightful.
Five reasons to grab your earbuds and listen to The Last American Vampire
I love history and Grahame-Smith weaves vampires into some of the biggest events in history from the folks who disappeared at Roanoke to JFK's assassination. He takes us to London, with Jack the Ripper and introduces us to Tesla, Edison and Mark Twain. It was riveting from his re-telling of the Hindenburg crash to visiting Teddy Roosevelt in the White House.
The tale is relayed through Henry Sturges the Vampire who hunted with Abe Lincoln. We get a full account of his life as a vampire and his patronage to America. Henry is a likable character and quite noble for a vampire. His friendships, interactions and the path he blazed had me spellbound.
While Grahame-Smith twists our history to include vampire involvement he did so in such a way that it felt realistic, even dare I say plausible. I love when the lines of reality and fiction blur and he does so seamlessly. Think of this as a memoir of Sturges life with twists, turns, loss and love. At 400 pages/15 hours of audio both my husband and I were never bored. It was broken up into events and stories with an overall threat that kept us both engaged.
MacLeod Andrews narrates and he has quickly become one of my favorite narrators. From voices to his tone, he adds another level of enjoyment to listening that heightens my reading experience. We came across many characters and I was amazed at his ability to give them each voice and accentuate their personalities through pitch.
Grahame-Smith's imagination, writing style and ability to tell a tall tale made the Last American Vampire a story I will long remember. I became attached to the characters and caught up in the overall plot.
My hubby and I listened to the complete disc set as we traveled for vacation and both of us enjoyed Grahame-Smith's retelling of American history in the Last American Vampire.
Related Posts