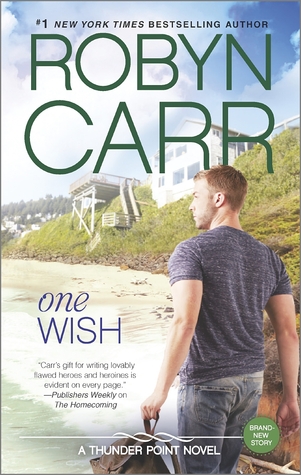 One Wish
by Robyn Carr
Series: Thunder Point #7
Genres: Contemporary Romance
Source: Publisher
Purchase*: Amazon *affiliate
Rating:
Grace Dillon was a champion figure skater until she moved to Thunder Point to escape the ruthless world of fame and competition. And though she's proud of the quiet, self-sufficient life she's created running a successful flower shop, she knows something is missing. Her life could use a little excitement. In a community where there are few eligible singles, high school teacher Troy Headly appoints himself Grace's fun coach. When he suggests a little companionship with no strings attached, Grace is eager to take him up on his offer, and the two enjoy…getting to know each other.  But things get complicated when Grace's past catches up with her, and she knows that's not what Troy signed up for. Faced with losing her, Troy realizes Grace is more than just a friend with benefits. He's determined to help her fight for the life she always wished for but never believed she could have—and maybe they can find real love along the way
One Wish is the seventh book in the Thunder Point series by Robyn Carr and takes us back to the small town of Thunder Point located in the coastal region of Oregon. Thunder Point and its residence are carving their way into my heart and One Wish delivered on many fronts.
Five reasons to grab a cup of coffee and snuggle up with One Wish
Small-town romances, with a slow burn and realistic characters are your thing. Carr creates towns and characters where you want to live and make friends. Life is complicated and friendships are dear. While we get a central romance, Carr also shares side character developments and stories totally bringing us into the town.
The romance is slow burning, with character growth and development. Grace Dillon has left a glamorous yet challenging life behind to create a quiet, self-sufficient life to be proud of. She has issues concerning her past, and as happy as she is, she has really cut herself off even with new friends. Troy Headly a local schoolteacher and adrenalin junkie befriends Grace and the too develop a friendship that surprises them when it becomes something more. I love the friends to lover's trope especially when it sneaks up on folks and Carr delivered something special with Grace and Troy.
Carr weaves magic into her stories giving you all of the feels without unbearable angst. Sure, the couple has struggles as each character needs to grow but it has a realistic approach. I adored the banter and wit that developed with their friendship and the slow surprising heat. Anytime a couple enters a no strings attached relationship I giggle to myself, we all know these things get complicated and I love watched it unfold.
Side stories that grab and hold you are plentiful in One Wish. Rae Anne's niece of sorts arrives and while the thread was sad, I am anxious to see how it develops. Troy is friends with folks from Virgin River and they visit for a weekend. Carr updates us on previous couples, some vague and some we are feed more. We even attend a wedding, although the focus was on Grace and Troy it was nice to have these threads wrapped into the story. I love that Carr can weave all of these side stories in while keeping me satisfied with the main story.
Grace's backstory and reveal have our confident hero doubting himself and I enjoyed seeing all of these threads, and relationships come together. While aspects of One Wish were, sad Carr manages to shine light on hope and deliver us an HEA. My only complaint was that the ending felt slightly rushed, but overall the story was another worthy addition to the series.
Fans of small-town and fade to black romances will want to pack their bags and visit One Wish and the Thunder Point series.
Related Posts