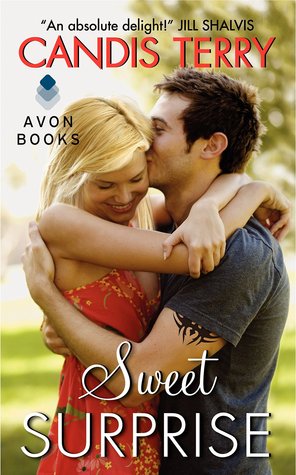 Sweet Surprise
by Candis Terry
Series: ,
Genres: Contemporary Romance
Source: Publisher
Purchase*: Amazon *affiliate
Rating:
Playing naughty or nice...Fiona Wilder knows all about falling in lust. Love? That's another story. Determined not to repeat past mistakes, the single mom and cupcake shop owner is focused on walking the straight and narrow. But trouble has a way of finding her. And this time it comes in the form of a smoking hot firefighter who knows all the delicious ways to ignite her bad-girl fuse. Can lead to heartbreak...Firefighter Mike Halsey learned long ago that playing with fire just gets you burned. He's put his demons behind him, and if there's one line he won't cross, it's getting involved with his best friend's ex. But when fate throws him in the path of the beautiful, strong, and off-limits Fiona, will he be able to fight their attraction? Or will he willingly go down in flames?Or a sweet surprise
I have been enjoying the Sweet, Texas series by Candis Terry. She delivers small-town romances with a touch of heat, family and delightful characters. While Sweet Surprise will not earn a place among my favorites, it was a sweet romance filled with fun, cupcakes and the second half had me smiling.
Espresso review of Sweet Surprise
We met Fiona Wilder in previous novels and I have always admired her. Not every woman can be as gracious as she has been. She has a few hang-ups where happily ever after is concerned and I understood where she was coming from making it easy to connect. Firefighter Mike Halsey is in a word yummy but the boy also has major baggage. For me all of the issues each character had felt overdone. Just the fact that Fiona is his best friend's ex-wife would have been enough. The rest just weighed down the story and distracted me. The issues pulled me from the first part of the story. Thankfully, the second half picked up, as we moved around the issues and got to see them interact as a couple.
It was wonderful being back in Sweet and seeing all of the characters. Izzy was adorable and the description of the cupcakes had me drooling. I want one of those caramel salted cupcakes in the worst way. Meddling, a wedding and heat in the kitchen made this enjoyable. Despite a few issues, I managed to close Sweet Surprise with a smile and look forward to the next book, Truly Sweet.
If you love small-town romances, with lovable characters, the Sweet series is one I highly recommend.
Related Posts