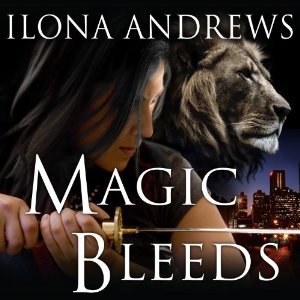 Magic Bleeds
by Ilona Andrews
Series: Kate Daniels #4
Narrator: Renée Raudman
Genres: Urban Fantasy
Source: Purchase
Purchase*: Amazon | Audible *affiliate
Rating:

Narration: 5 cups
Atlanta would be a nice place to live, if it weren't for the magic. When the magic is up, rogue mages cast their spells and monsters appear, while guns refuse to fire and cars fail to start. But then technology returns, and the magic recedes as unpredictably as it arose. Kate Daniels works for the Order of Knights of Merciful Aid, officially as a liaison with the mercenary guild. Unofficially, she cleans up the paranormal problems no one else wants to handle---especially if they involve Atlanta's shapeshifting community. When she's called in to investigate a fight at the Steel Horse, a bar on the border between the territories of the shapeshifters and the necromancers, Kate quickly discovers that there's a new player in town. One who's been around for thousands of years---and who rode to war at the side of Kate's father. This foe may be too much even for Kate and Curran, the Beast Lord, to handle. Because this time Kate will be taking on family.
OMG! I love the Kate Daniels series on audio. Renee Raudman is a fantastic narrator and Ilona Andrews is brilliant! Magic Blends rocked my world. Listen, I never, and I mean never read or listen to a series books back to back. I usually wait two or three weeks between them, but I dove right into Magic Bleeds after finishing Magic Strikes. I am so glad that I did. Magic Bleeds was action packed with relationship advancement and so much humor I had tears streaming down my face as I cackled.
He bared his teeth in a happy feral grin. My own personal psycho."
Kate Daniels has to be one of my favorite protagonist. She is snarky, confident, badass and does not whine instead she gets even. Curran, the beast lord oh, he makes me giggle, roll my eyes at his alpha ways and then go weak at the knees.
Kate begins investigating a fight at the Steel Horse. The Steel Horse is a bar that borders two territories- those of the shape-shifters and the necromancers. Of course, this is not your garden-variety bar fight and Kate soon finds herself battling one heck of a villain. I cannot tell you who because, well, "spoilers darling." What I can tell you is that we learn so much about Roland and the battle that unfolds is intense, dark and gritty. Lives will be lost, hearts broken, alliances made and whoa, baby is this villain terrifying. Once again, mythology plays a role as we battle this villain and I love how Andrews weaves these into her tales. Thank goodness, Kate is such a smart cookie because her villain has YEARS of experience and she will need to match them with her wit. I was completely engaged and holding my breath.
"Is that a lion with horns and a pitchfork?"
"Yep."
"Is he carrying the moon on his pitchfork?"
"Nope it's a pie."
While this world is dark, and gritty Andrews gives us a romance with delicious, often hilarious banter and swoon worthy moments that just made me melt. Kate and Curran together is magic, even when they are bickering I cannot help but smile. The relationship sees major developments and you will not want to miss even one moment of their courtship. Ooo and Kate picks up another stray..and you will love it. Just sayin'
"He leaned his head to me, his neck so close to my lips, I felt the heat coming off his skin. His breath was warm against my ear. His voice was a ragged snarl. "I miss you."
This wasn't happening.
"I worry about you." He dipped his head and looked into my eyes. "I worry something stupid will happen and I won't be there and you'll be gone. I worry we won't ever get a chance and it's driving me out of my skull."
If you have not read this series or read book one and thought it was meh, I am begging you to pick it back up. Magic Bleeds is one of my favorite of the series to date and I cannot wait to dive into Magic Slays.
Related Posts