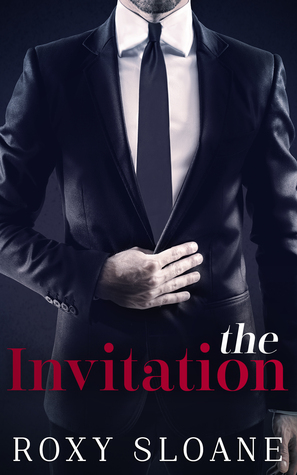 The Invitation
by Roxy Sloane
Genres: Erotic Fiction
Source: Purchase
Purchase*: Amazon *affiliate
Rating:
"It's my last night in town, and I'm not flying home until this girl is flat on her back with her ankles up around her shoulders and I'm so deep inside her she'll never want another man again." Hot, English businessman Ashton Pierce made a pact not to screw up his friendship with Justine 'JJ' Jenkins over a cheap one-night stand. Now, two years later, he's going out of his mind with wanting her -- but she's still off-limits. Now school is over, and his control is wearing thin. They've got one last night together, and he's determined to make it an experience she'll never forget. The one girl he swore off is going to have the night of her life. And with a sexy game of dare on the table, it won't take long...
I picked up The Invitation by Roxy Sloane for several reasons. It was free on kindle, the cover is hot and the synopsis mentioned a Brit and a pact not to screw a friendship up over a one-night stand. Who could resist?  The Invitation is a short prequel to Surrender the first in the Invitation series and whoa, baby is this HOT.
Ashton Pierce and Justine "JJ" Jenkins are friends in law school. The two formed a pact two years ago but graduation is over and Ashton is heading back to London in the morning. Time for a little game of Dare…
Sloane managed to define her characters and take the reader on a fun, sexy as hell romp that led to the perfect set up for Surrender. Ashton, is smooth and knows woman. I had moments where I laughed aloud at his thoughts.  JJ is the female opposite of him and has the notches on her bedpost to prove it. Seeing these two tango, commit pranks and engage in smoking hot sex was downright fun. I felt their connection and the chemistry was electric.We see hints of BDSM and I am curious to see where Sloane takes us. Despite the short length of the story nothing felt awkward or forced, instead you become caught up in their moment. The set up for Surrender had me downloading the first book in the series.
If you are looking for a naughty little afternoon read the Invitation is the perfect place to start.
Stay Caffeinated!
Never miss a post by adding Caffeinated to your Inbox
Your email is not shared and you can unsubscribe at any time.
Related Posts