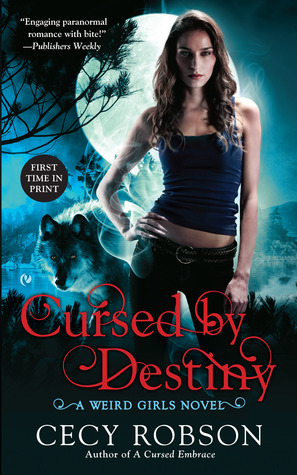 Cursed By Destiny
by Cecy Robson
Series: Weird Girls #3
Genres: Urban Fantasy
Source: Publisher
Purchase*: Amazon *affiliate
Rating:
Celia's a girl in trouble. Her heart is bound to Aric, but he is a pureblood were who must deny her or risk condemning his species to extinction. And that's just her love life. She's also been called to take down a group of demon terrorists looking to overthrow the paranormal world. (No pressure.) In order to bring them down, Celia must ally herself to Misha, the master vampire who has made no secret of his desire for her. And if that weren't enough misfortune for one girl, a clairvoyant's prediction could destroy Celia and Aric's love for good. The only way to protect the world from unbridled supernatural terrorism is for Celia to bind herself to her destined mate. And that doesn't appear to be Aric….
Confession; I have mad love for the Weird Girls series and author Cecy Robson. When I got my hands on an early copy of Cursed by Destiny there may or may not have been a lot of fangirl squealing. Once again, Robson had me in her grips as she took me through this action-packed installment that gave us more of Aric and Celia while having us battle the Tribe. Mini-review: My thoughts on closing the book-intense, kick-ass, action-packed and Cecy Robson is evil, evil, evil.
Celia has taken up residency in Misha's guest house as she trains to take on the Tribe. She and her beast long for Aric while the pack continues to plan for his upcoming nuptials. Misha continues to put the move on Celia, and we learn clairvoyant prophecies about Celia and her mate saving the world. The only problem it's not Aric. As if that wasn't enough to make a girl cry the demon and supernatural community are trying to kill her.
I love the bond between Celia and her sisters; Taran, Shayna, and Emme. These girls are tight, and I love how they have each other's backs. We see growth in all of them regarding their skills, and I felt like we learned a little more about each of them. The love triangle fizzled as Celia made it clear to everyone where and with whom her heart lies. Misha revealed some of his softer side and his temper. He is snarky, and I continue to enjoy him and his minions. Celia actually begins to friend some of them, and I liked the banter between them. We see Aric suffer as he struggles between his loyalty to the pack and his love for Celia. There were moments where he made me angry, and I wanted him to grow a pair, but Robson explained pack rules and helped me understand his inner struggles. We see romantic development, and I truly had moments of happiness. Robson introduced a new character a shifter lion named Tye. I loathed this king of the jungle from the moment I met him. Then Robson weaved her magic and made me think him noble. Damn her!
Cursed by Destiny was an intense, action-packed ride with plenty of kick-ass action scenes. The growth in the girl's abilities was fan-friggin-tastic and I cannot wait to see them grow stronger. We travel around the globe, fall from planes and even battle mythological beasts. Robson has tight control over the threads of her tale but she also likes to tease. She dangles what we crave in front of us making us feel complacent and then turns us upside down and the story twists leaving us winded and oddly begging for more. Oh please torture me some more! The last chapter had reveals and heartbreaking moments that left me spent and frantic for the next book. Like author Darynda Jones, Robson likes to leave you with a closing revelation in the last few sentences. These usually result in me screaming, OMG! What? Cecy Robson once again gave me one heck of a ride and left me at her mercy.
If you haven't read the Weird Girls series and like Urban Fantasy with kick-ass characters and action-packed scenes you need to rectify this immediately, Fans of the series, plan before you read because you won't want to set Cursed by Destiny down.
Related Posts