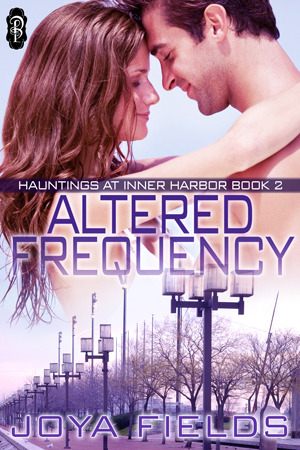 Altered Frequency
by Joya Fields
Series: Hauntings at Inner Harbor #2
Genres: Paranormal Romance
Source: Tour
Purchase*: Amazon *affiliate
Rating:
After losing her father and brother in the line of duty, Missy Prescott vows never to get involved with anyone who has a dangerous job. Blessed with a golden voice, she takes a job as a disc jockey with her own late-night lovelorn dedication show on a popular radio station in Baltimore. Blake Decker has never had a family. He has come to count on the only family he knows—his brothers on the police force. He's a one-night-stand kind of guy when it comes to relationships.  Betty McAllister, the caring woman who used to live in Missy's apartment, is now a ghost. She refuses to cross over until Blake—whom she viewed as her own son—is happily in love. She thinks Missy is the perfect girl for him.  Missy and Blake need to keep each other at a distance as they work together to help Betty find a way to cross over. But when danger lurks, will Missy and Blake lose everything?
Today I am excited to share my review of paranormal romance Alternated Frequency and a guest post from Joya Fields. There is also a fabulous giveaway sponsored by the author. Enjoy!
When I started reading Altered Frequency I didn't realize it was book two in the Hauntings at Inner Harbor but thankfully each story appears to be self-contained and it didn't affect my enjoyment in any way. My understanding is that each tale focuses on the same apartment building and features a new couple and a ghostly spirit. Joya Fields delivered a well-paced romance with a paranormal twist and I read this in a single evening. Three-word review: sweet, entertaining and hot.
Missy Prescott is a radio talk show host and has recently moved into a new apartment building in Baltimore. Each night her overprotective Mom waits for her text letting her know she is safely tucked into her apartment. After losing both her brother and father in the line of duty the two are close. One thing Missy knows for sure is that she will never give her heart to a man who has a dangerous profession.  Blake Decker has been betrayed by his mother and the woman he thought he loved and has come to count on his band of brothers. One night stands are more than enough for him when it comes to women. But the former resident of Missy's apartment Betty McAllister has other ideas. She's a ghost and will not cross over until Blake finds true love and she thinks Missy is the perfect girl for him. The tale that unfolds is romantic and suspenseful and I became completely caught up in the tale.
The characters in Fields' novel are fairly fleshed out and we get a sense of their history. Missy is confident, loves her job and readily accepts Betty. She is instantly attracted to Blake physically and terrified of her feelings as she gets to know him. Blake is sweet to little old ladies and has been hurt one too many times. The man was yummy! He finds himself attracted to Missy as well and this might complicate things. Both characters are likable and I easily found myself rooting for them. Betty is everyone's idea of the perfect grandma and I adored this little busybody of a ghost.
While the romance is sweet, hot and adorable there are other elements to this tale that create some suspense.  The romance itself started out as physical and slowly slipped into something more. The tale flowed effortlessly and from the first page, I just slipped into the story. While some of the elements were predictable other threads kept things interesting and added both elements of danger and a dark malevolent threat. I have a feeling the later is threaded through all of the books in the series and has me seeking out a copy of book one before I move forward. However, if you are the love um and leave them kind of reader the ending should leave you satisfied. My only complaint is that I would have loved a longer story and more depth.
Fans of romance with a paranormal twist will enjoy Altered Frequency and the Hauntings at Inner Harbor.  Hereafter the first book is available and there is no news at this time on the expected release of book three.
Guest Post 
Power Outages and Ghosts!
Thanks so much for hosting me here today to chat about my new release, Altered Frequency (Hauntings at Inner Harbor, Book 2), ghosts, and what happens when the lights go out.
Blake and Missy, the hero and heroine in Altered Frequency, are haunted by a matchmaking ghost named Betty. She won't cross over to the other side until she gets them to see they are meant to be together. One of the tricks she plays on Blake and Missy is turning off the power in the apartment building where they live. And then she literally pushes them together.
I live in Maryland, where we get pounded by all sorts of different weather. Blizzards, hurricanes, nor'easters, a few tornadoes, and lots of summertime thunderstorms. The longest we've ever been without power is six days (after a one-two punch blizzard). At the time, we lived on seven acres, and we were on our own. No store to walk to for food, no pizza delivery, cable TV or internet.
So I learned to keep a huge box of supplies for power outages. Of course, there was the usual: batteries, flashlights, candles, radio, and manual can opener. But I also made sure we always had lots of books, puzzles and a few decks of cards. Hey! Fun stuff happens in the dark, right?
I'd love to hear about your favorite "without power" story. And thanks for stopping by to check out Altered Frequency.
Related Posts
101

Responses to "Altered Frequency by Joya Fields"