Welcome to Coffee Pot Reviews! These are short and sweet reviews done in the length of time it takes my coffee pot to brew! I have, Love is Blind and Radiant, two novellas to share with you today..enjoy and stick around for a cup of mocha peppermint coffee!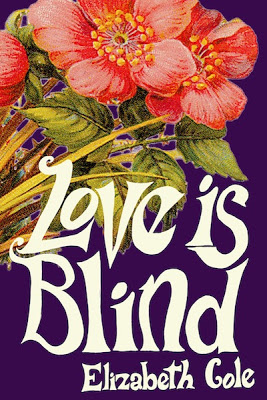 Love is Blind
by Elizabeth Cole
Genres: Historical Romance
Source: Author
Purchase*: Amazon *affiliate
Rating:
He was a walking scandal; she was a proper young woman... A rake's cruel prank leaves the blind Olivia Blake ripe for humiliation on a ballroom dance floor. Then an even more notorious rake sweeps her into his arms. Soon she is seduced by the charm of Adrian Calwell, the scandal-chased Baron of Norbury. Adrian's only goal in rescuing Olivia was to thwart his rival's heartless trick. But Olivia is well worth rescuing, and Adrian is eager to put his life as a rake behind him. Can Adrian rise above his sordid past to win Olivia's love? Set against the backdrop of Regency London, Love Is Blind is a sweet and surprising novella that proves innocence and experience can be a perfect match.
Cole's novella Love is Blind offered up a delightful Regency romance with bits of humor and a sweet, clean romance. When the notorious rake Adrian Calwell witnesses a young scoundrel cruel prank he steps in to save Olivia Blake from a humiliating situation and the tale that unfolds is sweet, full of humorous moments and likable characters. I thought it was different than the heroine was blind and I like that she was also strong. Her companion was snarky and made me laugh. With doting parents forbidding them to meet, and a delightful companion helping to aid them I thoroughly enjoyed this tale. I would have liked more backstory to all the characters, and of course, this cannot always happen with a novella, but I easily consumed this and closed the book with a smile.
Radiant
by Cynthia Hand
Series: Unearthly #2.5
Genres: Dystopian
Source: Publisher
Purchase*: Amazon *affiliate
Rating:
Clara is desperate to get away—from the memories that haunt her in Wyoming and the visions of a future she isn't ready to face—and spending the summer in Italy with her best friend, Angela, should be the perfect escape. . . . For as long as she can remember, Angela has been told that love is dangerous, that she must always guard her heart. But when she met a mysterious guy in Italy two years ago she was determined to be with him, no matter the costs. Now she must decide whether she can trust Clara with her secret, or if telling her the truth will risk everything she cares about. Alternating between Angela and Clara's perspectives, Radiant chronicles the unforgettable summer that will test the bounds of their friendship and change their lives forever.
I love Cynthia Hand's Unearthly series and from the beginning have said, "I want to know more about Angela." I personally think she wrote Radiant just for me. *nods and winks*  We get to go to Italy for the summer and that in itself is delightful. Remember that boyfriend Angela had in Italy two summers ago, well we finally get the dirt on him and meet him as well. The tale is told in alternating perspectives that change with each chapter. One voice is Clara's and the other Angela's. In typical Hand fashion, the tale flows wonderfully and I quickly discovered I had consumed it in a very short time. I do feel like I know Angela better and my suspicions about her have been alleviated. I am anxious to see if Hand folds certain aspects of this into Boundless the third and final book. Boundless is sitting in my TBR pile and I plan to devour it and share my thoughts with you soon. I am certainly glad that I read this and think fans of the series will thoroughly enjoy it.
Copyright (c) 2011-2013 Caffeinated Book Reviewer
Related Posts