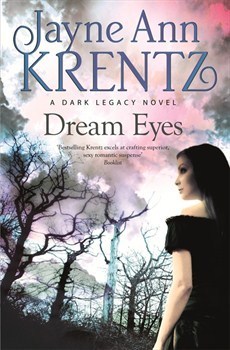 Dream Eyes
by Jayne Ann Krentz
Series: Dark Legacy #2
Genres: Romantic Suspense
Source: Purchase
Purchase*: Amazon *affiliate
Rating:
The death of her friend and mentor, Evelyn Ballinger, brings psychic counselor Gwen Frazier back to the small town of Wilby, Oregon, and brings back memories she would rather forget. Two years earlier, a killer stalked the members of one of Ballinger's research studies including Gwen. And though she survived while two others didn't, Gwen knows that Ballinger's death is related.  Sent by a friend to help Gwen, psychic investigator Judson Coppersmith arrives in Wilby barely in control of his own talent and his own life, haunted by urgent dreams. His attraction to Gwen is primal, but there are secrets he must keep to protect himself from surrendering to her completely, even as their investigation draws them into dreamscapes, into decades of deception, and into the paranormal fires of a desire too strong to resist. . . .
If you have been following my blog, you know I adore Jayne Ann Krentz and all of her pseudonyms. She is an auto-buy for me and I was delighted to begin Dream Eyes the second book in the Dark Legacy series. This series has so many elements I love in a paranormal romance. Krentz blends mystery, paranormal elements and an over-all plot into her tales. She then mixes in smexy flawed heroes and feisty, confident heroines. While the tales all share a common link; in this case the Coppersmith family, each can be read as a standalone.
The tale begins when we meet, Gwen Frazier, a psychic talent who can read dreamscapes and see ghosts. She has just arrived at the home of her dear friend, Evelyn Ballinger in Wilby, Oregon. Gwen hasn't been back since a series of deaths that ended with a serial killer committing suicide. She discovers her friend dead and her senses tell her it was murder, just like before. Judson Coopersmith is sent by his brother to help his fiancés best friend. Together they must unravel the mystery and stop a dangerous killer and maybe surrender to the intense attraction they feel for each other. The tale that unfolds was suspenseful, romantic and completely captured my attention.
Ooo I am just going to say it; I loved Judson. He is dark, smexy, protective and damaged. A recent near-death encounter on his last job has left him with horrible nightmares and a nagging feeling that he missed an important clue. He has always been a loner, preferring to work cases on his own, and Gwen changes a thing. Gwen is very confident and secure but has given up on relationships, since most men cannot handle the effects of sleeping with her and her gift. Suspects and other characters added to the tale. I loved Ballinger's cat and the funny moments he created. Nick, Gwen's brother was hilarious and snarky, I hope we see more of him.
The world building for this suspenseful mystery was very tight and I loved how Krentz tied all the pieces together. The interaction between Gwen and Judson made the tale all the more enjoyable; they worked as a couple both on the job and off. I am still anxious to learn more about the properties and powers of the Coppersmith crystals and look forward to the next book. I loved that Krentz tied in Jones and Jones to this tale since I look at these novels as a continuation of the Arcane Society tales.
I highly recommend Dream Eyes and the Dark Legacy trilogy to fans of romantic suspense. Krentz weaves a delightful tale with paranormal elements. I cannot wait for the next book.
Stay Caffeinated!
Never miss a post by adding Caffeinated to your Inbox
Your email is not shared and you can unsubscribe at any time.