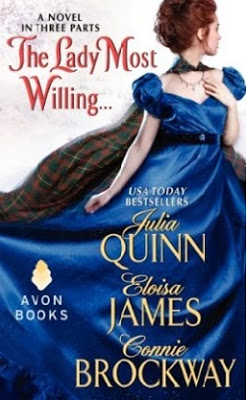 The Lady Most Willing..
by Julia Quinn, Eloisa James, Connie Brockaway
Series: Lady Most #2
Genres: Historical Romance
Source: Publisher
Purchase*: Amazon *affiliate
Rating:
Step into the glittering world of Regency and prepare to have your hearts warmed by Julia Quinn, Eloisa James and Connie Brockway...During their annual Christmas pilgrimage to Scotland to visit their aged uncle in his decrepit castle, the Comte de Rocheforte and his cousin, Earl of Oakley, are presented with unique gifts: their uncle has raided an English lord's Christmas party and kidnapped four lovely would-be brides for his heirs to choose from ...as well as one very angry duke, Lord Bretton. As snow isolates the castle, and as hours grow into days, the most honourable intentions give away to temptations as surprising as they are irresistible.
The Lady Most Willing was a unique anthology style historical romance where there are three romances entwined in one tale and composed by three different authors. Set in 1819, Scotland at Finovair Castle; complete with men in kilts, this romantic tale was delightful, with just enough heat to keep you warm. This is the second book in the Lady Most series, but each can be read as a standalone and offer the same unique writing style.
The Comte De Rocheforte and his cousin the Earl of Oakley have come to their Uncle's cold and drafty castle in Scotland to celebrate the holiday. Their Uncle Taran Ferguson is worried there will be no one to carry on his family's line if his two nephews do not marry and begin producing heirs post haste. On the eve of a horrific snowstorm, he is drunk and comes up with an idea. A very clever idea and so he and his merry men crash a ball at the Bellemere Castle and snag four; single, rich, Scotswomen for his nephews to choose from as their brides! They unknowingly throw them into the carriage of the Duke of Bretton, who is sleeping one off inside. They travel quickly back to the castle, barely making it as the snowstorm closes the pass to his castle. The tale that unfolds was hilarious, sweet and filled with fascinating characters as they find themselves trapped for days as a winter storm rages outside.
The cast was delightful and the authors did an excellent job of fleshing them out. Each had a unique personality, a little back history and I easily formed opinions about them all. Each of the romances while taking place over a five to seven-day window still managed to feel genuine. Maybe there was something in the air or water near this drafty old Scotland castle?
What a fun plot and I loved how the three romances smoothly transitioned within the tale. The authors did a wonderful job of collaborating. I loved the setting; I mean who does not want to spend time in a drafty, cold castle during a snowstorm with smexy men in Scotland? The different personalities made for some interesting scenes, and I adored some characters and wanted to clock others. I enjoy it when the author(s) makes the characters real for me and that is exactly what happened in The Lady Most Willing.
The Lady Most Willing was a fun; romantic historical fiction that I consumed in a single evening and think it offers a little something for everyone. I loved the concept of the book and will be grabbing a copy of The Lady Most Likely. While I enjoy each of these author's individual works; I am hoping they do this again.
Related Posts