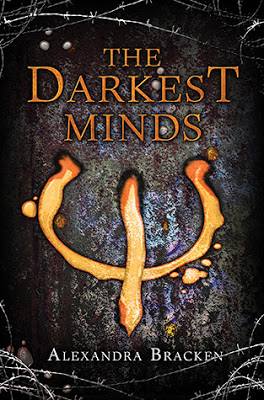 The Darkest Minds
by Alexandra Bracken
Series: The Darkest Minds #1
Genres: Dystopian
Source: Publisher
Purchase*: Amazon *affiliate
Rating:
When Ruby wakes up on her tenth birthday, something about her has changed. Something alarming enough to make her parents lock her in the garage and call the police. Something that gets her sent to Thurmond, a brutal government "rehabilitation camp." She might have survived the mysterious disease that's killed most of America's children, but she and the others have emerged with something far worse: frightening abilities they cannot control.Now sixteen, Ruby is one of the dangerous ones. When the truth comes out, Ruby barely escapes Thurmond with her life. Now she's on the run, desperate to find the one safe haven left for kids like her--East River. She joins a group of kids who escaped their own camp. Liam, their brave leader, is falling hard for Ruby. But no matter how much she aches for him, Ruby can't risk getting close. Not after what happened to her parents. When they arrive at East River, nothing is as it seems, least of all its mysterious leader. But there are other forces at work, people who will stop at nothing to use Ruby in their fight against the government. Ruby will be faced with a terrible choice, one that may mean giving up her only chance at a life worth living.
One of the reasons I began reading young adult novels was because of my love of the dystopian genre. When I read the synopsis for the Darkest Minds I knew I had to read it. Bracken has written a clever tale intertwined with paranormal and science fiction elements. Creating a horrifying dystopian world where children are feared and most of America is brainwashed into believing the government is helping their children. This was a brilliant read with fleshed out characters that held me captive.
A rare virus is killing children around their tenth birthday. The government and schools have sent home letters with warning signs. They encourage parents to register if they notice any symptoms. What they don't tell them is that they don't care about the ones who die but the ones who live. When Ruby awakes on her tenth birthday, something horrible has happened and her parents lock her in the garage and call the police. She ends up being taken to a rehabilitation camp and the tale that unfolds held me captive till the last page.
I really became immersed in the tale and a lot of that had to do with the characters themselves. Ruby, Liam, Chubby and Zu were all unique and so fleshed out that they became very real to me. I love when that happens and I found myself swept up in what happens to them. Bracken slowly revealed each character to us, peeling back their layers to expose their raw feelings, fears, and personalities. The way the characters interacted and drew strength from each other was so well done and believable. The romance was sweet, tender and tore my heart up.
World building is so important to me, and Bracken did a fantastic job. She reveals the world to us as the tale unfolds. She utilizes the show don't tell method that I prefer as this allows me to knit the pieces together creating the world in my mind and breathing life into the pages. I loved the dark, gritty, violent world she has created and want to know more. The characters pop against this backdrop, making their experience all the more real. The ending flat out made me cry, no lie and I cannot wait to get my hands on book two as this tale is far from over.
Fans of dark dystopians and fleshed out characters who like a little paranormal woo-woo weaved into their tale are going to flip over The Darkest Minds. Book two and three have yet to be titled but are scheduled to release in 2013 and 2014. I look forward to reading more of Bracken's work.
Related Posts