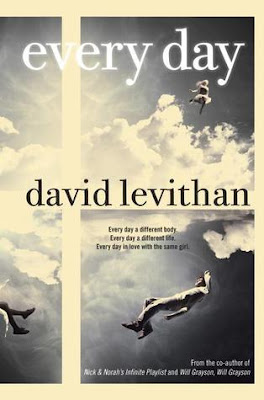 Every Day
by David Levithan
Genres: Fiction
Source: Publisher
Purchase*: Amazon *affiliate
Rating:
Every day a different body. Every day a different life. Every day in love with the same girl.Every morning, A wakes in a different person's body, a different person's life. There's never any warning about where it will be or who it will be. A has made peace with that, even established guidelines by which to live: Never get too attached. Avoid being noticed. Do not interfere. It's all fine until the morning that A wakes up in the body of Justin and meets Justin's girlfriend, Rhiannon. From that moment, the rules by which A has been living no longer apply. Because finally, A has found someone he wants to be with—day in, day out, day after day. With his new novel, David Levithan has pushed himself to new creative heights. He has written a captivating story that will fascinate readers as they begin to comprehend the complexities of life and love in A's world, as A and Rhiannon seek to discover if you can truly love someone who is destined to change every day
When I read the synopsis for Every Day I knew that I had to read it. I found the idea of waking each morning in a strangers body curious. Could I love someone who appeared differently each morning? What about all the senses surrounding that love..like the way they smell, the feel of their hand, the way their eyes sparkle when they laugh. David Levithan not only addressed these questions, he made me think about so much more. I feel in love with the characters, the journey and didn't want this bittersweet novel to end.
The tale begins when we meet "A". Every morning "A" wakes up in a different body, sometimes male, sometimes female but always "A"'s age. "A" takes a moment and accesses the bodies memories and proceeds to live in them for a day. Every night at midnight "A" falls asleep and every morning the cycle repeats. "A" follows simple rules, avoids harming the body and goes about life. "A" has accepted the way things are, until the day "A" wakes in Justin's body and meets his girlfriend Rhiannon. This is the day "A" begins to break the rules. Why? Because "A" needs to see her again. The tale that unfolds is absolutely beautiful, heartwarming, thought-provoking and original.
"A" is such an unusual soul. "A" is neither male nor female. He is a soul, a mind, an essence. For as long as he has lived this is the only true version of life he has ever known. Despite this crazy life he lives, he cares for his hosts..even does their homework for them. He is careful not to permanently affect their lives until he meets Rhiannon. Rhiannon is sweet, sad and maybe a little shy. "A" loves when she opens up and her face glows. She holds back a lot and "A" blames Justin. Justin is a typical, self-centered high school dude and I didn't care for him. The relationship between "A" and Rhiannon was complicated and sweet. At times "A" seemed a little obsessed but I kept asking myself how I would feel. While their relationship, screamed insta-love, it was the catalyst necessary for "A" to break character. The characters that "A" spends a day from every background and I became wrapped up in each of their stories. They had substance as the main characters.
The world building is absolutely spectacular. From the first few pages, I knew I was embarking on a journey that would forever change me. Levithan provides a beautiful tale of love, wonder, and loss. He offered me a thought-provoking read that I won't soon forget. This was a fascinating look into life's complexities. Levithan provided me with a window to countless souls; their joys and tribulations. The author wove moral messages and questions about whom and what we really are. My emotions were all over the place on this journey. I laughed, I cried, I experienced shock and anger, hope and fear. It was mesmerizing. There wasn't a single character that did not affect me or leave their mark. The flow was perfect and I loved the author's writing style. His words rang true and made the tale feel genuine and the characters real. I quickly consumed this as the outside world melted away. The ending was beautiful, bittersweet and touched me in so many ways.
Every Day is an absolute must-read; a book you will want to think about, talk about and share long after you finish it. This is a timeless tale and will appeal to all ages. I think it's the perfect read for a book club, group or high school English class. I have added David Levithan to my list and look forward to reading more of his work. I am also hoping he continues A's story.*hint-hint*
Related Posts