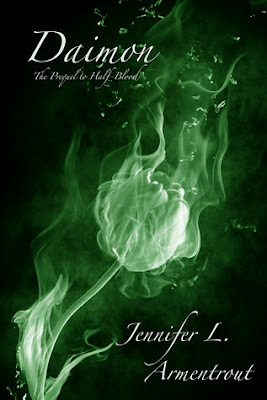 Daimon
by Jennifer L. Armentrout
Genres: Paranormal
Source: Purchase
Purchase*: Amazon *affiliate
Rating:
For three years, Alexandria has lived among mortals—pretending to be like them and trying to forget the duty she'd been trained to fulfill as a child of a mortal and a demigod. At seventeen, she's pretty much accepted that she's a freak by mortal standards... and that she'll never be prepared for that duty. According to her mother, that's a good thing. But as every descendant of the gods knows, Fate has a way of rearing her ugly head. A horrifying attack forces Alex to flee Miami and try to find her way back to the very place her mother had warned her she should never return—the Covenant. Every step that brings her closer to safety is one more step toward death… because she's being hunted by the very creatures she'd once trained to kill.The daimons have found her.
Daimon is the prequel to Half-Blood the first full novel in the Covenant Series by Jennifer L. Armentrout. While this novella is only sixty-nine pages in length, it offers the perfect introduction to the protagonist, the world she lives in and her purpose. From the first few pages, I knew I was going to love Armentrout and this series. Fans of mythology and urban fantasy are sure to find this series delightful.
In this novella, we meet Alexandria.(Alex) She is half-blood; the child of a mortal and a demigod. She is seventeen and living in Florida with her mother. We learn that her mother removed them from the Covenant in an attempt to give Alex a normal life. We briefly learn of forbidden feelings Alex has towards a Pure; which may be the reason her mother left the covenant. I really liked Alex; she has spunk, questions everything and has gotten into a few tiffs when confronted. Daimons appear, seeking to kill them for their sweet tasting blood. Alex quickly learns that not all of her training was correct and is forced to run. She begins to travel to the closest covenant and is pursued by the Daimons.
Armentrout's writing style is brilliant. She captured my attention in the first few pages, and despite the short length of this prequel managed to give me a real sense of the protagonist. The limited world-building was exciting and enough of a teaser to make me want more. The ending provides a cliff-hanger and my understanding is that book one Half-Blood picks up right where this left off.
Daimon was a delicious teaser for the upcoming series, and thanks to a lovely gift card I am now in possession of them all. Look for my reviews of Half-Blood and Pure in the coming months. All three books are available in paper and eBook formats. Daimon is available for .99 cents, and the perfect way to decide if this series is for you.
Related Posts