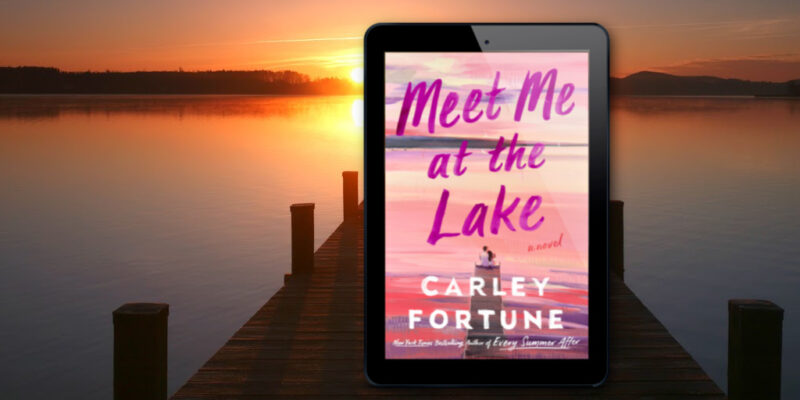 Sophia Rose is here with a review of contemporary romance Meet Me at the Lake by Carley Fortune. Come see why she was drawn to this trope and see her thoughts….
Meet Me at the Lake
by Carley Fortune
Genres: Contemporary Romance
Source: Publisher
Purchase*: Amazon | Audible *affiliate
Rating:
Fern Brookbanks has wasted far too much of her adult life thinking about Will Baxter. She spent just twenty-four hours in her early twenties with the aggravatingly attractive, idealistic artist, a chance encounter that spiraled into a daylong adventure in Toronto. The timing was wrong, but their connection was undeniable: they shared every secret, every dream, and made a pact to meet one year later. Fern showed up. Will didn't.

At thirty-two, Fern's life doesn't look at all how she once imagined it would. Instead of living in the city, Fern's back home, running her mother's Muskoka lakeside resort--something she vowed never to do. The place is in disarray, her ex-boyfriend's the manager, and Fern doesn't know where to begin.

She needs a plan--a lifeline. To her surprise, it comes in the form of Will, who arrives nine years too late, with a suitcase in tow and an offer to help on his lips. Will may be the only person who understands what Fern's going through. But how could she possibly trust this expensive-suit wearing mirage who seems nothing like the young man she met all those years ago. Will is hiding something, and Fern's not sure she wants to know what it is.

But ten years ago, Will Baxter rescued Fern. Can she do the same for him?
Sophia Rose's Review
Any time I come across a plot that resembles the old classic movie, An Affair to Remember, I am draw to it like a magnet. For those not in the know, I refer to the trope of two strangers meeting, spending a short time together, delaying a deeper relationship, but agreeing to meet a time later only for one to show at the appointed time and the other, for mysterious reasons that get answered by the end, to leave them hanging. Meet Me at the Lake has just such a premise so I snatched it up to give this bittersweet summery, second chance romance by a new to me author a go.
I have to say upfront that this story will not be for every romance lover or will work better when the reader is in the mood for this sort of set up. See, one has to first push aside the cheating aspect because the heroine was in a relationship when they met and then one has to buy into a 'soul match at first sight' deal because they only had a long, meaningful day together before going their separate ways for a decade. The story is told in present time and past glimpses from Fern's point of view and journal entries to get her mom's story.
I found myself slipping in and out of the mindset needed so I have mixed feelings about this one. I'm not one for cheating in my romances, but I was easily able to get past that speed bump safely and appreciate the incredible day the coffee shop worker and the wall artist took off and spent together seeing Toronto through young lovers' eyes. The Toronto love made me see this city so well that I felt it was another main character. Fern was on the verge of going home to face a boyfriend who wasn't really her forever guy and duty to her mom by working the family-owned lake resort rather than following her own desire to remain in the city. I enjoyed young Will and Fern even while the reader never gets the same dive into Will's background like with Fern's. This is on purpose, of course, and the table setter for what is to follow when he misses their one year meeting and Fern doesn't encounter him again until she returns home to finally do her duty by the faded, failing resort and Will is the buttoned-up business manager hired to help.
Fern's ten-year pent up emotions about that one (yes a less than 24-hour period) day didn't sell me. Some second chance romance situations are like that with me. Just like, I was really hoping the reason for Will's missing their meet up would justify all his distance and secrecy. It was bad and my heart hurt for him, but I thought he should have explained much sooner. I know… reasons, but, again, I didn't feel the romance with the pair of them as a result. Following Fern's and Will's journeys to this point had much more appeal. Seeing them heal and look forward rather than back with all settled was satisfying. So, I changed how I was seeing this story to more women's fiction genre than contemporary romance and ended up loving it more as a result.
All in all, I liked how the author was able to make me feel the story and the situation even while my mind was chewing on the realistic improbabilities. I think that makes for some romance-writing chops. But, that said, I would recommend this one to those who enjoy women's fiction crossing over to contemporary romance rather than straight up romance.

Stay Caffeinated!
Never miss a post by adding Caffeinated to your Inbox
Related Posts