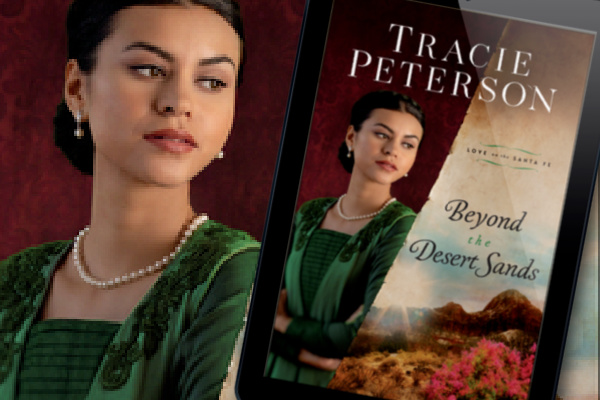 Sophia Rose is here with the second historical romance in the Love on the Santa Fe series. Come see why lovers of sweet historical romances will want to pick up Beyond the Desert Sands by Tracie Peterson.
Beyond the Desert Sands
by Tracie Peterson
Series: Love on the Santa Fe #2
Genres: Faith-Based Fiction, Historical Romance
Source: Publisher
Purchase*: Amazon | Audible *affiliate
Heat Level:
After living an opulent life with her aunt for the last few years, the last thing twenty-five-year-old Isabella Garcia wants is to have to celebrate Christmas in the small silver-mining town her father and mother founded in the desert. She'd rather stay in California with the handsome Diego Morales who is courting her. Isabella is further miffed to have to bear the company of Aaron Bailey, a businessman with the Santa Fe Railroad, whom her father has sent to escort her safely home. Aaron finds Isabella spoiled, and she finds him judgmental.

But she is surprised to see how much the town of Silver Veil has grown and how fragile her father's health has become. Then Diego shows up with news that her aunt has died. Isabella is saddened by the loss of not only her aunt, but also her place of escape.

Faced with all these changes, she struggles to sort through her future and who she wants to be. But trouble is brewing, and there are those who hope Isabella stays just as she is, even if it costs her everything.
Sophia Rose's Review
A willful young woman gets the life she wanted to live in wealth and privilege back in California with her aunt and far from the desert and mining town her parents have settled in, but now after years her father has called her back escorted by an impossible man who forces her to see herself through another lens. A new to me author, but an exciting time period in the historical American southwest had me eagerly giving this one a go.
Beyond the Desert Sands is the second book in a series. I was unaware of this until later and had no trouble reading it out of order. It's definitely a standalone story that seems to just share the same time period and setting of the Santa Fe Railroad.
Isabella Garcia is a spoiled and pampered rich young girl when the book opens. She throws a hissy fit and keeps wearing down her father to let her leave the silver mining town to return to her easy life, friends, and the family home back in Los Angeles. She is ornery and disrespectful and can't see any other perspective. At the age of twenty-five, she is still the same, but has been fawned over by others and even courted by a charming man from good family who has reasons other than love for cultivating her infatuation. It was difficult to read the first half of the book because she is rather detestable and I really wanted to reach through the words to smack her in the back of the head (and maybe everyone else who allowed her to get this way without checking her attitude and behavior).
But, there is Aaron who works for the Santa Fe Railroad and is a friend of Isabella's father.  He agrees to escort his friend's daughter to him. She is a beauty, but her ugly attitude toward him, her parents, and anything not of Los Angeles turns him off her and he has no compunction stating what he thinks of her rotten attitude.  I thought it was hilarious during their first meeting when she tries to fling her wealthy class at him and he tells her that his family could buy her family and not feel a pinch. He is part of helping her get her head on right and develops feelings for her as she changes over the course of the story.  Aaron kept me reading through the first half, as well as the southwest backdrop and the mining town and railroad historical elements.
There are strong inspirational themes of redemption and forgiveness. Aaron is a Christian and part of the reason Isabella's turned around is her new beliefs. Her parents had belief, but that made me scratch my head as to why they and Isabella's aunt whom she lived with in LA let her behavior get so atrocious when she was still younger. But, I definitely liked seeing the changes in her and the way she started to care for family and for the Silver Veil community. She really stepped up. I'm not a better person because I wanted more comeuppance for the villains than they got.
The romance was slow burn and background because of all the other matters going on including Isabella being infatuated with a charming wastrel for a good part of the book. I thought they had a good spark between them even when Isabella and Aaron were antagonistic, but I did love seeing them partnering and coming to care for each other.
All in all, I thought this sampling of new to me author and series went well. I could see how the author gave good attention to the historical backdrop and her characters, so I would definitely pick up another of her books.  The audience recommended to is definitely sweet historical romance and inspirational fiction fans.

Stay Caffeinated!
Never miss a post by adding Caffeinated to your Inbox
Related Posts