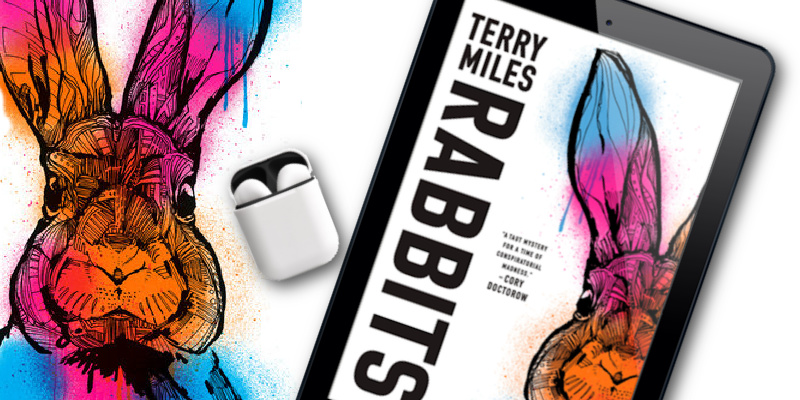 An alternate reality, conspiracies, thriller…Rabbits by Terry Miles offered it all, and I gladly slipped into this freaky technothriller as we travel along with K in search of answers. Mystery, suspense and the search for patterns will pull you in….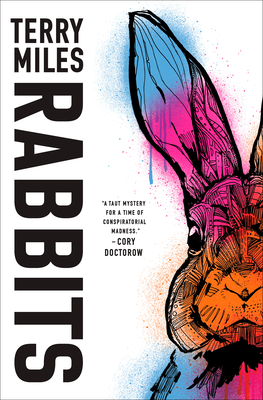 Rabbits
by Terry Miles
Narrator: Christine Lakin
Length: 14 hours and 6 minutes
Genres: Science Fiction, Thriller
Source: Publisher
Purchase*: Amazon | Audible *affiliate
Rating:

Narration: 5 cups Speed: 1.2x

Conspiracies abound in this surreal and yet all-too-real technothriller in which a deadly underground alternate reality game might just be altering reality itself, set in the same world as the popular Rabbits podcast.

It's an average work day. You've been wrapped up in a task, and you check the clock when you come up for air--4:44 pm. You go to check your email, and 44 unread messages have built up. With a shock, you realize it is April 4th--4/4. And when you get in your car to drive home, your odometer reads 44,444. Coincidence? Or have you just seen the edge of a rabbit hole?

Rabbits is a mysterious alternate reality game so vast it uses our global reality as its canvas. Since the game first started in 1959, ten iterations have appeared and nine winners have been declared. Their identities are unknown. So is their reward, which is whispered to be NSA or CIA recruitment, vast wealth, immortality, or perhaps even the key to unlocking the secrets of the universe itself. But the deeper you get, the more deadly the game becomes. Players have died in the past--and the body count is rising.

And now the eleventh round is about to begin. Enter K--a Rabbits obsessive who has been trying to find a way into the game for years. That path opens when K is approached by billionaire Alan Scarpio, the alleged winner of the sixth iteration. Scarpio says that something has gone wrong with the game and that K needs to fix it before Eleven starts or the whole world will pay the price.

Five days later, Scarpio is declared missing. Two weeks after that, K blows the deadline and Eleven begins. And suddenly, the fate of the entire universe is at stake.
I have not listened to the Rabbits Podcast that inspired this full length audio but I will soon rectify that. I love connections, conspiracies, alternate reality games and societies, so of course I had to grab Rabbits.
In this technothriller we meet K, a geeky gamer who lost his parents in his teens and lives alone. K sees patterns and connections that have caused him to have manic episodes, and gives presentations (for a fee) about a game called Rabbits. The game began in 1959, but some believe it began sooner than that. There have been ten known iterations and nine winners declared. Players follow clues, unlock hidden messages all hoping to win glory and an unimaginable prize. Some say they unlock the secrets of the university, gain immortality or become wealthy beyond your wildest dreams. But when billionaire Alan Scarpio, the alleged winner of the sixth iteration, seeks out K, he learns that something is seriously wrong with the game. Alan tells him K must fix it before the eleventh iteration begins or the entire world will pay. Then Scarpio disappears and soon K is chasing down patterns and searching for clues as players turn up dead or go missing.
K enlists the help of his friend and crush, Chloe. The story might prove confusing as you question what is real and id K is still grounded in reality, but the storyline is addictive and the further down the rabbit hole you travel, the more you understand.
The first rule of Rabbits is that you don't talk about it and this makes finding clues and obtaining information difficult. The patterns are sometimes obscure and other times simple, like four of the same dog on the street. K has dreams or nightmares about a darkness and for every clue they gain, something shakes things up. It was brilliant.
From the unreliable narrator to the time slips and alternate realities, I was hooked. This isn't something you can devour in one sitting. In fact, it took me a solid week. Rabbits is perfect for fans of the Matrix, Doctor Who, science fiction and those who see patterns.
For Audiobook fans, you'll want to grab this one on audio. Christine Lakin does a superb job setting the tone and pulling you into the game. From pacing to unique voices she enhances the tale and provides a fantastic listener experience.
Rabbits by Terry Miles was a brilliant tale that leads the listener/reader on a chase to find clues and save the world. #Technothriller #Audiobook #NewRelease #MustRead #MustListen
Click To Tweet

Stay Caffeinated!
Never miss a post by adding Caffeinated to your Inbox
Reading this book contributed to these challenges:
Related Posts