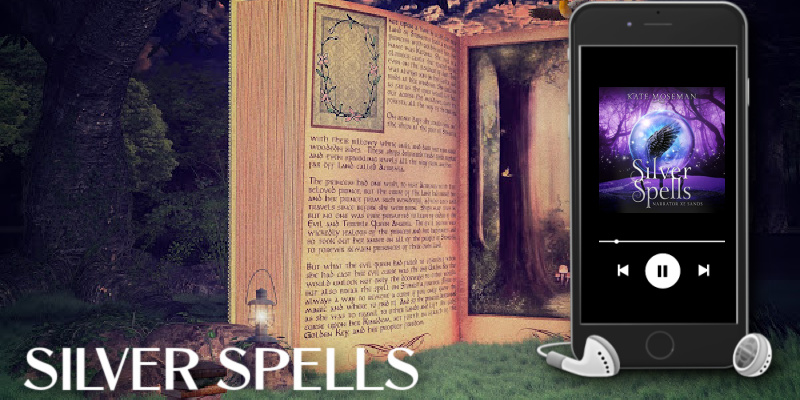 I've been enjoying the paranormal women's fiction genre particularly on audio and was delighted to listen to Silver Spells, the first book in the Midlife Elementals. Come to Sparkle Beach and meet Luella Campbell.
Silver Spells
by Kate Moseman
Series: Midlife Elementals #1
Narrator: Xe Sands
Length: 6 hours and 12 minutes
Genres: Paranormal Women's Fiction
Source: Author
Purchase*: Amazon | Audible *affiliate
Rating:

Narration: 5 cups Speed: 1.3x

A paranormal women's fiction (PWF) that'll have you walking on air!

Luella Campbell is having the weirdest day ever. Getting fired from her job at the sunscreen factory for no good reason is bad enough, but when a mysterious dog brings a tempest into her former workplace, Luella's life is completely upended by the sudden gift of wild and windy magical powers.

With the help of her ride-or-die best friends, her motorcycle-riding mother, and a romantic blast from the past, Luella must find a way to make ends meet while unlocking the mysteries of her newfound magic...and the secrets hidden in the picturesque town of Sparkle Beach.

Sometimes, an empty nest means it's your turn to fly
Narrated by Xe Sands, Silver Spells by Kate Moseman is the first audiobook in the paranormal women's fiction series, Midlife Elementals. A unique twist on the typical magic of this genre with a beach side setting, interesting animals and characters.
The tale begins when we meet Luella Campbell, a media specialist. She's been with her current employee since well forever, so she is shocked when she they fire her. Worse, she is seeing dogs and birds others can't. She can't even catch her breath before discovering she has magical powers of her own. Where the heck is the manual and is something in the water?
This was a fun set up to the series. I loved Lucella. She is in her forties, divorced, an empty nester and a confident size sixteen. She bakes when nervous and whips up all kinds of glutton free desserts. A new town mural with possible clues to her new powers leads her to an old love.
We get a side of romance while Lucella tries to figure out what is happening to her. She tests her powers and learns how to deal with her animal friends. Her friends are supportive, but we soon learn they are keeping secrets. Her momma is one strange bird and we soon learn why.
The story feels like a cozy as we try to figure out what is happening to and around our protagonist. Not sure if the series will feature her friends next or continue with Lucella. Either way, I am curious enough to return to Sparkle Beach.
Xe Sands narrates and was perfect for capturing the light vibe of this tale and each of the unique characters. I've enjoyed her narrations before, and she offers a wide range of female and male voices while capturing the tone of the overall story.
Narrated by Xe Sands Silver Spells by Kate Moseman takes you to Sparkle Beach and introduces unique magic, characters and mystery #MidlifeElementals #ParanormalWomensFiction #audiobook
Click To Tweet

Stay Caffeinated!
Never miss a post by adding Caffeinated to your Inbox
Reading this book contributed to these challenges:
Related Posts