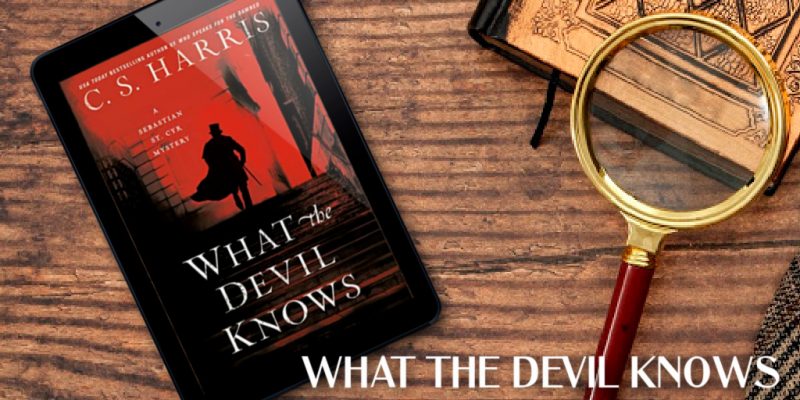 Please welcome Sophia Rose to the blog with a review of the historical mystery What the Devil Knows by C.S. Harris. Grab a cuppa and see why this story gave her the chills.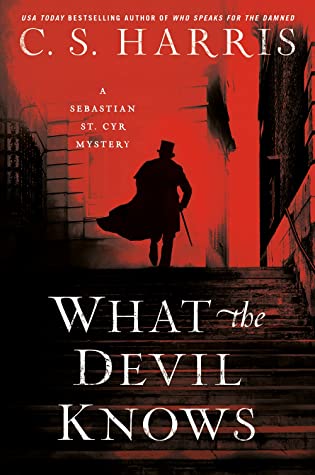 What the Devil Knows
by C.S. Harris
Series: Sebastian St. Cyr #16
Genres: Historical Fiction, Mystery
Source: Publisher
Purchase*: Amazon | Audible *affiliate
Rating:
Sebastian St. Cyr thought a notorious serial killer had been brought to justice until a shocking series of gruesome new murders stuns the city in this thrilling historical mystery from the USA Today bestselling author of Who Speaks for the Damned.

It's October 1814. The war with France is finally over and Europe's diplomats are convening in Vienna for a conference that will put their world back together. With peace finally at hand, London suddenly finds itself in the grip of a series of heinous murders eerily similar to the Ratcliffe Highway murders of three years before.

In 1811, two entire families were viciously murdered in their homes. A suspect--a young seaman named John Williams--was arrested. But before he could be brought to trial, Williams hanged himself in his cell. The murders ceased, and London slowly began to breathe easier. But when the lead investigator, Sir Edwin Pym, is killed in the same brutal way three years later and others possibly connected to the original case meet violent ends, the city is paralyzed with terror once more.

Was the wrong man arrested for the murders? Bow Street magistrate Sir Henry Lovejoy turns to his friend Sebastian St. Cyr, Viscount Devlin, for assistance. Pym's colleagues are convinced his manner of death is a coincidence, but Sebastian has his doubts. The more he looks into the three-year-old murders, the more certain he becomes that the hapless John Williams was not the real killer. Which begs the question--who was and why are they dead set on killing again?
Sophia Rose's Review
Slipping down foggy, damp, and dark gritty streets in Regency London's East End while tracking the bloody clues of a horrific murderer along with aristocrat turned detective, Sebastian St. Cyr, is one of the most riveting, engaging experiences in my year. Not simply historical mystery, but some of the best the genre has produced.
What the Devil Knows is the sixteenth in a long-standing closely connected series of books. The mysteries are mostly standalone, but the ongoing character and relationship developments let alone the unfolding of historical events makes it well worth reading in order.
On a chilling, dark foggy night a gruesome murder is committed and Sir Henry Lovejoy one of Bow Street's magistrates asks Sebastian for his aid. The victim is no prize as a dirty, greedy man using his power as a magistrate of his own parish to rake in gain from the poorest London residents in the East End. The bashing of the head by a heavy tool and the slit throat are eerily reminiscent of the murder of a couple local families three years before. One man was taken for those crimes on flimsy evidence, but Sebastian strongly suspects that several someones got it wrong and the real culprit is back.
When following along with a Sebastian St. Cyr mystery, one gets far more than a murder. CS Harris layers in social justice issues that both Sebastian and his unconventional wife, Hero, fight for in their own gifted ways, family dynamics, family secrets, an eclectic circle that Sebastian can go to for aid in solving the cases, and, of course the motley cast of witnesses and suspects from all strata of life who people the author's books.
In this latest installment, Sebastian is still finding no luck hunting down his elusive mother for answers about his true birth father while Hero is faced with the prospect of seeing her own father remarrying a woman as ruthless and cunning as he is. Hero is still conducting her interviews and writing up her articles to make the upper classes more aware of the living and working conditions of the poor while doing what she can to make a difference. Sebastian worries more and more about his dead half-brother's young son when the mother takes up with a rough sailor who detests the boy.
And, at the heart of the story is government turning a blind eye to big corporate greed that the 'voiceless' poor working classes are forced to endure without justice or compassion. Sounds familiar, right? My heart broke for the untenable situation of the pub and innkeepers who were forced into contracts to sell only certain large company beer and pay protection money to their local magistrates or risk losing their liquor licenses and their very lives. Under this atmosphere, Sebastian had more than enough enemies of the murdered man and others to investigate.
The mystery was twisting and had more than a few possibilities. Was it the old killer now back? A copycat? Were the killings merely staged to appear like there was a connection with a different motive? And everywhere Sebastian went, he merely added suspects rather than cleared them. I could only follow along until the reveal.
In summary, it was another emotional stunner that hit to the heart of matters, so the mystery was only one of the superb elements. Authentic historical backdrop, social history, complex characters, and a cunning mystery all in one. Definitely recommend.
What the Devil Knows by C.S. Harris was an emotional stunner that hit the heart of matters, so the mystery was only one of the superb elements. #HistoricalFiction #Mystery #SophiaRose
Click To Tweet

Stay Caffeinated!
Never miss a post by adding Caffeinated to your Inbox
Related Posts