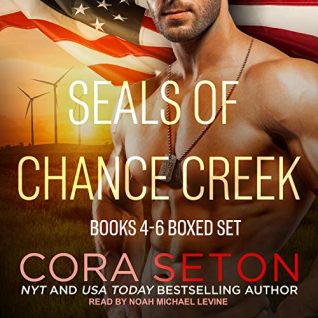 SEALs of Chance Creek: Books 4-6 Boxed Set
by Cora Seton
Narrator: Noah Michael Levine
Length: 18 hours and 11 minutes
Genres: Contemporary Romance
Source: Publisher
Purchase*: Amazon | Audible *affiliate
Rating:

Narration: 4.5 cups Speed: 1.3x

Cora Seton presents books four through six in the SEALs of Chance Creek series.

A SEAL's Consent- Navy SEAL Jericho Cook is living a lie. In order to save Base Camp, the sustainable community he's building with his friends in Chance Creek, Montana, he must marry in the next forty days—and try for a family. But after the horrors he's witnessed, Jericho's sworn to never put himself in charge of a child he can't completely protect. At least he's found the perfect wife. Savannah is sexy, smart, talented—and far too busy pursuing a career as a concert pianist to ever want kids.

Savannah Edwards came to Chance Creek to chase an abandoned dream. She has one shot to prepare for the audition that could make or break her career—she's determined nothing will distract her from her goal. But when a passionate encounter with Jericho leaves her pregnant, her future hopes are thrown into chaos. Is it possible to have it all? A career, a child and most of all, the powerful, attractive man who has stolen her heart?

When Jericho announces he never intends to be a father, Savannah realizes he might risk shattering an entire community rather than back down. With the stakes so high, can she persuade the SEAL to give fatherhood a chance?

A SEAL's Purpose- When Kai Green joined nine other Navy SEALs to build a sustainable community in Chance Creek, Montana, he never dreamed the day would come when he'd have to marry a woman sight unseen—or lose everything. Now he has to find a way to build a life with a perfect stranger—one who seems perfectly unqualified for happiness at Base Camp—or with him.

Addison Reynolds dreams of living in New York City, so when her fashion model sister offers her a year rent-free in her Manhattan penthouse apartment, she's ready to say yes. But there's a catch: Felicity is determined to make Addison lighten up a little, so if she wants to move to NYC, she'll have to say yes to everything for one full month—including becoming Kai's fiancée.

Can two people find true love—and their true selves—at the same time?

A SEAL's Resolve- Twice Navy SEAL Curtis Lloyd has been ready to marry. Twice his bride to be has left him at the last minute for another man. So when a bride and her bridesmaid crash their car just outside Base Camp, in the biggest snowstorm this century, Curtis knows he has to get them to their wedding in Bozeman even if they have to walk the whole way. His motives aren't entirely selfless: He needs a bride, too, in order to save the sustainable community he joined when he left the military, and feisty maid of honor Hope Martin is just the kind of woman he'd like to take to the altar
We are back at Base Camp in Chance Creek, Montana, with the second boxed audio set in SEALs of Chance Creek by Cora Seton. Narrated by Noah Michael Levine, this audio contains books 4 through 6.
Each of the stories contains one courtship and wedding but also share the overall story ARC of the sustainable community and the reality TV show that contains challenges they must meet. If they win? In one year, they will own the land and the community they are building. Ten homes, ten couples.
A SEAL's Consent
Navy SEAL Jericho Cook is the next in line to wed, and he has exactly forty days to convince Savannah Edwards to be his bride. These two have killer chemistry and shared a moment of passion almost two months ago, but then Savannah became standoffish.
This was a tug at your heart, lots of personal growth for both the hero and heroine. Savannah is one of the Austen girls and determined to pursue her chance at Carnegie Hall. Savannah is also pregnant with Jericho's baby. Grab the tissues because his backstory will tough on your heart strings even as you want to slap him in the back of the head.
This story touches on childhood trauma, addiction, and their effect on families. I was rooting for both of them and so proud of Savannah for coming to terms with her own worth.
A SEAL's Purpose
Navy SEAL Kai Green, is Base Camp's cook. He does so using sustainable energy and is well liked at camp for his tasty meals. He plans the meals that feed the base from churning the butter to breakfast tacos. He drew the short straw and will need to find a bride and marry in forty days. He tells Boone he wants a confident, dependable, sensible woman. I loved the why and who he ended up choosing from the video selections Boone gave him. It made me snicker.
I think this was my favorite storyline from the first six books. Her bubbly, cover model sister who owns a swank penthouse in Manhattan has always overshadowed Addison Reynolds and married her dream guy. Addison is conservative and dreams of being an event planner and living in the city. When her sister spots a self-help book in Addison's bag, she offers Addison a deal. If she says, Yes to everything (except what could do her harm) for the next month, her sister will give her the keys to the Penthouse rent free for a year. It started off simple with a new hairstyle and clothes and ends up with Addison making a video to be Kai Green's bride. Her sister has convinced her the show is fake, and she'll get the adventure of a lifetime.. T
The story and romance was delightful with some silly moments and sad ones. I loved getting to know both Kai and Addison. This one was fun, even if miscommunication and siblings caused some bumps.
A SEAL's Resolve
Navy SEAL Curtis Lloyd hasn't had an easy time on the show or in the love department and some of his behavior in early stories didn't have me excited about this one, but Seton showed his softer sides, fears and strong desire for family and community. Five days before his deadline to wed he is jilted at the alter, but at least this time he wasn't in love with the bride. He'll have to marry a stranger for the sake of the base, but a snowstorm and fate have other ideas.
I ended up adoring all the characters in this story, even if the idea of finding a life partner in five days seems absurd. Despite that, the author had me wanting Curtis and Hope Martin to find their happily ever-after, so I slipped in and enjoyed.
Narrated by Noah Michael Levine, SEALs of Chance Creek: Books 4-6 Boxed Set by Cora Seton delivered three romances and continued the story of Base Camp. #audiobook #SEALsOfChanceCreek #romance
Click To Tweet
Reading this book contributed to these challenges:
Related Posts