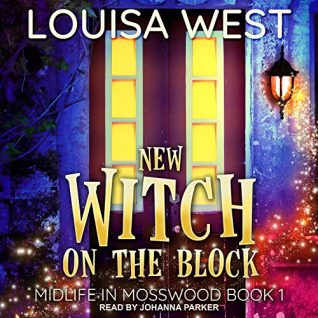 New Witch on the Block
by Louisa West
Series: Midlife in Mosswood #1
Narrator: Johanna Parker
Length: 4 hours and 35 minutes
Genres: Paranormal Women's Fiction
Source: Publisher
Purchase*: Amazon | Audible *affiliate
Rating:

Narration: 4.5 cups Speed: 1.3x

She thought she was running away from her past, not catching up with it.

Rosemary Bell just wants to live a quiet, happy life and raise her daughter as far away from her toxic ex-husband as she can get. But when they move into a decrepit cottage in the woods of Mosswood, Georgia, Rosie realises her life will never be simple.

A gang of meddling neighborhood do-gooders want to run her out of town. The vicious laundromat machines keep eating her spare change. Not to mention her buff Irish stalker who insists that he's a Witch King and that it's her royal destiny to be his Queen.

And to top it all off, strange things keep happening around Rosie when she least expects it...

She could deal with it all, but her ex won't rest until he tracks her down. When her ability to protect her daughter is threatened, Rosie shows them all that nobody messes with the new witch on the block.

Practical Magic meets Bridget Jones' Diary in this fun, heart-warming short novel about starting over, putting family first, and finding love when you least expect it.
Narrated by Johanna Parker, New Witch on the Block by Louisa West is the first audiobook in the Midlife in Mosswood paranormal women's fiction series. Humor, magic and a slow burn romance await you…
It's nice to see other author's outside of the original thirteen writing in this genre. These are paranormal stories featuring women having midlife changes and discovering magic.
Rosemary Bell and her young daughter Maggie are hiding from her abusive biker husband. The two end up in Mosswood, Georgia, where she lets a rundown cottage at the edge of the woods.
This was interesting. The townsfolk are nosey and her neighbor who lives in a trailer in the woods insists he is a Witch King and that she, Rosie Bell, will be his Queen and that she is a powerful witch. Ha! She may have been adopted, but she sure doesn't know magic… or does she?
I liked the chemistry between Rosie and Declan. He is all sexy with his Irish lilt and she is unnerved given her history. Maggie is adorable and the townsfolk are retched.
While this story is light, I was hooked and enjoyed seeing the character growth in Rosie and the glimmers of magic. I am looking forward to the next audiobook. These are in Kindle Unlimited by the audiobook is not yet whispersynced.
Johanna Parker did a lovely job with the narration and captured Rosie's personality and Declan's lilt.
New Witch on the Block by Louisa West was a fun start to the Midlife in Mosswood series on audio #JohannaParker #Audiobook #ParanormalWoemensFiction
Click To Tweet
Reading this book contributed to these challenges:
Related Posts