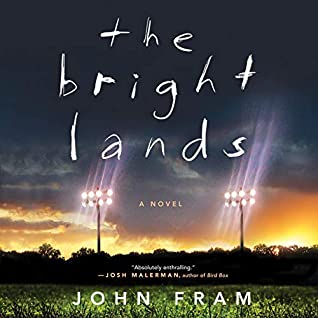 The Bright Lands
by John Fram
Narrator: Luis Selgas
Length: 12 hours and 42 minutes
Genres: Horror
Source: Publisher
Purchase*: Amazon | Audible *affiliate
Rating:

Narration: 4 cups Speed: 1.3x

The town of Bentley holds two things dear: its football, and its secrets. But when star quarterback Dylan Whitley goes missing, an unremitting fear grips this remote corner of Texas.

Joel Whitley was shamed out of conservative Bentley ten years ago, and while he's finally made a life for himself as a gay man in New York, his younger brother's disappearance soon brings him back to a place he thought he'd escaped for good. Meanwhile, Sheriff's Deputy Starsha Clark stayed in Bentley; Joel's return brings back painful memories—not to mention questions—about her own missing brother. And in the high school hallways, Dylan's friends begin to suspect that their classmates know far more than they're telling the police. Together, these unlikely allies will stir up secrets their town has long tried to ignore, drawing the attention of dangerous men who will stop at nothing to see that their crimes stay buried.

But no one is quite prepared to face the darkness that's begun to haunt their nightmares, whispering about a place long thought to be nothing but an urban legend: an empty night, a flicker of light on the horizon—The Bright Lands.
I am going to start this review with trigger warnings. Which seems odd for a horror novel. One expects gore, creepy imagery, murder and more. However, this story also contains sexual assault, pedophilia, homophobia, and rape warped by something twisted and evil within the town.
The Bright Lands takes us to the rural town of Bentley, Texas, where high school football means everything and revealing secrets will get you killed.
Disturbing, addictive and unsettling….
Joel Whitley left Bentley ten years ago after a shaming. He returns to see his brother play ball and stays to find his killer. Something is wrong in this town and something or someone is watching.
Sheriff's Deputy Starsha Clark, the sister of Joel's high school boyfriend, has never stopped searching for answers after her brother disappeared. She and Joel join forces to find Dylan Whitley's killer. Their investigation leads them to startling discovers, a cult like presence and the Bright Lands. An urban legend talked about in hushes.
Caffeinated Aspects:
Fram delivered an eerie tale. He slowly built up the suspense and ominous feel. As things were revealed I found myself hooked, and for the first three-fourths I became caught up in this twisted tale.
The writing felt like early King, and the storyline slowly built as we realize something dark lives within Bentley, Texas.
The Dreams were foreboding and added to the atmospheric tones.
Luis Selgas brought Joel to life from his fears to his inner dialogue. This was my first audio with him, and I hope to hear more.
Joel was fleshed out, and while he lives happily and openly in New York, coming home to Bentley reminds him of why he left. I love seeing diverse characters in genres I enjoy. Joel felt realistic and was fully developed.
The author through Joel and the town shed light on the conservative, closed-closet dynamics of small-town rural bible communities.
Decaffeinated Aspects:
There were several significant secondary characters, but they weren't as fleshed out as I would have liked. Too many fell into classic small-town stereotypes. I wish the author developed characters like Kimbra or Brittany. They shined only towards the end.
The twisted horror centered on disturbing sexual acts involving high school football players and the adult men of the town. Particularly those in positions of authority like school staff and law enforcement. Drug use, distribution and money were used to lore these young men. I found it disturbing and while I love dark horror, I couldn't shake the wrongness of it. Let me be clear, this had nothing to do with the fact that this involved homosexuality. I prefer my horror to be more of the killing, dismemberment variety when dealing with evil entities.
While the story pulls you along and we get a sense of the evil and what feeds/awakens it, I honestly walked away shell shocked from the events in the last quarter but not entirely sure what the heck happened.
A twisted and dark tale with hints of King. Will I try Fram again? Yes, he kept me listening and I am curious to see how his writing evolves.
Reading this book contributed to these challenges:
Related Posts